« CNN Contributor Calls for "Shadow Government" To Step Forward and Declare a Coup Against the Democratically Elected, Constitutional Government
|
Main
|
The Morning Report 7/17/18 »
July 16, 2018
Monday Overnight Open Thread (7/16/18 )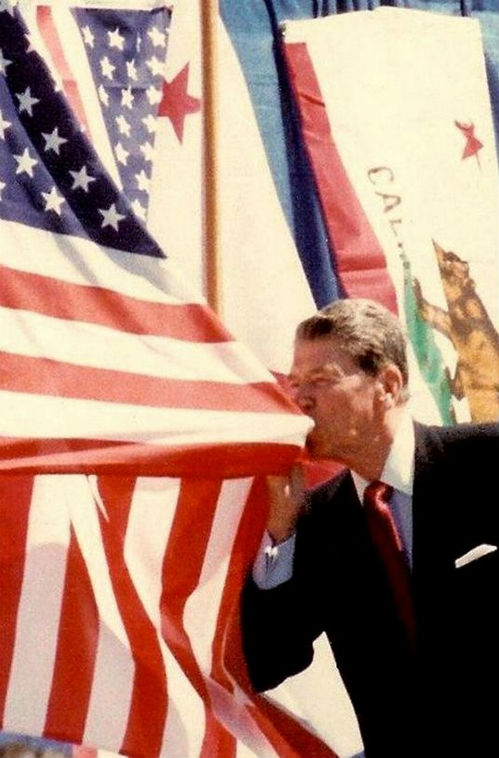 *****
The Quotes of The Day
Quote I

"Socialism only works in two places: Heaven where they don't need it and hell where they already have it." Ronald Reagan
Quote II

"The frustrating thing is that those who are attacking religion claim they are doing it in the name of tolerance, freedom and openmindedness. Question: Isn't the real truth that they are intolerant of religion? They refuse to tolerate its importance in our lives." Ronald Reagan
Quote III

"America is, and always will be, a shining city on a hill." Ronald Reagan
*****
Before taking his own life, Anthony Bourdain gave a wide ranging interview. Including his thoughts on Bill & Hillary.

"Bill Clinton, look, the bimbo eruptions—it was f---ing monstrous. That would not have flown today. [Bill Clinton is] a piece of s---. Entitled, rapey, gropey, grabby, disgusting, and the way that he — and she [Hillary] — destroyed these women and the way that everyone went along, and, and are blind to this!"
*****
You can't fix stupid, can you? (No, it isn't Maxine Waters.) And some obligatory Trump bashing thrown in for good measure.
*****
Genius Award Winner meets Tonight's Feel Good Story of The Day. h/t fastfreefall
*****
Genie. Bottle. Some assembly required.

Microsoft has helped innovate facial recognition software. Now it's urging the US government to enact regulation to control the use of the technology.
In a blog post, Microsoft (MSFT)President Brad Smith said new laws are necessary given the technology's "broad societal ramifications and potential for abuse."

He urged lawmakers to form "a government initiative to regulate the proper use of facial recognition technology, informed first by a bipartisan and expert commission."
*****

I say we need moar chain saw and car theft laws. But then again he only keeps coming back to the USA because it is an act of love.
*****

Elon Musk, Tesla, hit one milestone.
Looks like he is hitting another one.

In a series of tweets responding to Unsworth's criticism, Musk referred to Unsworth's "British expat guy who lives in Thailand" as "sus" (suspicious) and said he had never seen him at the cave complex. Musk challenged Unsworth's accounting of the water levels in the cave, then got even angrier, explicitly calling Unsworth a "pedo guy" and saying he would prove the device's utility by, uh, sending more people into the cave with it.
*****

When science has unanimous agreement on climate, is it time to call Bull Shit?
*****
The ONT Musical Interlude
July 16, 2012, Jon Lord the former keyboard player with Deep Purple, died aged 71. Lord was a co-founder of Deep Purple in 1968 and co-wrote many of the group's songs including Smoke On The Water. He also played with bands including Whitesnake. He had been receiving treatment for pancreatic cancer since last August.
*****

Government, universally inept.

The Canadian Army's newest radar system can't be linked in to NATO's air defence networks but the military says it won't cancel the project worth more than $200 million.

The Canadian Army is just now taking delivery of the first Israeli-built radars which are expected to be declared operational by the end of the summer.

But the Czech military has put on hold its deal for the same radars after NATO informed it the systems couldn't be used because the equipment was built by a non-alliance member and couldn't be integrated into NATO systems.
*****
On a trolling scale of 1 to 10, Troll level 11.

2013 The Onion story has the SJW in a hissy fit.
*****

Is it good riddance you old Hag? Or should we have been rooting for her?
Quite frankly at age 85 running for re-election is nothing more than to stroke your ego.
*****

Every day it seems that the Good 'Ol US of A gets to be more and more like the Soviet Union.

Iraq War veteran Leonard Cottrell Jr. knows his Constitutional rights, so he's not going to let anyone confiscate his guns without a proper warrant and due process.

Cottrell, a disabled Army veteran who served three tours during "Operation Iraqi Freedom," was working at a New Jersey Wawa store on June 14 when his wife called him to say that police officers were at their home demanding to seize his guns. The cops did not have a search warrant.
*****
Discretion, always the better part of valor. Just ask this Genius Award Winner.

A woman accused of setting two hay bale fires causing more than $20,000 damage in Half Moon Bay, California, said she set the blazes to prevent a 'zombie apocalypse' and a 'cult massacre,' respectively, authorities say.

Deputies arrested Monica Louise Berlin, 39, of El Granada, California, on Friday following a 20-mile chase, during which she livestreamed part of the pursuit on Facebook.
*****
iPhone and a toddler.Tonight's Feel Good Story of The Day.
A 3-year-old girl is being hailed a hero for using FaceTime to call for help after her father had suffered a heart attack at home

Trevor McCabe, 27, was at home with his daughter Molly on the Fourth of July when he suffered a stroke. Molly used her dad's phone to call her mom at work using FaceTime.

"She did a FaceTime call, and she was so brave, and she told me that daddy got sick, and she showed me where daddy was, and so I saw him lying on the ground," Molly's mother, Devon McCabe told NBC News.
*****

Tonight's ONT has been brought to you by Grannies Who Like To Party.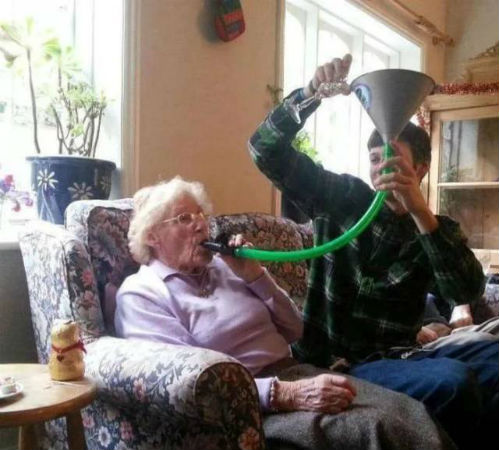 Notice: Posted with permission by AceCorp, LLC. Mood swings are not considered cardiovascular exercise.

posted by Misanthropic Humanitarian at
10:13 PM
|
Access Comments