« Former Bush Ethics Lawyer Turned, Get This, Democrat Candidate for Minnesota Senate, Needs You to Know He's a Man's Man Tough Guy
|
Main
|
The Morning Report 6/20/18 »
June 19, 2018
Tuesday Overnight Open Thread (6/19/18 )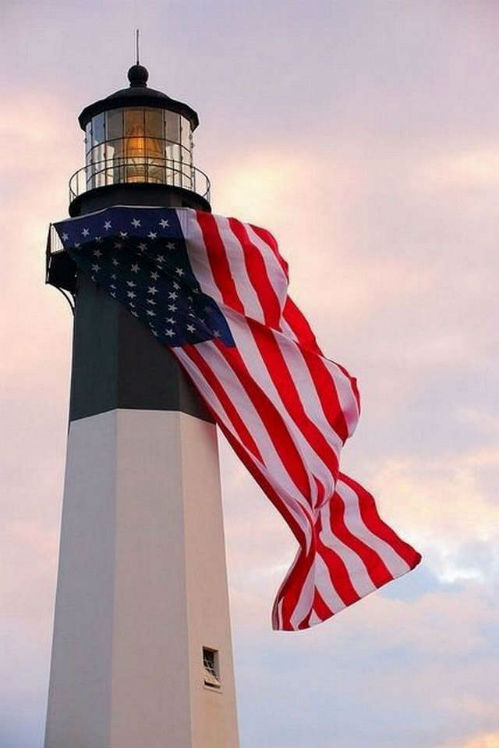 *****
The Quotes of The Day
Quote I

The nation which can prefer disgrace to danger is prepared for a master and deserves one. Alexander Hamilton
Quote II

The secret of genius is to carry the spirit of the child into old age, which means never losing your enthusiasm. Aldous Huxley
Quote III

Continuous effort - not strength or intelligence - is the key to unlocking our potential. Winston Churchill
Quote IV

We all know that overeating causes more deaths than drugs do. If it's in principle OK for the government to say you must not consume drugs because they'll do you harm, why isn't it all right to say you must not eat too much because you'll do harm? Why isn't it all right to say you must not try to go in for skydiving because you're likely to die? Why isn't it all right to say, "Oh, skiing, that's no good, that's a very dangerous sport, you'll hurt yourself"? Where do you draw the line? Milton Friedman

They (Progtards) don't need any encouragement.
*****
Unfettered liberalism and tourism doesn't go hand in hand.

"The streets are filthy. There's trash everywhere. It's disgusting," Joe D'Alessandro, president of S.F. Travel told the Chronicle's Heather Knight in April. "I've never seen any other city like this — the homelessness, dirty streets, drug use on the streets, smash-and-grabs."

The city, which hands out up to 4.8 million syringes each year, has struggled to figure out how to keep streets clean and safe for residents, while accommodating a growing homeless population and longstanding HIV and Hepatitis C epidemics. There are roughly 16,000 residents in San Francisco with HIV, and 13,000 with Hep C.
Sad.
*****

Quite the business model or not.

This past May, in order to pump up its new initial coin offering, or ICO, social media giant ASKfm sponsored four experienced Ukrainian climbers to scale Mount Everest and leave behind a wallet containing one million ASKT coins that the company valued at $50,000.


The PR campaign challenged others to make the climb and retrieve the wallet, "if they are brave enough." A promotional video was then posted on YouTube, in order to inflate the ICO "to the Moon" from the tallest place on Earth. What ASKfm forgot to mention, as it was encouraging others to make the climb, was that a man died during the publicity stunt.
*****
A serious question, when was the last time Biff Kristol, Erick Erickson, Kevin D. Williamson, Et al. sided with you?

I guess I should just be quiet and let the liberal establishment continue to attack President Trump for refusing to submit to the demands of a bunch of foreigners. As Napoleon warned, perhaps apocryphally but accurately, never interrupt your enemy when he is making a mistake. And it is crazy to think that the American people are going to punish a president who sides with them over that schnitzel-snarfing frau, Monsieur Les Eyebrows, and the rest of the globalist twits. Oh, and let's not even get started on how they can't help but manufacture reasons why Trump shouldn't take a chance on avoiding a war that would lead to thousands of Normal American families burying sons and daughters. Yeah, shaking Rocket Man's hand is pretty much Munich 2: The EnNorkening.
*****
The ONT Musical Interlude
June 19, 2013, Slim Whitman the American country music and western music singer/songwriter and instrumentalist died aged 90. Known for his yodeling abilities and his smooth high octave falsetto, he sold in excess of 120 million records during his career. Michael Jackson cited Whitman as one of his ten favorite vocalists and Beatle George Harrison cited Whitman as an early influence. Paul McCartney credited a poster of Whitman with giving him the idea of playing his guitar left-handed with his guitar strung the opposite way to a right-handed player's. via thisdayinmusic.com
No word on the admiration from Francis Rossi of Status Quo or Yoko or Tanya.
***
June 19, 2013, 1951, Born on this day, Ann Wilson, from American rock band Heart who scored the 1987 US No.1 & UK No.3 single 'Alone'. Heart has sold over 35 million records worldwide. via thidayinmusic.com
*****

A funny thing when scanning for scientific stories the MSM wasn't shouting out Antarctica is making and gaining ice.

Is Antarctica melting or is it gaining ice? A recent paper claims Antarctica's net ice loss has dramatically increased in recent years, but forthcoming research will challenge that claim.

NASA glaciologist Jay Zwally first challenged the "consensus" on Antarctica in 2015 when he published a paper showing ice sheet growth in eastern Antarctica outweighed the losses in the western ice sheet.
*****
A good thing? Or just another invasion of your privacy? Apple iOS12 automatically to give your location to 911 centers.


We already know that iOS 12 will include new features like improved performance, a focus on digital wellness, and Memoji, and now Apple has revealed another significant new feature that's coming with the update to iOS 12.

With iOS 12, iPhone owners will be able to automatically share their location data when they dial 911. Apple explains that it'll use RapidSOS's IP-based data pipeline to securely share an iPhone owners HELO (Hybridized Emergency Location) info when 911 call centers. This system will integrate with many 911 call centers' existing software.
*****

The ONT has been quite critical of Elon Musk's Tesla. Is it time for The ONT to give Tesla the benefit of the doubt?

Tesla CEO Elon Musk has accused a Tesla employee of "quite extensive and damaging sabotage to our operations," according to an email obtained by CNBC. In the all-hands email to Tesla staff, Musk wrote that the employee had made "direct code changes" to the company's production systems, as well as exporting "large amounts" of Tesla's data to unknown third parties.

According to Musk's email, the unnamed employee claimed he had become disgruntled after failing to receive a promotion. However, the Tesla CEO also suggested the alleged saboteur could have been working with short sellers, oil and gas companies—whom he described as "sometimes not super nice"—or "the multitude of big gas/diesel car company competitors." Of this last group, Musk reminded his employees that, since the traditional OEMs have been known to cheat emissions tests, "maybe they're willing to cheat in other ways."
*****

Starting a business is difficult. Having that business become a success takes brains, stamina, a little luck and a well thought out business plan. Hmmmm, what went wrong here?

A HOST OF ENVIRONMENTAL AND internal forces can cause an all-you-can-eat restaurant to go bankrupt, including waning popularity and rent hikes. But ceasing operations because people ate too much food is a more unusual cause for closure.

That's what happened to Jiamener, an all-you-can-eat hot pot restaurant in Chengdu, located in China's Sichuan province. The trouble started earlier this month, the South China Morning Post reports, when the restaurant launched a promotion that allowed guests to pay 120 yuan ($19) to eat as much hot pot as they could stomach for a whole month.
*****
A guide to the FBI Spy Gate debacle.

The FBI is many things to many people, but seen from the inside where I spent my career as an FBI agent, most of all it is a bureaucracy. The evident abuses of the vast investigatory powers of the Bureau to surveil the campaign of Donald Trump has left a paper and electronic trail as it jumped through the many procedural hoops required for Spygate to unfold.

Based on a clue from the Strzok-Page texts and my understanding of the rules the FBI has to play by, it is possible to piece together a picture of how and why surveillance of the Trump campaign probably unfolded. But in order to understand ​what happened, we'll need to explore the nature of FBI investigations, because the type of investigation controls, to some extent, the type of investigative techniques that are authorized. All this is set out in detail in the Attorney General Guidelines For Domestic FBI Operations (AGG) and the FBI Domestic Investigations And Operations Guide (DIOG).

Basically, there are three types of FBI investigations that involve opening a​n investigative​ case file:

We hear of all these retired FBI agents condemning their former employer's actions. For all of this to happen as outlined there were many who kept their mouths shut and looked the other way if they weren't involved in Spy Gate.

As Dave From Texas Tweeted this past weekend when discussing the FBI, "A fish rots from the head........."
*****

The truth hurts, ask Penguin Random House and will get you fired, ask Lionel Shriver.

Drunk on virtue, Penguin Random House no longer regards the company's raison d'être as the acquisition and dissemination of good books. Rather, the organisation aims to mirror the percentages of minorities in the UK population with statistical precision. Thus from now until 2025, literary excellence will be secondary to ticking all those ethnicity, gender, disability, sexual preference and crap-education boxes. We can safely infer from that email that if an agent submits a manuscript written by a gay transgender Caribbean who dropped out of school at seven and powers around town on a mobility scooter, it will be published, whether or not said manuscript is an incoherent, tedious, meandering and insensible pile of mixed-paper recycling. Good luck with that business model. Publishers may eschew standards, but readers will still have some
*****
Robbing a bank? Time for review. Do not lose the money. Genius Award Winner.

Jeffrey Wolfman, 32, was arrested after the robbery at Peapack-Gladstone Bank in Bedminster.

Witnesses told police they saw Wolfman on a nearby side street removing an outer layer of clothing. As he did so, they saw money dropping to the ground, according to the prosecutor's office.
*****
Youngster hopefully learns quarters aren't to be swallowed. Tonight's Feel Good Story of The Day.

An Oklahoma police officer saved a boy from choking and it was all caught on camera.

In video that was released by Pottawatomie County Sheriff's Office, County Sheriff's Deputy William Wheeler's body cam shows him racing to to assist the young child, named Chaz, who is attempting to cough up whatever object he swallowed.

'It's still in there and I don't know how!' exclaims the Chaz's panicked mom, Victoria Terrill, who was trying to help her son in the incident earlier this month.
*****

Tonight's ONT has been brought to you by Extreme Heat Advisories.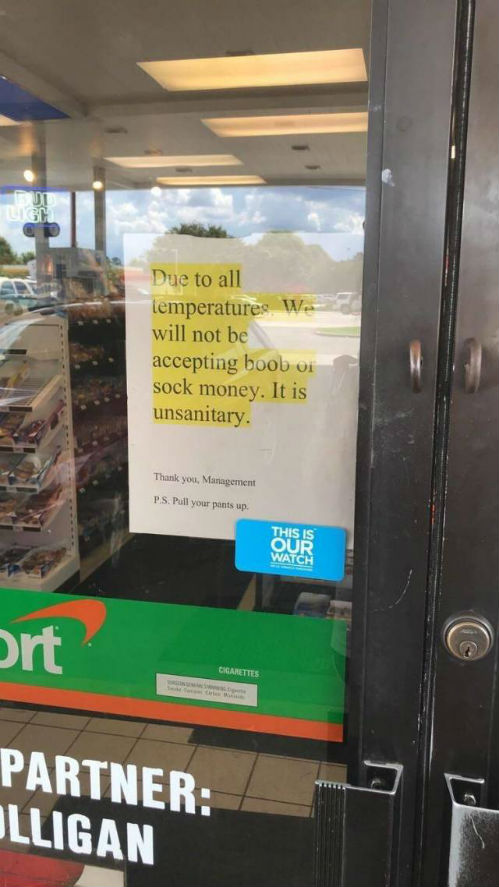 Notice: Posted with permission by AceCorp, LLC. Money for nothing and ONTs for free.

posted by Misanthropic Humanitarian at
10:04 PM
|
Access Comments