« Publix Caves to Li'l Hitler
|
Main
|
The FBI Claimed it Redacted the Embarrassing Fact of Andrew McCabe Spending $70,000 of Taxpayer Money on a Conference Table Due to "National Security" Concerns »
May 25, 2018
Soylo: A Soy Wars Soyry Will Be Disney's Lowest-Earning Soy Wars Entry Yet
Headline thanks to Comics Artist Pro Secrets. If the headline is indecipherable to you, Ethan Van Sciver says that Disney is producing "soy-based entertainment" -- cucked-out movies where all the women are bad-ass and decisive and all the men are ineffectual Pajama Boys and pansexuals -- and he calls their new movie "Solo: A Star Wars Story" "Soylo: A Soy Wars Soyry."
Which I think is pretty funny.
They're expecting Soylo: A Soy Wars Soyry to earn the least money of any Disney Soy-based entertainment.
The industry had been expecting, I thin, a $170 million domestic haul over the four-day Memorial Day Weekend (five, really, given that it opened Thursday night), but that had then be reduced to $150 million, and then to $130-$150 million, and then reduced again to $120 million.
Some thought that the $120 million was low-balling by Disney so that they could then beat the (lowered) expectations and claim success.
If so, that's not going to work: Soylo opened poorly last night and is now on track to make between $105 to $115 million its opening four (five) day weekend.
They had hoped it could at least take the title for "Biggest Memorial Day Opening." Memorial Day openings actually aren't all that big, and it's easy to score the record. Pirates of the Caribbean 3: The World's End set the record in 2007, I think, with around $138 million.
But they won't claim that prize.
Some are calling this fan revolt a "Soycott." (Which I also find amusing.) And it looks like the Soycott is real.
Soy Wars has not been popular in China. But Soylo just bombed worst than most in its opening night in China -- only $120,000 for midnight screenings in all of China, a nation of a billion and a half, according to a Chinese film industry analyst.
So the worldwide take isn't looking that great, either.
Soylo's Rotten Tomato score is at 69% (63% among Top Critics), and falling. (Update: It actually rose a point to 70% overnight. But the Top Critics score fell to 62%.)
Bear in mind, Disney arranges for a lot of shill internet "Geek Culture" reviewers to see these movies early to pad the Rotten Tomato ratings with Easy Lay reviews. But as the ratio of shill reviewers to nonshill reviewers declines, the Rotten Tomatoes score goes down.
How bad is the movie? It's this bad : Kathleen Kennedy actually dropped the "bombshell" news that she'd hired James Mangold to direct a stand-alone Soy Wars movie Boba Fett on the day that Soylo is premiered.
Why would she drop that headline when Soylo is supposed to be the headline? Because she wants to change the headline, obviously. She knows Soylo is bad news and I think she knows for the first time her job is in peril. So she drops this bait to get the shills to squawk about the possibility that a Boba Fett movie coming out three years from now (allegedly) instead of the movie she just dropped in a plop.
Here are some reviews:
As I already mentioned, Emergency Awesome -- a "geek culture" website you'd expect to be a soft, gentle reviewer for Soy Wars movie -- can only say the film is "just fine," and ranks it among Soy Wars movies lower than any movie except The Phantom Menace.
Mr. Sunday Movies, who generally is a lay-up review for Soy Wars movies (he loves The Last Jedi, for example), calls it "unnecessary," "paint by numbers," and "just flat." He ranks it, among Star Wars movies, only above the prequels, and he's not sure it's better than Revenge of the Sith, either.
Beyond the Trailer says it's just bad, and features a horribly annoying pure-Social Justice Warrior robot. Just what we needed! And even a female critic is put-off by Kathleen Kennedy's insistence of loading every Soy Wars movies with 90 pound girls who are Super Bad-Ass and can Kick Every Grown Man's ass but have absolutely no personality or memorability.
Those two reviews are spoiler-free, but Ethan Van Sciver's does have spoilers. He says it's a disaster and will result in future Soy Wars movie plans being changed/cancelled. Per his review, it's horrible enough that you shouldn't care about spoilers.
You can't really spoil a garbage fire. You kinda know how a garbage fire goes.
He also notes the "bitchy feminazi SJW robot." He says it's Soy Wars' worst, most SJW, most annoying character yet, beating out Rose Tico for that honor.
He also says this is the worst Soy Wars movie apart from The Last Jedi (which he hated).
Kathleen Kennedy really has no idea what she's doing. She spent most of her career as an assistant to Steven Spielberg. Now in charge, the only idea she has is to make every 90 pound girl a UFC champion-level badass and make random characters gay (or "pansexual").
She doesn't view these as products meant to entertain an audience, so much as to educate them in the mysterious Ways of The Feminist Force: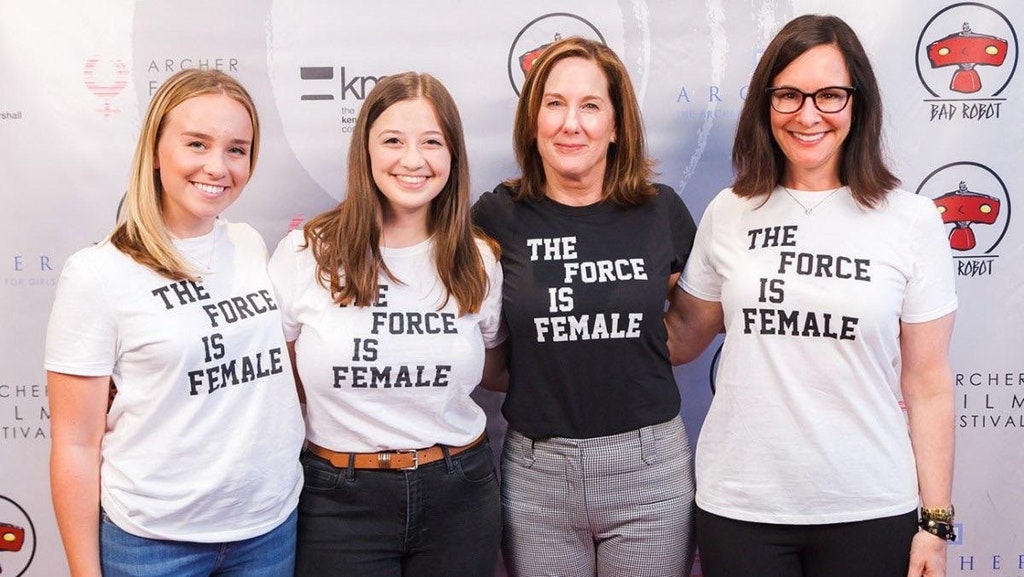 We'll see how much longer The Force is Female once Soylo gets done sharting box office failure all over the back of the toilet.
Note: Real news below. But I want to put this up before everyone blows home for the day.


posted by Ace of Spades at
04:04 PM
|
Access Comments