« Mid-Morning Open Thread
|
Main
|
Feminist: We Must Protect The Concept of Feminism From "Conservative Appropriation" »
May 23, 2018
The Morning Rant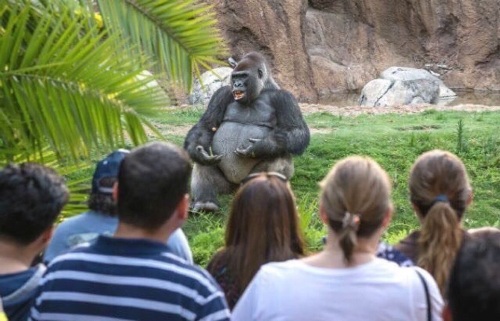 "One last thing about the potatohead media deliberately taking President Trump's remarks about MS-13 out of context. He said, quote, When the MS-13 comes in, when the other gang members come into our country, I refer to them as animals and guess what, I always will. Unquote. See what he did there? He didn't back down, he didn't grovel, he didn't apologize. He shoved it right back in their smug little faces. And probably had a good laugh in private watching them fall all over themselves defending MS-13. Trump is showing the GOP(e) how to fight the progressive hive and its allies in the potatohead media. The question is, are they listening?"


Animal: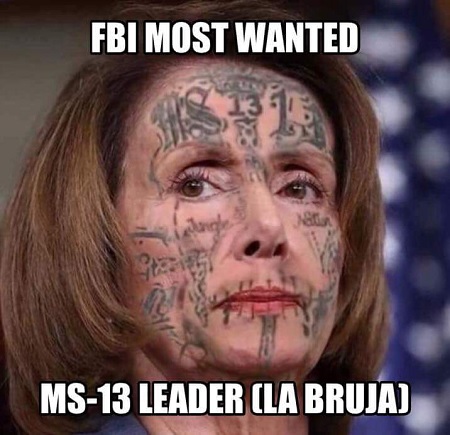 Compare & Contrast: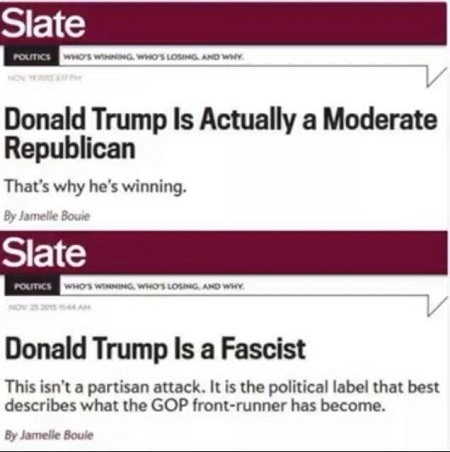 Troll Level: Master

(h/t
Drill Thrawl
)
It looks like Hillary Clinton has won another participation trophy:
Harvard University will honor Hillary Clinton on Friday with an award recognizing her "transformative impact on society."
Yup. Sounds exactly like a participation trophy. Progressives are forever giving each other awards and patting each other on the back. Why is that?
Next up: John Brennan will get a Best Penmanship Prize.


Florida Man, Chapter Two, Electric Boogaloo: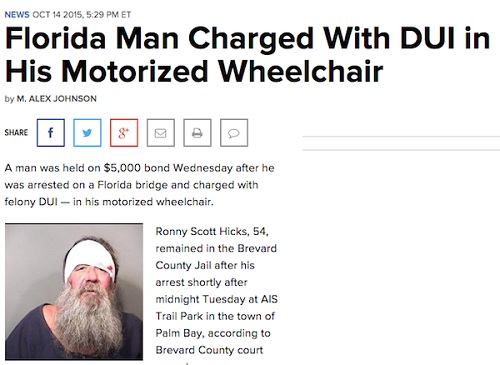 AoSHQ Weekly Prayer List
FenelonSpoke has been busy travelling and I have not received the most recent prayer list from her today, so I am just re-posting the one from last week.
For submission guidelines and other relevant info, please contact FenelonSpoke, who is managing the prayer list. You can contact her at
fenelon direction 18 circle 'a' gmail dot com
(All one word, no spaces)
-----------
Job related prayer requests:


4/17-For success of Linduh's husbands phone application for Apple.

4/17-Jospephistan needs a new job .

5/14-VoterMom needs a PT job.


Healing related prayer requests:

4/17-Prayer for healing for Evan who has brain damage after something fell on him.

4/17-A poster wrote-A friend from high school had her daughter, Adeline, die from cancer only months after daughter got married, Widower and other family needs consolation
and peace of mind.

4/17 Continued prayers needed for TonyPete's wife affected by immune disorders.

4/17-Continued prayers for little girl known to "Some Guy in Texas". Girl has brain cancer.

4/24-Prayers for healing of friend of "Lee Also". Friend has ALS and severe difficulty breathing. Wants to be able to hold grandchild due in Summer

4/24- Healing for OregonMuse and renewed progress after his surgery.

4/25-Mr. Feverhead- wife left taking their child after he had difficult treatments for cancer, huge bill from IRS, Needs miracles.

4/26-Pooky's Girl-continued prayers for healing for husband suffering from PTSD.

5/1-Sullas's dad will will begin cancer treatment in several weeks. Needs success in treatment.

5/1-Kemp asked prayers for well being of premature grandchildren in ICU.

5/6-Insomniac has difficult and complicated family issues. Needs prayers for himself and his children.

5/6-Fenelon-prayers for healing and resolution of insurance issues.

5/8-Prayers for Backwards Boy and Backwards Gal, for all their physical and other needs

5/8-Laurel asked for surcease of pain of Sister-in-law affected by MS. SIL needs to reach out to friends so she's less alone.

5/8-Thing from Snowy Mountain, in need of healing for heart issues, weight concerns and high blood pressure. Also, needs a new and less stressful job.

5/9-Lurking Phineas, inoperable advanced prostrate cancer. Prayers for time with family, and to bear the effects of hormone treatments and radiation treatments and for success in treatments.

5/10-Lurker ("Curate"), needs healing from bile duct cancer and comfort for wife and married daughters and their husbands

5/10-Captain WhiteBread, healing for mom who has heart issues. Needs resolution for $5000 hospital bill after his own heart surgery. Needs strength and hope.

5/15 -Hobbitopoly, prayers for pop who needs healing after eye surgery and for cataract surgery upcoming this Friday

5/15- NorthernLurker, sister-in-law still needs healing and recovery after death of husband several years ago. Family under a lot of stress.

**** A poster-whose name escapes me***( Sorry) asked for prayer for family issues regarding mental illness and disruption of family life, Family needs healing and recovery.
I apologize for any errors. Please contact FenelonDirection18 (at gmail.com) for additions or changes.
-----------
Please contact FenelonSpoke through email, as she cannot be around for many of the posts in threads. Feel free to copy and paste emails to her for Prayer Requests.
Please remember the Prayer of St. Francis:
http://www.prayerguide.org.uk/stfrancis.htm

...and speaking of prayer:

The Lord's Prayer

I have no memory of this song, which is weird, because it came out in 1973 and I was keeping track of top-40 radio at the time. It very much has an early 70s sound to it, but I like the kick-ass intro and Sister Janet has a great singing voice.

posted by OregonMuse at
11:29 AM
|
Access Comments