ę EMT 5/20/18
|
Main
|
The Gell-Mann Amnesia Effect: A Wikipedia Corollary Ľ
May 20, 2018
Sunday Morning Book Thread 05-20-2018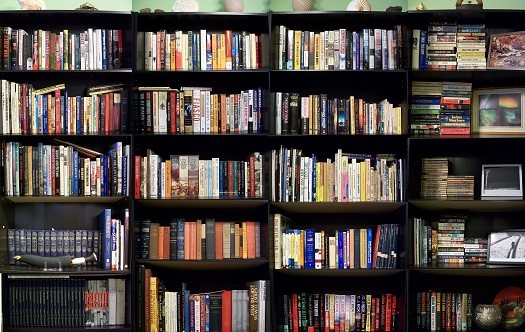 Library of Jake Holenhead

Good morning to all you 'rons, 'ettes, lurkers, and lurkettes. Oh, and we've got a new category of readers, escaped oafs and oafettes. Welcome once again to the stately, prestigious, internationally acclaimed and high-class Sunday Morning Book Thread, a weekly compendium of reviews, observations, and a continuing conversation on books, reading, and publishing by people who follow words with their fingers and whose lips move as they read. Unlike other AoSHQ comment threads, the Sunday Morning Book Thread is so hoity-toity, pants are required. Even if it's these hideous-looking pants, which look like an explosion in a hippie factory.

Pic Note
Jake tells me:
Hope this photo size isn't too large. I took photos of the individual shelves then stitched them together. It drives me nuts to see someone's personal library and not able to read the book titles.
I know the library pic looks tiny, but click on it, and you'll see how yuuuge, classy, and luxurious it is. You can, indeed, read every title on Jake's shelves.

It Pays To Increase Your Word Power®
Something that is BOMBYLIOUS is buzzing like a bee.
Usage: Muhammad Ali bombyliously defeated George Foreman.
Bonus:
A MUCK-ROBIN is a child who deliberately enjoys annoying or disturbing adults.
Yes, but isn't that a description of pretty much every child?

RIP Tom Wolfe
Tom Wolfe, an innovative journalist and novelist whose technicolor, wildly punctuated prose brought to life the worlds of California surfers, car customizers, astronauts and Manhattan's moneyed status-seekers in works like "The Kandy-Kolored Tangerine-Flake Streamline Baby," "The Right Stuff" and "Bonfire of the Vanities," died on Monday in a Manhattan hospital. He was 88.
The link is to the NY Times obit, which gives a pretty good overview of his life. Breitbart has a TL;DNR version.
I think my favorite Wolfe book is The Right Stuff, his chronicle of the early days of the U.S. space program. But if you're going to read that, I recommend you first read Wolfe's essay 'The Truest Sport: Jousting with Sam and Charlie' which appeared in his collection Mauve Gloves & Madman, Cutter & Vine. It's a sort of a precursor essay that touches on the same themes as 'The Right Stuff'.
Mrs. Muse liked From Bauhaus to Our House, which explained how a progressive/socialistic world view really messes up architecture. The example photos that show the ugly new buildings are worth the price of the book.

Whither the 2018 Nobel Literature Prize?
Riven by infighting and resignations following allegations of sexual misconduct, financial malpractice and repeated leaks, the Swedish Academy has said no Nobel prize for literature will be awarded this year.
To compensate, they're going to give out two in 2019. Or, so they say.
Here is what the fuss is about:
At the root of the institution's unprecedented crisis are a raft of wide-ranging allegations against Jean-Claude Arnault, a photographer and leading cultural figure in Sweden, who is married to Katarina Frostenson, an academy member and author.

Last November, the Swedish newspaper Dagens Nyheter published detailed allegations by 18 women accusing Arnault of sexual harassment and physical abuse over a period of more than 20 years, in France and Sweden and including at properties owned by the academy.
Not that any of you care. But I must admit to partaking of some schadenfreude flavored pudding in our customary manner when I first heard about this squabble. Another progressive instition is rotting merrily away from the inside and the rot has now become visibly apparent.
And speaking of sensitivity readers, here's another article about content-policing, only this time pointed an authors who say things you don't like or do things that are morally reprehensible. But wouldn't that have to include pretty much every author who has ever lived? My favorite example of this kind of thing is Ayn Rand, who always wrote in glowing terms of the absolute necessity of human freedom and expression, but in real life, the inbred little group that coalesced around her was run like a totalitarian gulag, complete with ritual denunciations, show trials and excommmunications. Rand made Stalin look like Tiny Tim.
I especially liked this response to the WaPo article:
I came to California to work at a teaching and retreat center where many famous people from many disciplines would come to teach. I had left a short term job in upstate NY at a similar facility. Spending time around many well known scientists, authors, spiritual leaders, etc., I realized that quite a few were pretty unpleasant to hang around. Though their teaching and writing may be brilliant, they often were pretty mean in interpersonal relationships. What surprised me the most was that many of the people that were teaching about one form of relationship improvement or another were the worst offenders. It was then that I realized one must not expect the creator to live up to the ideals in the creation. Perhaps it's the demons that haunt their personalities that inspires their brilliance in all but their own lives.
Hence the dictum: never meet your heroes, you're bound to be disappointed.

Moron Recommendation
'Ette LindaF wants me to tell you about a good independent book store:
That city is about 30 minutes away from Charlotte, NC.

The store is The BooKnack, 742 North Anderson Road, Rock Hill, SC

They have a good deal with bringing in old books - they issue credits, which you can use to buy their used books at greatly reduced price (not valid on new book, though). They have a killer Mystery section, good for Thrillers (Lee Child et al), and even have audio books for sale. They carry a lot of independent authors, particularly the locals. VERY supportive of those independent of the mainstream publishers.
It doesn't appear to have a web page.
She also tells me she has published an update for modern readers of The Lottery, by Shirley Jackson. Itís on Smashwords, Readers Choice pricing - zero to whatever. She wrote it in response to a comment on one of your threads.
Available at this link.

___________
OldSailors Poet informed me that he has read a book he calls a "total moronesque masterpiece":
A conservative author I hold in great prominence has chosen to use a pen name because she fears retribution over the way she humiliates the SJW movement. It is called, "The Narrative". It is very funny and very well written.

Votermom has also read it. From her review:
This book fearlessly mocks and ridicules the Left, and yet the remarkable thing is that it manages not to be angry. I feel like the author had a lot of fun writing this, and does not view her character with contempt, but rather with compassion. I actually found myself rooting for Majedah to be redeemed.

This book made me snort my coffee with laughter, made me stay up too late reading, made me nod my head in agreement with it's description of the Left. All in all this novel a satirical glitter-bomb masterpiece.
However:
97 Just started reading the satirical novel The Narrative by Deplora Boule at the recommendation of the Bookhorde blog. I'm finding it a bit heavy-handed, but thoroughly funny political humor from the "right" perspective.

Posted by: Hans G. Schantz at May 13, 2018 09:47 AM (1pQvR)
So it sounds like the worst thing you can say about this book is that it preaches to the choir. Which is OK, since we're the choir.
Here is the Amazon blurb:
Majedah is gifted with good looks, an elite journalism degree, and uncanny reporter senses that tingle when news is about to break. Plucky and ambitious, she's determined to climb to the top of the broadcast world and land a job at global media giant News 24/7.

A story with a flawless narrative catapults Majedah to national prominence—and a position as a pool reporter at News 24/7's swanky Manhattan headquarters. With one eye on the coveted primetime feminist anchor slot and the other on a past love she can't quite forget, Majedah uses her impeccable social justice credentials to keep climbing. When she's pigeonholed as the media expert on an unlikely presidential candidate, will Majedah break the biggest scoop of the century? Or will the scoop break her?
The Narrative by "Deplora Boule" is available on Kindle for $4.99.

___________
Don't forget the AoSHQ reading group on Goodreads. It's meant to support horde writers and to talk about the great books that come up on the book thread. It's called AoSHQ Moron Horde and the link to it is here: https://www.goodreads.com/group/show/175335-aoshq-moron-horde.
___________
So that's all for this week. As always, book thread tips, suggestions, bribes, rumors, threats, and insults may be sent to OregonMuse, Proprietor, AoSHQ Book Thread, at the book thread e-mail address: aoshqbookthread, followed by the 'at' sign, and then 'G' mail, and then dot cee oh emm.
What have you all been reading this week? Hopefully something good, because, as you all know, life is too short to be reading lousy books.

posted by OregonMuse at
09:00 AM
|
Access Comments