« EMT 05/13/18 The Haus Grows edition.
|
Main
|
National Suicide 101: Alienate your strongest ally while simultaneously inviting your enemies into your country »
May 13, 2018
Sunday Morning Book Thread 05-13-2018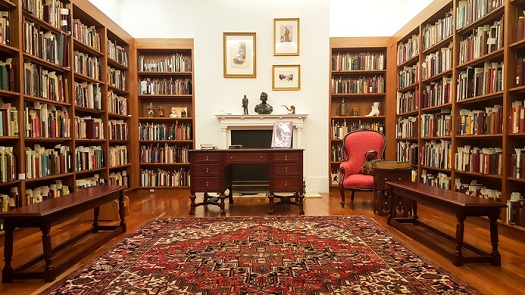 Arthur Conan Doyle Room, Toronto Reference Library

Good morning to all you 'rons, 'ettes, lurkers, and lurkettes. Oh, and we've got a new category of readers, escaped oafs and oafettes. Welcome once again to the stately, prestigious, internationally acclaimed and high-class Sunday Morning Book Thread, a weekly compendium of reviews, observations, and a continuing conversation on books, reading, and publishing by people who follow words with their fingers and whose lips move as they read. Unlike other AoSHQ comment threads, the Sunday Morning Book Thread is so hoity-toity, pants are required. Even if it's these pants, which are ugly enough, but the clunky shoes make her look like a modern-day version of Olive Oyl.

Pic Note
It takes a shrewd detective to find one of the world's foremost collections of library materials devoted to the life and work of Arthur Conan Doyle and his Sherlock Holmes stories. Tucked away on the top floor of the Toronto Reference Library, the Arthur Conan Doyle Room is one of the city's best-kept secrets.

For those who make the effort, it's well worth it. The collection is housed in a room decorated to look like Sherlock Holmes' apartment at 221B Baker Street, London, with Victorian-era chairs, a Persian carpet, floor-to-ceiling wooden bookshelves, and a scattering of memorabilia and paraphernalia.
(h/t James Verpoten)

It Pays To Increase Your Word Power®
NYINGIE-NYANGIE is an old Scots word for a manoeuvring back and forth.
Usage: "These brave men have chosen death -- by nyingie-nyangie."
Amazon: Bring Out Your Dead (Clang!)
Brick & Mortar Bookstores: We're Not Dead Yet
'Ette SandyCheeks writes:
With all the used bookstores closing, I was surprised when a friend told me about an offshoot of Books-A-Million. They're buying and selling books, games, CD's, etc. Here's the link, which also has a locations tab to see if there's one near Moron or Oaf habitats.
She's referring to 2nd & Charles, which buys and sells used books, CDs, vinyl, games, toys, musical instruments, video games, and more. According to the locations page, the franchises are located mostly in the Eastern states, with a few in Texas and Colorado. Might be worth checking out if you live near one their outlets.

None Dare Call It Censorship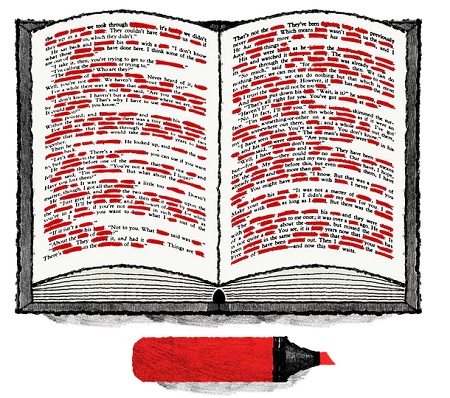 According to the Guardian, writing a YA book is tough:
When reviewers first saw Keira Drake's The Continent, this story of a teenager trapped by a war between two "native" tribes quickly found attention on social media – though not much of it was good. This young adult novel was attacked for its "white saviour narrative" and its stereotypical portrayal of people with "reddish-brown skin" or "almond-shaped eyes". The author Justina Ireland called it a "racist garbage fire".
Oh dear. What to do?
Drake apologised, said she would "address concerns about the novel", and delayed the release. Her publisher, Harlequin Teen, sent the book out to two "sensitivity readers", who vetted the manuscript for stereotypes, biases and problematic language. Armed with a list of potential problems and possible solutions, Drake went back to the drawing board.
Yes, there are actually people who hire themselves out as "sensitivity readers" to make sure that all of the right gender and ethnic diversity boxes are checked off. Unlike Drake, some authors hire them proactively to head off the SJW howling mobs:
Anna Hecker, whose young adult novel When the Beat Drops is published in May, says she first contacted sensitivity readers after two rounds of edits with her publisher. Her protagonist, Mira, is mixed-race – half Caucasian, half African-American – and Hecker is not.

She hired three sensitivity readers, who all gave feedback.
The sensitivity readers hotly deny that what they're doing constitutes censorhip, but it sounds like that's because they merely lack the requisite muscle to enforce their decisions. One erstwhile sensitivity reader describes why she quit being one:
"I quit doing them because they were exhausting and sometimes authors wanted to argue with me," she says. "They weren't open to the feedback. They weren't trying to understand the feedback. They were insisting on the rightness of what they were writing."
I fail to see the problem here. She was hired to read a manuscript and provide feedback. Which she did. And she was paid for her work. There was (presumably) nothing in her contract about being given veto authority over content. She sounds more like a frustrated totalitarian than a manuscript reader.
Besides, we already have "sensitvity readers", and always have. They're called "readers." And they enforce their decisions through something called "the market", i.e. if a book is lousy, they won't buy it. Nobody wants to buy crappy books.
Another Guardian piece on the subject actually makes some good points:
There's a thin line between combing through manuscripts for anything potentially objectionable to particular subgroups and overt political censorship. Is it any longer acceptable for characters to be bigoted? Can a character in your novel vote for Brexit? And if all the characters speak with the same courtesy, and voice the same standard left-of-centre views, contemporary fiction can't hope to contribute to the understanding of a world that elects Donald Trump. Fiction won't help younger readers to make sense of their real lives, if in books Muslim men never groom white girls or become radicalised through the internet, transsexuals never regret transitioning or conclude they're actually gay, women are always confident and empowered, and the terminally ill are always brave (or whatever they're supposed to be; ask the experts). These days, with all hell breaking loose in Europe and the US, the left's sensitivity run amok seems to be coexisting in a bubbled‑off alternative universe.
If everybody is thinking the same way, then nobody is really thinking at all.

Moron Recommendation
173...A guy by the name of Traphes Bryant wrote a book many years ago about his time as the dog keeper of the White House (Dog Days at the White House). A really great read and something I've read over and over again.

Anyway, he did interact with Kennedy and while he never said anything bad, there are a number of stories in there about, well, certain liberties taken. Nude lounging in the WH swimming pool with various other men and women. Walking in the WH and seeing a nude "secretary" go tripping by. And such. He played it kind of for laughs, but there was an undercurrent of disdain in his writing I think.

Posted by: WitchDoktor, AKA VA GOP Sucks at May 04, 2018 11:49 AM (tVWQB)
I think Dog Days at the White House: The Outrageous Memoirs of the Presidential Kennel Keeper is long out of print, but you can get used copies via Amazon for as little as $2.
So the culture at the JFK White House appears to have been quite libertine. Thw WH press corps must certainly have known about it. It doesn't sound like something that could be kept secret, what with naked people walking around and all. Naturally, they never bothered to report on it. You'd think that such goings-on would be newsworthy, but perhaps I'm just mistaken.

___________

Moron ibguy writes to tell me:
Last summer, a dear friend and mentor passed away. Stuart was a physicist and student of theology, interested in exploring the relationship of science with religion, particularly Judaism. For many years, he had talked about publishing his writings, but never got around to it. So to honor his legacy, I have (with permission from all involved).
The book is titled 'A Scientist In Search of God. From the blurb:
Collected works of Dr Stuart Fickler. Melding science and religion, Dr Fickler brings physics and Judaism together. A noted scientist on a lifelong search to reconcile his rational, scientific self with his spiritual side. Written in a variety of (online) media, these essays reflect his journey, and his passion. This book's purpose is to serve as his written legacy.
The hardcover version is available at cost (~$14 + shipping) and also as a free download (pdf):
Hardcover: http://www.lulu.com/content/hardcover-book/a-scientist-in-search-of-god/22852432
eBook: http://www.lulu.com/content/e-book/a-scientist-in-search-of-god/22852595
Did I mention the .pdf version is FREE?
___________

Books By Morons
Moron lurker and author Mark Hudson outed himself on votermom's Goodread's group. Here's his Amazon page. Mark has written a number of books. He didn't mention any one in particular, so I'll just grab one to talk about. An Emerald Abyss: A Gordan Hudde Novel is a political thriller about disappearing veterans, featuring former US Army Ranger and current CIA operative Gordan Hudde:
Veterans have given their all for this country; the veterans administration seems to be failing them and far too many are committing suicide every day.

Now veterans are disappearing from the streets in and around Washington DC. Could it be a terrorist organization or maybe something worse? It's a mystery the government has so far refused to even acknowledge.

Follow Gordan Hudde from the woods of his Georgia home to the shores of the Potomac as he is pulled into an evil web of deceit and corruption.
You should read Mark's bio over on his Amazon page. He sounds like an interesting guy.

___________
Don't forget the AoSHQ reading group on Goodreads. It's meant to support horde writers and to talk about the great books that come up on the book thread. It's called AoSHQ Moron Horde and the link to it is here: https://www.goodreads.com/group/show/175335-aoshq-moron-horde.
___________
So that's all for this week. As always, book thread tips, suggestions, bribes, rumors, threats, and insults may be sent to OregonMuse, Proprietor, AoSHQ Book Thread, at the book thread e-mail address: aoshqbookthread, followed by the 'at' sign, and then 'G' mail, and then dot cee oh emm.
What have you all been reading this week? Hopefully something good, because, as you all know, life is too short to be reading lousy books.

posted by OregonMuse at
09:00 AM
|
Access Comments