« EMT 5/6/18
|
Main
|
The Arrogance Of The Ignorant: Socialism Is So Cool And Kind And Fair! »
May 06, 2018
Sunday Morning Book Thread 05-06-2018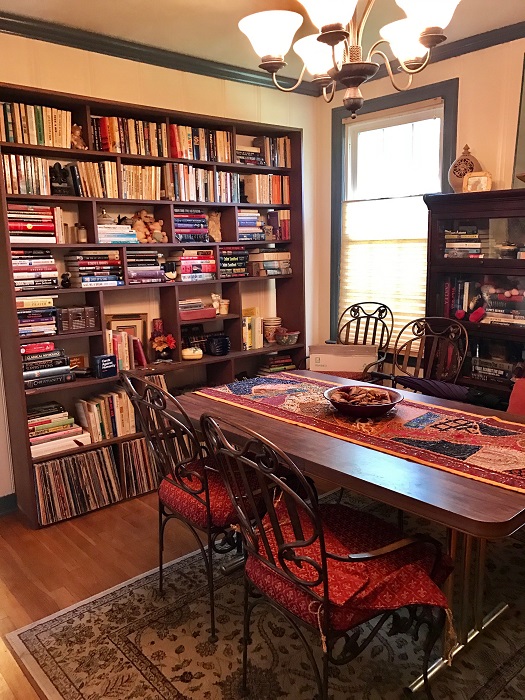 Reine's Library

Good morning to all you 'rons, 'ettes, lurkers, and lurkettes. Oh, and we've got a new category of readers, escaped oafs and oafettes. Welcome once again to the stately, prestigious, internationally acclaimed and high-class Sunday Morning Book Thread, a weekly compendium of reviews, observations, and a continuing conversation on books, reading, and publishing by people who follow words with their fingers and whose lips move as they read. Unlike other AoSHQ comment threads, the Sunday Morning Book Thread is so hoity-toity, pants are required. Even if it's these pants, which only show that something as seemingly easy as producing an attractive pair of leather pants is beyond the reach of some.

Pic Note
Another nice, homey library which you can click for an embiggened view. I like the vinyl collection on the lower shelf.
This pic is from lurker and very occasional commenter Reine, who writes:
It's actually my dining room, but we hardly use it for actual dining. This is only half; there is another bookcase on the wall opposite the large one in this photo. I love my library. A home without books is incomplete.

It Pays To Increase Your Word Power®
A child who is TRANTY is precocious or wise beyond their years.
Usage: [Emily Litella]: What's all this I hear about bathroom rights for tranties?
Moron Duncanthrax reminds me that there is a Japanese word 'tsundoku', which is the act of acquiring books and not reading them.
( *whistles, puts hands in pockets, pretends to look at watch, then at birds in the sky* )
What? What are you looking at *me* for!?
Book Quote
Since it is so likely that children will meet cruel enemies, let them at least have heard of brave knights and heroic courage. Otherwise you are making their destiny not brighter but darker.
(h/t CS Lewis)
Manscript repair

Click on the above tweet (text) to see some pics on creative ways that they used to repair damaged manuscripts. Very interesting.
(h/t phoenixgirl)

Moron Recommendations
I'm going to recommend a book I haven't read yet. I'm a big fan of The Babylon Bee Christian parody site, and the best way to describe it is it's a Christian version of the Onion. Only, unlike other Christian versions of other things, like movies, music, rap, fiction, etc., which mostly suck, the Bee is actually very good at what it does. It likes to poke fun at the goofy-ass stuff that goes in the American Christian subculture(s), and goofy-ass Christian "leaders" like Joel Osteen, who deserve to be mocked a lot more than they are.
So the Bee has just put out a book, How to Be a Perfect Christian: Your Comprehensive Guide to Flawless Spiritual Living. I think the Amazon blurb is namby-pamby, so this blurb is from the Bee site:
What's it all about?
How to Be a Perfect Christian is 208 pages of brand-new Bee material which will transform the sad excuse for a believer that you currently are into an absolutely Perfect Christian. The experts at The Babylon Bee will take you by the hand and lead you on this journey, helping you achieve perfection in all aspects of the Christian life.

Is this book a compilation of Babylon Bee articles?
Nope. Utilizing the same tone and voice as our unparalleled news coverage, How to Be a Perfect Christian is a cohesive standalone book of all-new material, written by the same fearless journalists who have earned the title Your Trusted Source For Christian News Satire.

Is it softcover or hardcover?
Hardcover. This book is too important to be released in a flimsy format.
If you read the Bee and like the Bee, you will probably like this book.
___________
Book Fort
429 Piling is a valid form of organization and don't let anyone tell you otherwise. (Fistbump)
Posted by: joncelli on his New toy at April 29, 2018 03:01 PM (1FhAQ)

Building a book fort is my next step.
Posted by: All Hail Eris, She-Wolf of the 'Ettes 'Ettes at April 29, 2018 03:14 PM (qJtVm)
Book fort!? Did somebody say book fort? I got your book fort RIGHT HERE.

Books By Morons
I'd like to welcome new 'ette author Laura Montgomery from votermom's Goodreads group, as well as introduce her latest science fiction novel, Mercenary Calling
Calvin Tondini has his first client, but he may be in over his head.

It's the twenty-second century. Humanity's first and only interstellar starship returns safely. Its mission to discover a habitable planet succeeded beyond all hopes, but there's one problem. Captain Paolina Nigmatullin of the USS Aeneid left an unsanctioned human colony behind and now stands charged with mutiny.

Despite a somewhat spontaneous approach to his own career, life, and limb, Calvin intends to map a more cautious path for his new client. Captain Nigmatullin, however, shows an unnerving penchant for talk shows -- appearing on them, that is -- and otherwise ignoring her attorney's sober counsel.

How can Calvin ensure his client's freedom when death stalks the Aeneid's crew, and Nigmatullin herself hides secrets from everyone, even her lawyer?
Ms. Montgomery is also the author of The Sky Suspended and The Manx Prize. I was particularly intrigued by the latter:
Charlotte Fisher lives under colliding skies.

It's the second half of the twenty-first century, and mankind has reached Earth orbit but not much farther. Orbital debris is a by-product of the industrial activity, and it's dangerous both to everyone up there and the bottom lines of the corporations offering a prize to get rid of it. Charlotte heads up a team chasing the Manx Prize for the first successful, controlled de-orbit of a dead satellite. To win, she and her team must out-think and out-engineer a cheating competitor, dodge a collusive regulator, and withstand the temptations offered by a large and powerful seastead.
Mrs. Muse and I just finished watching the screen adaptation of Dava Sobel's book Longitude: The True Story of a Lone Genius Who Solved the Greatest Scientific Problem of His Time and it sort of reminded me of that, i.e. a big money prize, unscrupulous shenanigans, and stultifying, overbearing bureaucracy.
___________
Another long-time lurker has outed himself as an author on the Goodreads group. RG Ainslee has started publishing a series of novels that, he says, are "interwoven into a timeline of real events during the decade of my overseas travels in Africa and South Asia in the 1970's. They include the Yom Kippur War of 1973, the Ogaden War of 1978, the Iranian Revolution, pre-invasion Afghanistan, and the Libyan incursion into Chad in 1980."
The Latakia Intercept, featuring Army Security Agency ELINT Analyst Ross Brannan, who becomes entangled in a web of deceit in the days before the Yom Kippur War. This is actually a prequel novella of the series. More details are available on his web site.

___________
Moron author Oren Litwin is attempting to put together a fantasy anthology and crowd-funding it via kirkstarter:
Ye Olde Magick Shoppe will be a short-story anthology in the fantasy genre, broadly defined, with stories that feature the purchase of a magical good or service from someone for whom this is their profession. Open to new and experienced authors, this anthology is your chance to help bring original and exciting stories into the world! will be a short-story anthology in the fantasy genre, broadly defined, with stories that feature the purchase of a magical good or service from someone for whom this is their profession. (Read the details here.) Open to new and experienced authors, this anthology is your chance to help bring original and exciting stories into the world!
Submissions are still being accepted. Click on this link for more details.
___________

Don't forget the AoSHQ reading group on Goodreads. It's meant to support horde writers and to talk about the great books that come up on the book thread. It's called AoSHQ Moron Horde and the link to it is here: https://www.goodreads.com/group/show/175335-aoshq-moron-horde.
___________
So that's all for this week. As always, book thread tips, suggestions, bribes, rumors, threats, and insults may be sent to OregonMuse, Proprietor, AoSHQ Book Thread, at the book thread e-mail address: aoshqbookthread, followed by the 'at' sign, and then 'G' mail, and then dot cee oh emm.
What have you all been reading this week? Hopefully something good, because, as you all know, life is too short to be reading lousy books.


posted by OregonMuse at
09:00 AM
|
Access Comments