« Mid-Morning Open Thread
|
Main
|
Is This Something? »
April 25, 2018
The Morning Rant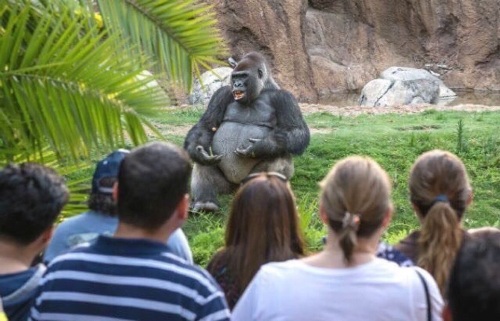 "Stupid news infobabe complains about having to 'quadruple-check' her news copy so she doesn't get labelled fake news. To which I say: tough shit, sugar tits. Your complaint would have more credibility if you and the rest of the media hadn't basically been Obama's fluffer for the last 8 years. Her whiny piece is just full of sanctimonious 'why doesn't everyone see our awesome wonderfulness?' gasbaggery. As the man says, nobody is impressed with the press quite like the press."


NY Times Correction Of The Year:


Who Said This?
"Most straight people cringe at the sight of two men kissing...The nature of political correctness is that gay people are allowed to say straight sex is gross but the reverse is considered to be patently homophobic."
a. Glenn Beck
b. Michael Savage
c. Rush Limbaugh
d. Joy Reid
Ha ha, you've probably guessed that the answer is (d) Joy Reid.
Now the woke Joy Reid is under attack by her erstwhile, but more woke, friends. And her pathetic excuse, "somebody must have hacked my account and inserted those homophobic posts into my blog and then ran away without leaving a trace" isn't helping.
But the dirty secret here is that her observation is correct, and furthermore, it is every bit as true now as it was back when she originally said it. Male homosexuality and female homosexuality are not completely symmetrical. People don't mind lesbian kissing and fooling around all that much. In fact, as every Moron knows, lesbian pr0n geared toward a straight male audience has been around for decades. In contrast, the only ones who like to watch men kissing are male homosexuals. It is inherently repellent in a way that lesbian sex isn't. I'm not sure why this is, but nevertheless, there it is.
I don't particularly care that Reid is being savaged for this. She has sown the wind, let her reap the whirlwind. That is, she has made it abundantly clear that she has been very much on board with the New Rules, the "New Rules" being, in this case, that it's OK to crucify someone for observing a phenomenon that is obvious to anyone with a functioning brain. Her problem is just that she didn't think the New Rules would ever be used against her.


Question: Has Kanye West Taken the Red Pill?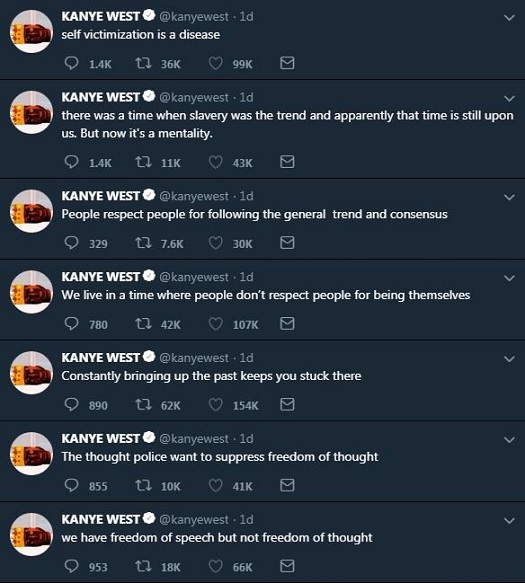 1. Yes
2. No
3. Who's Kanye West?


Where Can I Get One of These?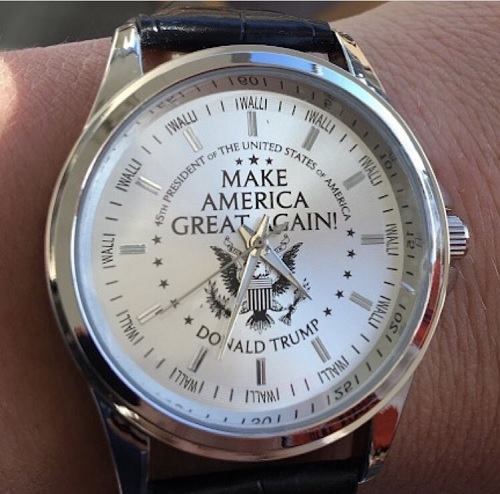 Compare & Contrast: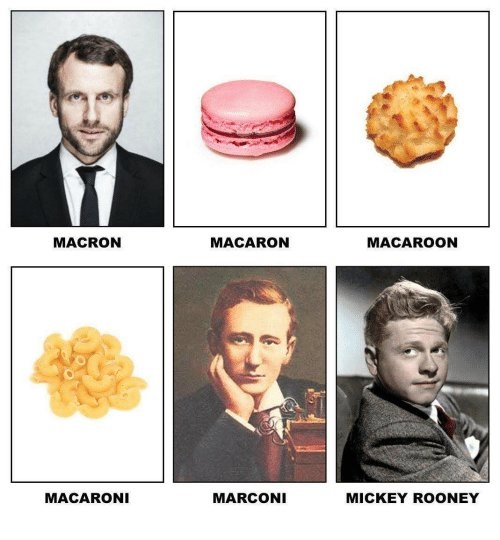 AoSHQ Weekly Prayer List
For submission guidelines and other relevant info, please contact FenelonSpoke, who is managing the prayer list. You can contact her at
fenelon direction 18 circle 'a' gmail dot com
(All one word, no spaces)
-----------
Dennis- (3/21/18 ) 79 Y.O. Dad fell again and couldn't walk for several days (too many beers) after a trip to the ER. Now back in hospital again with low oxygen levels and some pneumonia. Too many years smoking. So pray for my mother who has to put up with her stubborn husband and that hopefully she will be able to care for him when he gets home.

joeindc44- (3/21/18 ) My father is undergoing a severe COPD episode, including pneumonia and and lung embolism, after breaking his hip. He could use some prayer time so that he stays strong and pulls through this.

Detroit Pete- (3/21/18 ) How can I add my wife Sandy to the prayer list? She has pancreatic cancer.

ChuckR- (3/22/18 ) My business partner's wife has had a recurrence of bone cancer and on 3/22 is having surgery on both hips. She is a wonderful person, kind and caring. Prayers please for her recovery.

Josephistan (4/15/18 ) -needs a new job and strength to deal with impending downsizing at current job.

LindaFell (4/15/18 ) asked for prayer for her husband who had been out of work for a year and has developed a phone application for Apple that has been approved. She asks for prayers for success for this venture.

TonyPete- (4/17/2018 ) Wife needs healing from an auto immune disorders.

Josephistan- (4/17/2018 ) needs a new job and strength to deal with impending downsizing at current job.

Miley- (4/17/2018 ) Prayers for Evan,a young man who needs healing from brain damage after something fell on him.

Big V- (4/17/2018 ) asked for prayers for the family and friends of his friend "Battleship Sailor" who died in a accident while preparing a birthday dinner for his wife.

Jane D'oh- (4/17/2018 ) Family and friends of a church friend of hers and his family. He died after being in hospice with liver failure.

LindaFell- (4/17/2018 ) asked for prayer for her husband who had been out of work for a year and has developed a phone application for Apple that has been approved. She asks for prayers for success for this venture.

Sulla- (4/17/2018 ) Needs prayers for blessing and healing for his dad who is waiting for results from a medical test, after having gone through cancer before..

ibguy- (4/17/18 ) My Baby Sister Joyce has an inoperable glioblastoma (brain tumor). Although we've been remarkably blessed by an extra year with her, it appears that her fight for life has taken a downturn. She seems to be failing more rapidly now, and the oncologist is recommending hospice. Would appreciate Horde prayers that her journey be as pain-free and dignified as possible.

Some Guy In Texas- (4/17/18 ) I thought I'd send you a follow-up to my prayer request from 2 months ago. The little girl in question has an inoperable brain tumor. It always hits little kids, and it is 100% of fatal within 12 to 18 months of diagnosis. The tumor effects physical functioning and so the child loses the ability to walk and communicate by speech. It's terrible to watch her decline. But she has been accepted as a test subject for an experimental therapy that looks promising. And so she and her family have and much brighter outlook and hope than they had before. So, to that extent, prayers have definitely been answered. Thanks for the prayers, horde.

An anonymous poster (4/17/18 ): A friend from high school lost his daughter to cancer. She was diagnosed three weeks after getting married, and died 6 months later. Parents should not outlive their children. Pray, please, for consolation and peace of mind for her parents and widower, and the repose of the soul of dear Adeline.

Mr Feverhead (4/18/18 ) - Had a hard, hard battle with rectal cancer, had a large part of his intestines removed, as well as his rectum. Has to have a ostomy bag, Found out in hospital he is also a diabetic. He and his wife owe $10,000 is taxes to the IRS and his wife has said that she doesn't want to continue with the marriage of 28 years and moved out taking their son with her "I have one request of the horde. If you have a religious bent please say a prayer for me. I could really, really use it."

Moki (4/21/18 ) Has a saughter who is affected by several physical complaints needs healing and strength. She has chronic Lyme is working hard at her studies despite walking with a cane.

ibguy (4/23/18 ) Joyce is contining to fail. Home Hospice starts tomorrow (only an hour a day, to start). My better half flew back down there again yesterday to spend more time with her while she can; I said my final goodbyes when we were there last week.My prayer is that Joyce continue to be free of physical pain, and that her transition be as peaceful as possible. Thanks for your prayers, horde

Hobbitopoly (04/24/18 ) Father had eye surgery on the 23rd for a detached retina. Recovery will be difficult. Thoughts and prayers are welcome

OregonMuse (04/24/18 ) His physical therapy has hit a 'plateau' where there hasn't been much improvement for a while. He will be meeting with the surgeon on Friday 4/27 to see what can be done. Certain rotator cuff muscles are quite weak and the physical therapist doesn't know why. Pray that God would give wisdom to OM's medical caregivers and that a way forward could be found

Tim in Illinois (04/24/18 ) (via Slapweasel) He is so tired and can't sleep; wants to "give up." Slapweasel feels he needs a relationship with God so that he might know peace and comfort.

I apologize for any errors. Please send corrections or updates to FenelonDirection18 at sign gmail.com as I cannot be on all the threads. Keep on praying!
Please remember the Prayer of St. Francis:
http://www.prayerguide.org.uk/stfrancis.htm

posted by OregonMuse at
11:28 AM
|
Access Comments