« Sara Carter: Sources Say the Inspector General Is Investigating Andrew McCabe's Alleged "Stand-Down Order" on the Clinton Foundation Investigation -- As Well as the Clinton Email Investigation
|
Main
|
The Morning Report 4/25/18 »
April 24, 2018
Tuesday Overnight Open Thread (4/24/18 )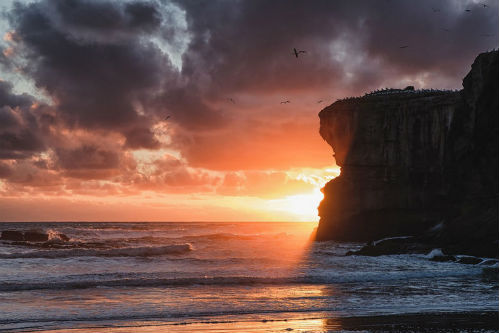 *****
The Quotes of The Day
Quote I

No man's life, liberty, or property are safe while the legislature is in session. Mark Twain
Quote II

People do not expect to find chastity in a whorehouse. Why, then, do they expect to find honesty and humanity in government, a congeries of institutions whose modus operandi consists of lying, cheating, stealing, and if need be, murdering those who resist? H. L. Mencken
Quote III

We know they have nothing to do with Islam because our politicians keep telling us that, and they are all Islamic scholars. (They are, aren't they?) Yes, the violence is coming exclusively from Muslims, but only because their religion (the one that has nothing to do with Islam) tells them to kill unbelievers, meaning people who don't follow the religion with a knife to our throat that has nothing to do with Islam. Pat Condell
*****
"They" laughed at Sarah Palin. Death panels? There's no such thing as death panels. h/t to ibguy and Political Hat

A special court hearing this afternoon was held to decide whether Alfie should be allowed to be flown to Italy, who granted him citizenship yesterday, for additional care.

The judge in the case again rejected the appeal to transfer the child to Rome, but left the door open for moving him from Alder Hey Children's Hospital.

Delivering his decision, Mr Justice Hayden described 23-month-old Alfie as "courageous" and a "warrior".
He said: "This represents the final chapter in the case of this extraordinary little boy."

Mr Justice Hayden urged doctors at Alder Hey to "explore creatively, ambitiously, even though it may be a forlorn hope, the options, may it be palliative care".
*****

They might deliver mail through rain and snow. They also don't check "change of address requests" either apparently. United Parcel Service (UPS) corporate mail forwarded to a one bedroom apartment.

CHICAGO (CBS) — UPS headquarters might be in Atlanta, but for almost three months, hundreds if not thousands of pieces of its corporate mail were delivered to a small unassuming garden apartment in the Rogers Park neighborhood in Chicago.

That corporate mail included tens of thousands of dollars in business checks. According to court documents, it began with a simple unauthorized change of address form filled out by a Chicago man. Now, it's the focus of a federal investigation.

Apartment 2 at 6750 N. Ashland Av. became the address for UPS corporate headquarters in October, after the man who lives inside filled out a change of address form at a post office, according to a federal affidavit. UPS corporate mail then was redirected and delivered to the apartment.
*****
There is some good news and some bad news. The bad news? The Second Amendment is still under attack. The good news? The NRA broke a 15 year fund-raising record.


The National Rifle Association's Political Victory Fund raised $2.4 million from March 1 to March 31, the group's first full month of political fundraising since the nation's deadliest high school shooting on Valentine's Day, according to filings submitted to the Federal Elections Commission. The total is $1.5 million more than the organization raised during the same time period in 2017, when it took in $884,000 in donations, and $1.6 million more than it raised in February 2018.
*****
There are Surgeon General warnings for Valu-Rite and cigs if you're a pregnant woman. Looks like it might be time to put out warnings for The Pot as well.

Prenatal cannabis use associated with low birth weights. The study, led by Colorado School of Public Health, shows a 50 percent increase in low birth weights among women who use cannabis during pregnancy.
*****

1 in 4 millennials rely on their parents for financial help.

In its latest Global Wealth Report, Credit Suisse said the millennial generation has faced "a run of bad luck", much of which was centered around the financial crisis.

"The "Millennials" – people who came of age after the turn of the century – have had a run of bad luck, most clearly in developed markets. Capital losses in the global financial crisis of 2008-2009 and high subsequent unemployment have dealt serious blows to young workers and savers. Add rising student debt in several developed countries, tighter mortgage rules after 2008, higher house prices, increased income inequality, less access to pensions and lower income mobility and you have a "perfect storm" holding back wealth accumulation by the Millennials in many countries."
*****
Falling into the "You can't make this shit up category". Minority college golf team on verge of championship with whites.

Nonetheless, real Americans continue to ignore racial and ethnic barriers, no matter what the politically correct classes instruct them. The results can be almost comic, on occasion, such as this from The Sentinel:

On May 11, the male golf team of Lincoln University, an historically black college in Jefferson City, will compete in this year's PGA Minority Collegiate Golf Championship. The tournament begins May 11 in Port Lucie, Florida.

The goal of the tournament founders was "to provide a national stage for players from minority colleges and universities to compete in NCAA collegiate golf events." That said, not all of the golfers at Lincoln are black. Truth be told, none of them are.
*****

Sears, once upon a time a retail giant. Has a major stockholder calling for its breakup.

Sears Holdings Corp. is considering a proposal from its largest shareholder to buy some of the troubled retailer's most lucrative businesses, which the investor says are worth more than stock markets believe.

The value of the Kenmore appliance brand, Sears Home Improvement business, and its Parts Direct division aren't reflected in the company's stock price, ESL Investments head Eddie Lampert, who's also the retailer's CEO, said in a letter to the company's board. ESL holds 19 percent of the Hoffman Estates, Ill.-based company's stock.
*****
The ONT Musical Interlude
April 24, 1961, Del Shannon started a four week run at No.1 on the US singles chart with 'Runaway', also a No.1 in the UK. Del was the first person to have a hit with a Beatles song in the US with his version of 'From Me To You.' via thisdayinmusic.com
***
April 24, 1947, Born on this day, Glenn Cornick, bass guitarist with Jethro Tull from 1967 to late 1970. He played in the three first studio albums of the band, This Was, Stand Up and Benefit. Cornick died on 28th Aug 2014 due to congestive heart failure via thisdayinmusic.com
***
April 24, 1968, Louis Armstrong was at No.1 in the UK with the single 'What A Wonderful World / Cabaret.' At 69 years of age, it made Armstrong the oldest act ever to score a UK No.1 via thisdayinmusic.com
*****

Are we on a course for a civil war? 7 forces driving America towards civil war.

I was interviewed by a mainstream media reporter yesterday. I thought he wanted to talk tech issues, but we actually spent almost the entire conversation discussing the feeling that many conservatives have that America has gone off the tracks and is headed toward dissolution or alternately, a civil war one day. Obviously, this would be a terrible thing and ironically, twenty years ago, it would have been laughable. Today, the joke isn't so funny because we are a deeply unhealthy society with a dysfunctional government and for all our money, success and storied history, we seem to be on an increasingly dangerous trajectory.
*****

So is walking enough exercise for you?

We humans need to exercise in order to stay healthy. Exercise protects against disease and early death, and keeps us mobile and able to perform daily tasks.

Walking is an easy, free and enjoyable form of exercise. But is a nice stroll enough to confer the life-saving benefits we know come from exercise?

We posed this question to five specialists in the field.
*****

A funny thing happened on the way to being green. Canada's oilsands have a mineral used in battery manufacturing.
Vanadium is a largely obscure metal often used in making steel. It retains its hardness at high temperatures, so it's ideal for making drill bits, engine turbines and other parts that generate heat.

In the oilsands, Vanadium is one of the metals that comes out of the ground with bitumen. The concentration is quite low: a barrel of bitumen would contain just 30 milliliters of vanadium, on average, experts says. But multiplied by the millions of barrels of production from the oilsands every day would be about 33,000 liters of vanadium. Vanadium has a density of 3.36 grams per cc. So a million barrels of oil would be about 100,000 kilograms (100 tons). One year of production would be about 36500 tonnes.
*****

22 popular products that were designed by idiots.

Product designers have more access to consumers than ever, and vice versa. Because of the constant flow of communication, you'd think everything for sale would be amazing and perfectly suited to consumers' needs. You'd be thinking wrong.
*****
No way an Apple store would be low-tech. Genius Award Winners.

KANSAS CITY, Mo. -- Police are looking for the suspects in a robbery at the Apple store on the Plaza caught on camera.

The incident happened Sunday afternoon at the Apple store at 227 Nichols Rd.

Three male suspects walked through the store snatching up electronics before running to a car.
*****

A wounded warrior undergoes intensive surgery. Tonight's Feel Good Story of The Day.

BALTIMORE — In a 14-hour operation, a young military veteran whose genitals were blown off by a bomb received an extraordinary transplant: a penis, scrotum and portion of the abdominal wall, taken from a deceased organ donor.

The surgery, performed last month at Johns Hopkins Hospital, was the most complex and extensive penis transplant to date, and the first performed on a combat veteran maimed by a blast.
*****

Tonight's ONT has been brought to you by Parking Lot Etiquette.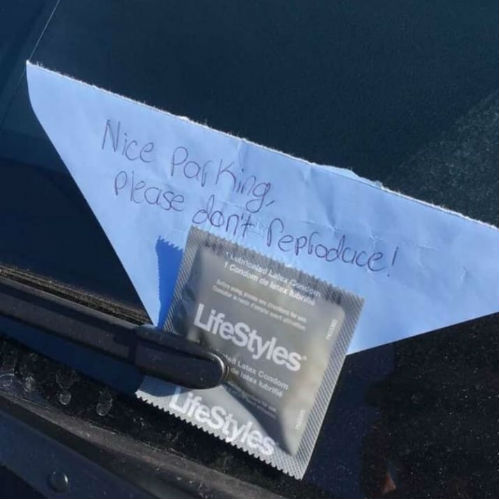 Notice: Posted with permission by AceCorp, LLC. Tables are for paying customers. Rest rooms as well.

posted by Misanthropic Humanitarian at
09:31 PM
|
Access Comments