« Trump: I'm Not Paying Federal Dollars to the California National Guard for the "Charade" of Deploying to the Border to Then Sit On Their Thumbs
|
Main
|
The Morning Report 4/20/18 »
April 19, 2018
The Thursday Night ONT is Back!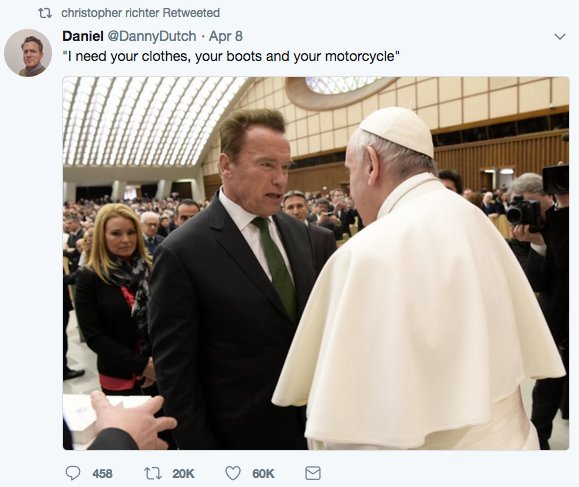 My God, How Can Such Men Be Defeated?*
The Story of Captain Samuel Whittemore
On this day in history, 1775, the "shot heard 'round the world" was fired, launching the American War of Independence.
His fellow minuteman started firing at the oncoming British Grenadiers of the 47th Regiment of Foot, falling back to reload, then firing again. Sam waited. Finally, when the column was directly in front of him, he stood and fired his musket. A grenadier fell dead. He drew his two pistols, firing both at almost point blank range. Another grenadier fell dead, a third fell mortally wounded. The British soldiers were on top of him, he had not the time to reload his musket or pistols, so drawing his sword, he started flailing away at the bayonet wielding soldiers. A soldier leveled his Brown Bess musket, at point blank range, and fired. The .69 caliber ball struck Sam in the cheek, tearing away part of his face and throwing him to the ground. Sam valiantly tried to rise, fending off bayonet thrusts with his sword, but he was overpowered. Struck in the head with a musket butt, he went down again, then was bayoneted thirteen times and left for dead.

...

After the British column had fought its way clear, the town's people and minuteman started to search for their wounded compatriots. Several had seen Sam Whittemore's "last stand" and approached to remove his body. To everyone's astonishment Sam was not only still alive, but conscious and still full of fight. Laying there, he was trying to load his musket!
Oh, and Captain Whittemore was 80 years old at the time.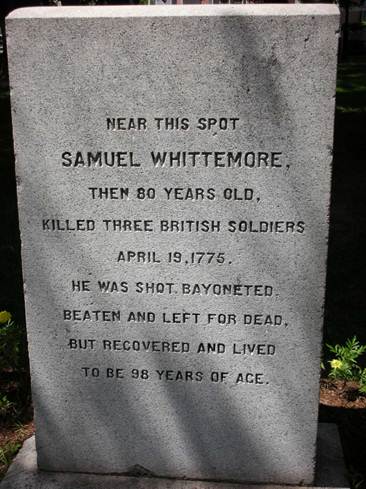 Bad. Ass.
*The title of this section is a quote from Marine General Holland M "Howlin' Mad" Smith referencing the sacrifices his men made to take Tarawa in WWII. I suspect General Smith and his fellow leathernecks are proud to claim a warrior's brotherhhod with a hero like minuteman Captain Samuel Whittemore. H/t @Isophorone

Sugar
Candy-Coated Cartel: Time to Kill the U.S. Sugar Program

This is my all time, number one with a bullet, most hated government program. It (along with the corn subsidy program) is responsible for the explosion of high-fructose corn syrup in most of our food, and most especially in Coke. A proper Coke is a sublime experience. Made with sugar and served ice-cold in a freshly opened glass bottle, God himself couldn't improve one on the taste. Because of government interference in the market, you can't get it from the US. You can buy kosher Coke (and I do, by the flat) around Passover, but it comes in plastic 2 liter bottles. You can buy it in Canada, in cans, and I literally bring cases home when I return from visiting the Great White North (one time a border agent commented on all the cases in my car), but to get The Real Thing, you have to buy imported Mexican Coke in the traditional curved glass bottle. It's more expensive than regular Coke. Worth. Every. Penny.

Musical Interlude

Animal Facts
The one about whales is freaky.
19 Fascinating Animal Facts That Will Blow Your Mind

Game
Luke is 7. * Notices how many Morons are taking notes *

Hate Chicken

Last week The New Yorker magazine came out with a typically condesending article about Chick-Fil-A opening a store in NYC. It's a hot pile of garbage, you can read it if you'd like, but I'd heartily recommend reading Larry Correia's fisking of the article instead: FISKING THE NEW YORKER IN DEFENSE OF DELICIOUS CHICKEN. It's full of great quotes, like:-
Here's a true story that illustrates the sheltered mindset of Dan's social group. One time I was at a publishing industry party in Manhattan. Being the one token wild red state barbarian, we were discussing what living in the country is like. (for the record, these people think Danbury Connecticut is The Country).

I offhandedly mentioned that my home county has more cows than people. This woman incredulously asked "what do you do with all their waste?"

"Huh?"

"How does it get to the sewer system?"

I just kind of stared at her blankly. "Uh… They poop on the ground."
Shock. Absolute shock. And then I'm trying to explain to a bunch of people who live somewhere entirely paved where soil comes from.
Read the whole thing, it's a stitch.

Cults
My Month As A Member of the 'Wild Wild Country' Sex Cult
Written by the Playboy Advisor, it's fascinating to me how many people think that human nature doesn't apply to them.
Speaking of cults, today is the anniversary of the federal government attacking a peaceful compound* in Waco and killing 76 people.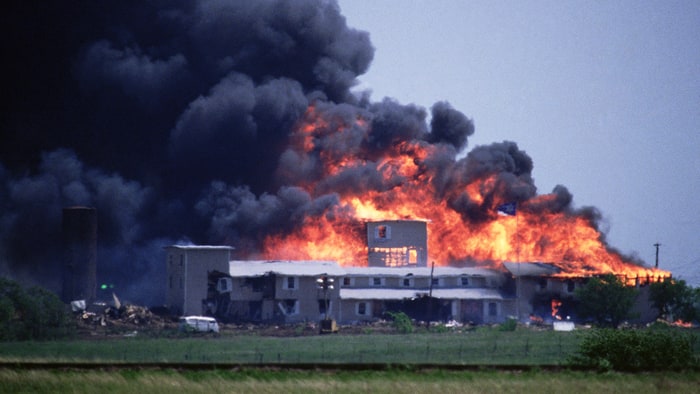 Randy Weaver says hello. Cliven Bundy would like to remind everyone that but for the power of social media, there goes he.
*I'm not defending the Branch Davidians or their beliefs, but there was no reason for them to be attacked like that except for a government's raw hunger for power and an unquenchable desire to make everyone submit to their will.
Government is not reason, it is not eloquence — it is force. Like fire it is a dangerous servant and a fearful master; never for a moment should it be left to irresponsible action.

-George Washington (apocryphal, earliest recorded citation from 1902 as per Fred Shapiro, editor of the Yale Book of Quotations)

Puck!
It's playoff hockey time. Here's a great clip. I just love the little girl's smile at the end.
Tonight's ONT brought to you by little sisters:
The Yahoo Group is actually in rehab at the moment.

posted by WeirdDave at
09:54 PM
|
Access Comments