« EMT 04/22/18
|
Main
|
What's So Special About The Speech Of Academics, Other Than It Is Often Stupid? »
April 22, 2018
Sunday Morning Book Thread 04-22-2018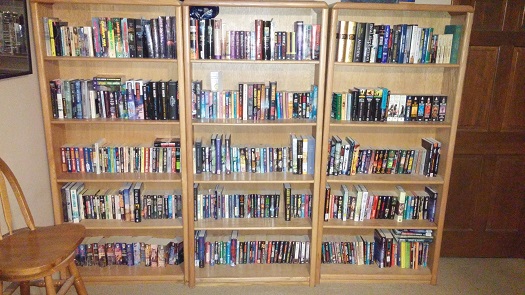 Library of a Lurking Moron
(click to embiggen)
Good morning to all you 'rons, 'ettes, lurkers, and lurkettes. Oh, and we've got a new category of readers, escaped oafs and oafettes. Welcome once again to the stately, prestigious, internationally acclaimed and high-class Sunday Morning Book Thread, a weekly compendium of reviews, observations, and a continuing conversation on books, reading, and publishing by people who follow words with their fingers and whose lips move as they read. Unlike other AoSHQ comment threads, the Sunday Morning Book Thread is so hoity-toity, pants are required. Even if it's these pants, and I'll bet you thought nothing could look more ridiculous than those stupid pussy hats, didn't you?

It Pays To Increase Your Word Power®
A CHILIAD is a group of 1,000.
Usage: Nobody really knows exactly how many carrots there are in a chiliad.

Moron Author Wins Award
From e-mail:
So last month moron author William Alan Webb, aka me, won the 2018 Darrell Award for a fantasy novella titled A Night At The Quay, which is part my book Sharp Steel>.

The Darrell Awards are fairly prestigious in the industry, having been around since 1996, and while they aren't the Hugo or Nebula they are in the next tier down from those.
Sharp Steel: Sharp Steel and High Adventure Volumes 1-3 is available on Kindle for $2.99.
Bill also tells me:
Still getting bashed by liberals for my post apocalyptic Last Brigade series, but sales of book one have passed 20k copies so I must be doing something right.
I've mentioned the Last Brigade series before, so here are quick links to the books in the seies:
Standing the Final Watch
Standing in the Storm
Standing at the Edge
Getting bashed by liberals is a good thing. It means you're on target.

Schadenfreude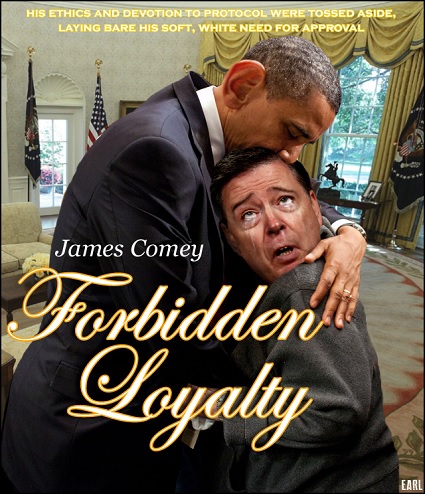 A couple of you morons have asked whether I was going to do anything with James Coney's soon-to-be-released memoir, A Higher Loyalty: Truth, Lies, and Leadership. There's not much I want to say about it. It's not a book that many of you are interested in, except to ridicule it. Which is fine.
I read the title and the first thought that came to mind was 'what a sanctimonious gasbag.'
Truth: The Press, the President, and the Privilege of Power was written by another sanctimonioua gasbag, Mary Mapes, the CBS producer who lost her job in the RatherGate scandal (along with Dan Rather) when the 'investigation' of George W. Bush getting special treatment in the Texas Air National Guard she was responsible for blew up in the network's face.
So this book is basically Mapes doubling down on stupid.
And speaking of doubling down on stupid, the funniest one of all has to be Trump is F*cking Crazy: (This is Not a Joke) by Keef Olbermann, not so much for the title, but for the cover that has a very silly photo of KO wrapped up in an American flag. He doesn't look so much like a brave patriot as much as a bum down at the homeless shelter trying to get out of the rain under a tarp he just grabbed. Other than that, it sounds like a calm, rational, balanced, honestly written book.

Moron Recommendations
294 I recommend Reinhold Niebuhr's Moral Man and Immoral Society. I have memorized the first 200 pages.

Posted by: Jumbo Jim at April 15, 2018 11:32 AM (5gaNQ)
I had heard of this book, but did not know very much about it:
Moral Man and Immoral Society, first published in 1932, is Reinhold Niebuhr's important study in ethics and politics. Forthright and realistic, it discussed the inevitability of social conflict, the brutal behaviour of human collectives of every sort, the inability of rationalists and social scientists to even imagine the realities of collective power, and, ultimately, how individual morality can overcome social immorality.
Sounds quite interesting. And a real bargain on Kindle for $3.82.

___________
'Ette votermom recommends The Last Closet: The Dark Side of Avalon by Moira Greyland. Greyland is the only daughter of science fiction/fantasy author Marion Zimmer Bradley and convicted child molester Walter Breen. I have not read this book, but let me warn you: it is not for the squeamish. I mean, we're talking years of child sexual abuse here. So yeah, I guess this is a trigger warning.
Votermom's review can be read here.
Books By Morons
[Update]: This just in:
94 Hello Horde! Back at Christmas OM was kind enough to give some great exposure to my book Shagging, Shooting and Death on Amazon, and there was immediately a spike in sales. I thanked you all the next week for the sales. At the time some said $9.99 was too high a price for an unknown author's book. I've been after my publisher about it & finally they agreed. So my comic novel (no politics, just fun) is finally on sale for $4.99. Wanted you all to know, because you were the ones who suggested/inspired this, and sales have increased. It's only on sale right now through April 28, so if you thought about buying it but the price put you off, it's been cut in half for now. Thanks again to any that bought and read it. It's been a dream come true.

Posted by: Biblio at April 22, 2018 09:59 AM (iD3mK)
Here is the blurb for Shagging, Shooting & Death:
If Jane Austen & Charles Dickens had been writing at the same time, gotten really drunk and written a novel together, it may have started something like this...

In 1820 Lady Annabella Upton-Church was young, pretty and one of the richest women in England.

She was also one of the most despised.

Reputation destroyed, suspected of murder, with no friends or family at her side, Annabella flees London for the country, set on restoring her name and reputation away from the sneers, shouts and snubs of that great city.

It seemed like a good idea at the time...

If Annabella had known it would all lead to shooting and death she might have made another plan.

On the other hand, there is the shagging...

___________
Moronette 'votermom' is putting together a list of moron authors over on the Goodreads site which is intended to be accessible to non-members. Here is the list she has compiled so far. Let her know if there's an author she's missing.
http://www.bookhorde.org/p/aoshq-authors.html
___________
Don't forget the AoSHQ reading group on Goodreads. It's meant to support horde writers and to talk about the great books that come up on the book thread. It's called AoSHQ Moron Horde and the link to it is here: https://www.goodreads.com/group/show/175335-aoshq-moron-horde.
___________
So that's all for this week. As always, book thread tips, suggestions, bribes, rumors, threats, and insults may be sent to OregonMuse, Proprietor, AoSHQ Book Thread, at the book thread e-mail address: aoshqbookthread, followed by the 'at' sign, and then 'G' mail, and then dot cee oh emm.
What have you all been reading this week? Hopefully something good, because, as you all know, life is too short to be reading lousy books.


posted by OregonMuse at
09:00 AM
|
Access Comments