« Rosenstein Finally Gives House Committee the Unredacted Electronic Document That Spurred the Russia Investigation -- But Only After Threats That the House Might Impeach Rosenstein and FBI Director Wray If They Continued Hiding It
|
Main
|
The Morning Report 4/12/18 »
April 11, 2018
Wednesday Overnight Open Thread (4/11/18 )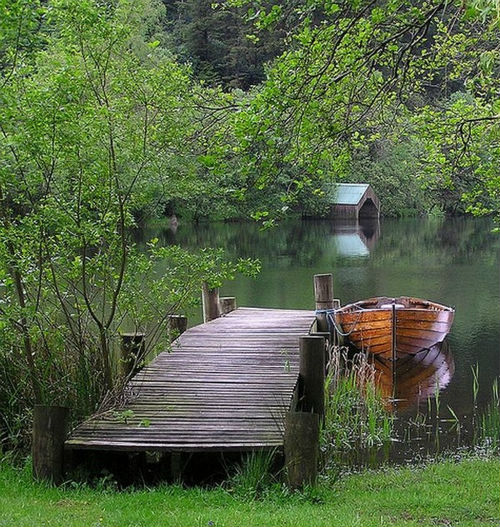 *****
The Quotes of The Day

Quote I

"What I realized is that you really need to make sure your managers are empowered—because if they cannot handle 'dress appropriately,' what other decisions can they handle? And I realized that often, if you have a lot of overly prescriptive policies and procedures, people will live down to them," Mary Barra
Quote II

I would have, I think, made a bigger mistake if I had said, 'Eh, chemical weapons. That doesn't really change my calculus.' I think it was important for me as president of the United States to send a message that in fact there is something different about chemical weapons," "And, regardless of how it ended up playing, I think–in the Beltway, what is true is Assad got rid of his chemical weapons." Barack Obama - 2016

Quote III

There is nothing new about hate. The temptation to kill is as old as Cain. But today, moral absolutes have been undermined by a popular culture that celebrates individual fulfillment over self-sacrifice, the indulgence of personal pleasure over doing one's duty. A corollary to "You do you" is "Haters gonna hate." If my analysis has any merit, then the road ahead is clear, though it will be a long road. We must combat the culture of "You do you." We must teach haters to love. Leonard Sax
*****
The ONT is surprised that Face Book allowed this. Another surprise is that little David Hogg didn't try to go after Ginni Thomas.

In a Facebook post that went viral (and ticked a lot of liberals off), Ginni Thomas — the wife of Supreme Court Justice Clarence Thomas and a conservative activist — criticized the students who walked out of school to protest for gun control laws.

In the post that she shared Monday, according to The Hill, Thomas said the students needed to study history to learn what happened to those who gave up their guns unwillingly to the government.

The post included a picture of a pile of shoes from Jewish victims of the Holocaust and was originally written by Facebook user Monica Bailey.
*****

The United Kingdom continues to wussify. The UK is set to ban the live export of animals.

The UK has moved towards a ban on exporting live animals for slaughter after announcing a major review of laws regulating their transport.

Environment secretary Michael Gove said that once Britain leaves the EU, the country could ban the export of thousands of live farm animals to mainland Europe.

The policy would enjoy support from campaign groups pushing for a broad ban, amid rising anger over animals suffering terrible health problems and death as they are taken in trucks across the continent.
*****

As you know the Canadians have a weird idea of bacon. But, some of their cocktails are even weirder.

Griffiths was told by doctors in England that they would have to amputate three of his toes to stave off infection. Griffiths asked to keep his dismembered digits and his surgeons were happy to comply. They gave Griffiths his three detached little piggies, preserved in liquid-filled bottles.

The question of what to do with the toes was an easy one for Griffiths to answer. According to the CBC, the adventurer has offered to donate them to Dawson City's Sourdough Saloon to be served up in cocktails for punters with a taste for human feet.
*****
Shocking. Shocking I say. A federal governmental agency sticking up for the taxpayer.

As we've reported before, it is bullshit and illegal under federal law for electronics manufacturers to put "Warranty Void if Removed" stickers on their gadgets, and it's also illegal for companies to void your warranty if you fix your device yourself or via a third party.

The Federal Trade Commission put six companies on notice today, telling them in a warning letter that their warranty practices violate federal law. If you buy a car with a warranty, take it a repair shop to fix it, then have to return the car to the manufacturer, the car company isn't legally allowed to deny the return because you took your car to another shop. The same is true of any consumer device that costs more than $15, though many manufacturers want you to think otherwise.
*****
The ONT Musical Interlude
April 11, 1958, Born on this day, Scottish guitarist, vocalist, and songwriter Stuart Adamson. He formed The Skids, who had a 1979 UK No.10 single with 'Into The Valley' then Big Country, who had the 1983 UK No.10 single with 'Fields Of Fire' plus 14 other UK Top 40 singles. Adamson died on December 16th 2001, his body found in a closet in his room at the Best Western Plaza Hotel in Honolulu, Hawaii. via thisdayinmusic.com
***
April 11, 1977, Alice Cooper played to an audience of 40,000 in Sydney, Australia, the largest crowd to attend a rock concert in the country's history. After the show Cooper was placed under house arrest at his hotel until he posted a bond for $59,632. That amount was the sum that a promoter claimed to have paid Cooper for a 1975 Australia tour he never made. The two settled when it was found that the promoter did not fulfill his part of the agreement either. via thisdayinmusic.com
*****

Heavy use of marijuana causes certain medical problems.

Cannabinoid hyperemesis syndrome (CHS) is a condition where heavy marijuana users (those who smoke 20 times a month or more) are frequently wracked with bouts of intense abdominal pain, along with severe nausea and vomiting. And the vast majority of people who experience these symptoms all mysteriously arrive at the same solution.
*****

Fat, drunk and stupid malicious is no way to go through life.

T.J. Miller is so desperate to make you forget about The Emoji Movie that he keeps doing dumb things.

In his latest stunt, he called in a fake bomb threat on an Amtrak train from Washington, D.C. to New York. Miller was arrested and charged with "intentionally conveying to law enforcement false information about an explosive device on a train traveling." Later, he was released on $100,000 bond and could face a maximum five-years in prison.
*****
OOOPS!
*****

Progressivism is Marxism attempting to wear a liberal mask, and failing. - Pat Condell
*****

Every educator teacher deserves a bargaining agent. Maybe one that is an adult. Genius Award Winner.

A married teacher in Oklahoma was arrested for allegedly having sex with a student amid the statewide teacher walkout.

Keri Hoffman, 35, admitted to police Saturday that she had sex with a 15-year-old student before and after they attended a massive teacher rally protesting pay cuts at the state Capitol, news station KWSO reported.
*****

Dog, man's best friend. And in this instance Tonight's Feel Good Story of The Day.

The dog belonged to the owner of the property on which Ringer works. Upon sensing the 24-year-old's distress, it jumped into the water, swam up to Ringer, and towed him back to shore using his collar.

"When I saw that the dog was coming in, I was skeptical thinking 'I am going to drown this dog while he is trying to save me', [but] it was almost effortless for him to pull me in," said the man.
*****
Tonight's ONT has been brought to you by The Second Grade.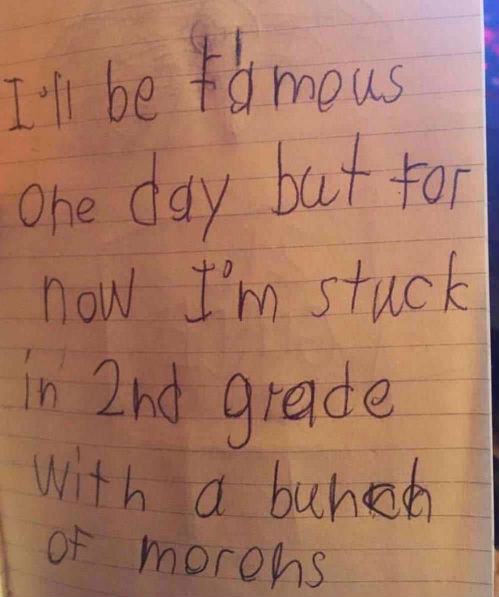 Notice: Posted with permission by AceCorp, LLC. An 18% gratuity has been added to your bill.


posted by Misanthropic Humanitarian at
10:00 PM
|
Access Comments