« AoSHQ KickStart Campaign To Buy David Hogg A Chin
|
Main
|
EMT 04/08/18 »
April 07, 2018
Saturday Overnight Open Thread (4/7/18 )
(The ONT is a carnival)
THE PROPER WAY TO CALL A GUY A BASTARD

A guy was getting ready to tee off on the first hole at the local
golf course when a second golfer approached and asked if he could join him.

The first said that he usually played alone, but agreed to the twosome.

They were even after the first two holes. The second guy said, "We're
about evenly matched, how about playing for five bucks a hole?"

The first guy said that he wasn't much for betting, but agreed to the terms.

The second guy won the remaining sixteen holes with ease. As they were
walking off number eighteen, the second guy was busy counting his $80.00.
He confessed that he was the pro at a neighboring course and
liked to pick on suckers.

The first fellow revealed that he was the Parish Priest.

The pro was flustered and apologetic, offering to return the money.

The Priest said, "You won fair and square and I was foolish to bet with you.
You keep your winnings."

The pro said, "Is there anything I can do to make it up to you?"

The Priest said, "Well, you could come to Mass on Sunday and make a donation.
And, if you want to bring your mother and father along, I'll marry them"
*****

Perhaps you haven't been following the Kevin D. Williamson brouhaha to closely. What really happened to KDW.

Kevin Williamson was — since his career is now toast, thankfully — a surrender monkey to the Left, so long as he could keep his pet issues alive. Like most conservatives, he was a libertarian, which means he accepts Leftist control of society but wants his own personal economic freedom; like them, he is an individualist, or someone who believes that the individual is more important than social order or natural order. He also accepted the McChristian notion that as long as we fight abortion and blasphemy, and keep our ¡principles! in tact, we have somehow won even though our future is a Benedict Option of retreat as our civilization collapses.
*****
Living on the edge. Flipping off fate and losing. Speedballs.

The Deadly Drug Cocktail That's Claimed Too Many Lives

Speedballs have claimed the lives of several of your favorite celebrities, but its popularity doesn't seem to be declining.
*****

The ONT's favorite play by play announcer Bob Menery vs. Golden Tate in a golf match. It's The ONT, of course it's NSFW-Language
*****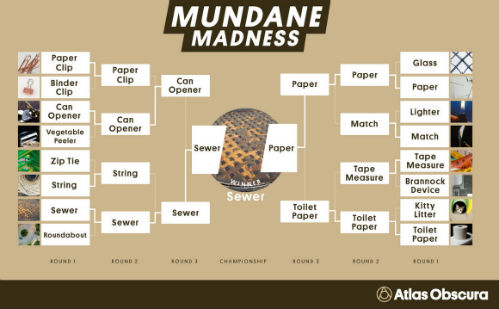 What is the best everyday invention evah? Sliced bread? Sliced cheese? Wrong. It would be the sewer.
*****
The ONT Musical Interlude
***
*****

Google is claiming it is "journalistic". The "RIGHT TO BE FORGOTTEN"

IN THE FIRST "RIGHT TO BE FORGOTTEN" case to reach England's High Court, two men are fighting to keep their past crimes out of Google's search results, and the tech giant is fighting back by claiming it's "journalistic."

The case, which is actually two nearly identical cases, involves two businessmen who were both convicted of white-collar crimes in the '90s, and requested that Google delist several URLs referencing their convictions, including news articles. When Google denied their requests, they sued under a 2014 European Union ruling which established the right of individuals to have information delisted from search indexes under certain conditions.
*****
*****

You know you're from California if......

1. Your coworker has 8 body piercings and none are visible.
2. You make over $300,000 and still can't afford a house.
3. You take a bus and are shocked at two people carrying on a conversation in English.
4. Your child's 3rd-grade teacher has purple hair, a nose ring, and is named Flower.
5. You can't remember . . . is pot illegal?
6. You've been to a baby shower that has two mothers and a sperm donor.
*****

Have you had a bad day? How do you rate with these folks?
*****

Out on bond, why not interact with the police? Genius Award Winner.

GLENDALE — A man out on bail, released from custody in October, is accused of slamming his vehicle into a Glendale police squad head-on while fleeing police after investigators say he stole lighters from a Speedway gas station — a crime he admitted to.

Dushawn Vaden, 24, of Milwaukee faces the following charges:

Misdemeanor retail theft (intentionally taking less than $500)
Obstructing an officer
Hit-and-run of an attended vehicle
Operating a motor vehicle while revoked
Possession of a controlled substance
Felony bail jumping
*****

Tonight's ONT has been brought to you by One and Done Sammich Artists.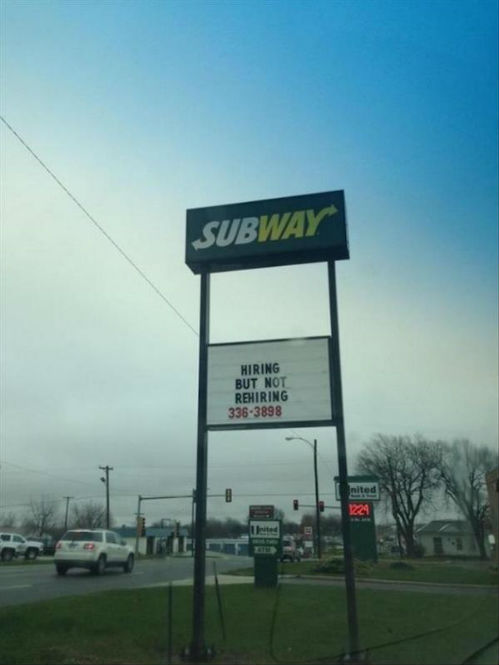 Notice: Posted with permission by AceCorp, LLC. Resume services provided for former Atlantic writers.

posted by Misanthropic Humanitarian at
10:05 PM
|
Access Comments