« EMT 04/08/18
|
Main
|
The Future Of Journalism Is Emerging From Academia, And It Isn't Pretty »
April 08, 2018
Sunday Morning Book Thread 04-08-2018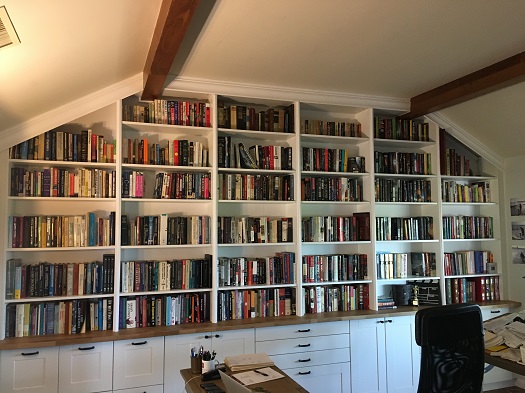 Library of motionview, a lurker
(click for larger version)

Good morning to all you 'rons, 'ettes, lurkers, and lurkettes. Oh, and we've got a new category of readers, escaped oafs and oafettes. Welcome once again to the stately, prestigious, internationally acclaimed and high-class Sunday Morning Book Thread, a weekly compendium of reviews, observations, and a continuing conversation on books, reading, and publishing by morons who follow words with their fingers and whose lips move as they read, where 'good enough' counts as perfect, and the eschaton is never immanentized. Unlike other AoSHQ comment threads, the Sunday Morning Book Thread is so hoity-toity, pants are required. Even if it's these pants, which come from the 1980s, but everybody was wearing ugly pants in the 1980s.

Pic Note
Occasional commenter and "recovering twit" motionview writes:
I've been waiting almost a year for this. Newly built-in and loaded bookshelves. The cabinets/countertop/shelves are all from Ikea, modified to look like built-ins. Books are roughly divided by columns: Science, engineering, history, current events & Soviet/communists, sci-fi, and the last is my wife & daughter.
Another impressive library. And the shelving looks nice, too.

It Pays To Increase Your Word Power®
To GYMNOLOGIZE is to meditate or debate naked.
Usage: Gymnologizing our presidential debates would not improve them.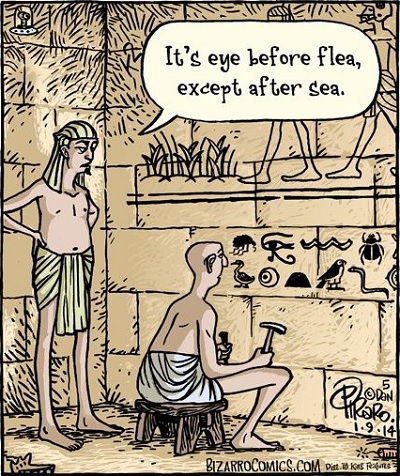 Old Business
In last week's book thread, I provided an example of word usage that referenced Hillary's election night concession speech. I was informed by a couple of morons that Hillary hadn't made a concession speech, and I thought maybe my memory was bad (which it frequently is these days), but I could've sworn she had. I did some Googling and it turns out I was right.
If you want to watch and listen to Hillary making her election night concession speech, here is a YouTube link.
However, if you don't want your ears assaulted by that shrill, shrieky, ex-wife voice, you can read the text of her speech at this CNN link.
I know how disappointed you feel because I feel it too, and so do tens of millions of Americans who invested their hopes and dreams in this effort. This is painful and it will be for a long time, but I want you to remember this. Our campaign was never about one person or even one election, it was about the country we love and about building an America that's hopeful, inclusive and big-hearted.

We have seen that our nation is more deeply divided than we thought. But I still believe in America and I always will. And if you do, then we must accept this result and then look to the future. Donald Trump is going to be our president. We owe him an open mind and the chance to lead.
You got that? "Donald Trump is going to be our president. We owe him an open mind and the chance to lead." Hillary actually said this. So she gave him "a chance to lead" for about what, a week?
In this context, moron commenter cool breeze mentioned:
Conservative newspaper columnist, talk radio host and Trump buddy Howie Carr just published his account of the 2016 election, titled What Really Happened: How Donald J. Trump Saved America From Hillary Clinton.

Posted by: cool breeze at April 01, 2018 09:43 AM (UGKMd)
What Really Happened: How Donald J. Trump Saved America From Hillary Clinton is available only in paperback for $19.99. I think Carr publishes it himself, because the 'buying options' link goes directly to him.
Carr has also written Kennedy Babylon: A Century of Scandal and Depravity, also in paperback only and also for $19.99. Howie Carr is like a prophet crying out in the wilderness of Massachusetts.

Moron Recommendations
From a couple of weeks back:
I completed reading Lust for Life by Irving Stone, a bio-fiction-ography of Vincent van Gogh. This was written well overall and broken into chapters by where he resided at the time, beginning as a young man in London. Certain chapters stood out above the others. Borinage, St. Remy, and Auvers were largely dark and troubling, as was his life at those times. Paris and Arles are lively and full of color. It helped me that I also own Van Gogh: The Complete Paintings by Rainer Metzger, a collection of reproductions of all his works (reputedly) so I could follow along via his works with what Stone was describing in words. I recommend this for anyone who enjoys VvG's art.

Posted by: Krebs v Carnot: Epic Battle of the Cycling Stars (TM) at March 25, 2018 11:42 AM (pNxlR)
There is no electronic edition of Lust For Life, but used copies are available at the Amazon link.
___________
This one is from 'ette SandyCheeks in a e-mail she sent me:
Have I got a recommendation for you! I hope you're wearing pants.

On Living, by Kerry Egan.

I found it on Book Bub's Deals of the Day. Luckily, my local liberry had it. Wow, wow, wow.

Egan is a graduate of Harvard Divinity School and a hospice chaplain. She doesn't see her job as explaining, cajoling, providing good cheer. She sees her job as listening, listening to the regrets, joys, traumas, unresolved issues and even funny episodes of those who are dying and those who are caring for them.

I finished this small book yesterday, but I'm still thinking about the conversations she shared. It's hard to single out just one patient/caregiver vignette Egan provided, but she knows of whence she speaks because of her own (near) psychotic break when she was given Ketamine as an epidural during childbirth and "lost" the first year of her son's life. She vacillated between the guilt of blaming the drug or her own weakness in not being able to "snap out of the stupor" she felt.

She touches on "demystifying" death and the wisdom of dying words since most people die alone or slip away after days of silence. What she does know is what's on everyone's mind when they've only got so long to live -- and it's not their careers.

I absolutely flew through the book while savoring every minute. As the title attests, the book might focus on dying, but it's ultimately about living and being offered the advice of those who asked Egan to pass it on.

This is one you'll never forget.
On Living in on Kindle for $9.99

Books By Morons
It's nice to see moron author Oldsailors Poet commenting on the book thread again after being excommunicated by Pixy's quirky software for, what, 2 or 3 years? AND I'm happy to announce he's just published book 5 of his Amy Lynn series. According to a comment he posted in the book thread a couple of weeks back:
81 Good morning horde. Amy Lynn, Hatchet is now available on paperback and Kindle. For those of you that like the books.

Posted by: Oldsailors Poet at March 25, 2018 09:39 AM (YwHOD)
The Amazon blurb for Amy Lynn, Hatchet is long and complicated, as if it's talking about 3 different books. Here's how it starts:
200 miles from Amy's country home, 14-year-old Susie Delany falls for a dangerous and seductive man's promises of fame and fortune. Whisked away to a viper's nest masquerading as a tropical paradise, Susie hurtles toward a fate worse than death. A senator and a scheming CIA director recruit Amy for an 'off the books' mission, leading a rag-tag mercenary group out to end a vile billionaire's dark fantasy and rescue the teen victims of sex trafficking.
Lotsa other stuff happens, too. You can read it all in the Kindle edition for the price of $4.99.
OSP e-mailed me to say:
Also Book 1 is being made into an audiobook available around the middle of May. And, last but not least, any body that wants to come have a cocktail with me, I will be at the Biltmore Hilton in Ashville April 13th & 14th receiving a book of the year award award for Amy Lynn, Into the Fire.
___________
Moron author Grant Halstead is grateful to the Horde members who volunteered as beta-readers for his novel. He tells me:
I finally found time to get it finished and pressed publish on SMITH'S PROTEGE this week. I scheduled it for a free promotion beginning this coming Saturday through Monday to coincide with your thread as a gesture of thanks for anyone interested.
Here's the blurb:
The book is the first of an intended series following a character named John Smith through various adventures set at different points in American history. The original John Smith was a con man who played the role of spy and saboteur during the Revolution, his efforts funded by a network of criminal patriots left out of the history books due to their unsavory professions. The arrangement continued after the original John Smith retired and SMITH'S PROTEGE takes place in 1940 with the latest iteration attempting to rescue a captured French scientist whose secrets may help Germany unlock the atom bomb.
Again, Smith's Protege is available on Kindle for free today through Monday. Thanks, Grant!
___________

What I'm Reading
So I'm well into Feet of Clay, the third of Terry Pratchett's 'City Watch' arc. It's a fun book like his others, but I get the impression that he just wanted to write a murder mystery. I also get the impression that Sir Terry must've read a few in his day, because he's got opinions about them, and sometimes they come boiling out, usually from one of his characters:
[Samuel Vimes]...had a jaundiced view of Clues. He instinctively distrusted them. They got in the way.

And he distrusted the kind of person who'd take one look at another man and say in a lordly voice to his companion, "Ah, my dear sir, I can tell you nothing except that he is a left-handed stonemason who has spent some years in the merchant navy and has recently fallen on hard times," and then unroll a lot of supercilious commentary about calluses and stance and the state of a man's boots, when exactly the same comments could apply to a man who was wearing his old clothes because he'd been doing a spot of home bricklaying for a new barbecue pit, and had been tattooed once when he was drunk and seventeen and in fact got seasick on a wet pavement. What arrogance! What an insult to the rich and chaotic variety of the human experience!

It was the same with more static evidence. The footprints in the flowerbed were probably in the real world left by the window-cleaner. The scream in the night was quite likely a man getting out of bed and stepping sharply on an upturned hairbrush.

The real world was far too real to leave neat little hints. It was full of too many things. It wasn't by eliminating the impossible that you got at the truth, however improbable; it was by the much harder process of eliminating the possibilities. You worked away, patiently asking questions and looking hard at things. You walked and talked, and in your heart you just hoped like hell that some bugger's nerve'd crack and he'd give himself up.
Yes, murder mysteries can be stilted and artificial. But that doesn't make them any less fun. Despite that in real life, most murders get solved by confessions and the use of informants, it's fun to pretend that some guy who never leaves his New York City apartment where he tends his orchids all day can solve the most baffling of crimes by sitting back in a chair and reasoning it all out.

___________
Don't forget the AoSHQ reading group on Goodreads. It's meant to support horde writers and to talk about the great books that come up on the book thread. It's called AoSHQ Moron Horde and the link to it is here: https://www.goodreads.com/group/show/175335-aoshq-moron-horde.
___________
So that's all for this week. As always, book thread tips, suggestions, bribes, rumors, threats, and insults may be sent to OregonMuse, Proprietor, AoSHQ Book Thread, at the book thread e-mail address: aoshqbookthread, followed by the 'at' sign, and then 'G' mail, and then dot cee oh emm.
What have you all been reading this week? Hopefully something good, because, as you all know, life is too short to be reading lousy books.


posted by OregonMuse at
09:00 AM
|
Access Comments