« EMT 04/01/18
|
Main
|
"Right Of Return" Is Newspeak For Death To The Jews »
April 01, 2018
Sunday Morning Book Thread 04-01-2018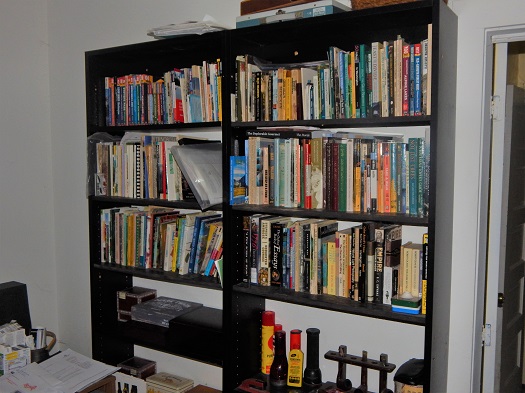 Library of Lurker Winston
(click for larger size)

Pic Note
I had to artificially brighten up this week's pic a bit as the original was too dark.
Winston writes:
The photo is of what I call my, working library. Hiking guidebooks of the Northwest, natural history, plant and animal subjects. A few of my history books and general literature also. The thousand or so books I have won't all fit in the same room so they're scattered about the house.

The Wisdom of Yoot
In last week's book thread, this comment
249 The media now getting "wisdom" from teens and pre-teens about we ought to live, what rights ought to be kept or jettisoned, how to keep our "democracy," etc. Reminder: children should be seen and not heard.

Posted by: FIIGMO at March 25, 2018 11:00 AM (E+qJE)
...reminded me of this book, Wild in the Streets, published in 1968, which takes place in an America that has lowered the voting to some ridiculous age like 11 or 12, and all of a sudden it's all free sex, free drugs, and free rock and roll, 24/7. I think all the adults are even herded into camps, or some such. What fun! Don't remember if it discussed what effect this had on America's foreign policy.
If you want to know how something like this worked out for realz, then perhaps a book like Red Scarf Girl: A Memoir of the Cultural Revolution by Ji-Ji Jiang is can help:
A child's nightmare unfolds in Jiang's chronicle of the excesses of Chairman Mao's Cultural Revolution in China in the late 1960s. She was a young teenager at the height of the fervor, when children rose up against their parents, students against teachers, and neighbor against neighbor in an orgy of doublespeak, name-calling, and worse. Intelligence was suspect, and everyone was exhorted to root out the "Four Olds"--old ideas, old culture, old customs, and old habits. She tells how it felt to burn family photographs and treasured heirlooms so they would not be used as evidence of their failure to repudiate a "black"--i.e., land-owning--past. In the name of the revolution, homes were searched and possessions taken or destroyed, her father imprisoned, and her mother's health imperiled--until the next round of revolutionaries came in and reversed many of the dicta of the last.
Those media potato-heads urging us to listen the likes of David Hogg and Emma Gonzalez for policy prescriptions really need to think about what they're asking.

It Pays To Increase Your Word Power®
Something that is AROMAOLENT is fragrant or sweet smelling.
Usage: Donald Trump's aromaolent election victory in November, 2016...
Usage: On election night, the sound of Hillary's concession speech wafted through my house aromaolently, bringing to mind warm maple syrup over waffles - and victory, sweet victory.

A Request For Recommendation
A lurking moron emails me to ask about biographies of Ronald Reagan:
I have always wanted to read a good , solid biography of my favorite president , but wading through all the biased ones is a chore .... what is generally acknowledged to the best one for a conservative reader ?
I'm not familiar with the relative quality of the various biographies that have been published, but that's not going to stop me from running my mouth. I do know that the one you absolutely want to avoid is Dutch: A Memoir of Ronald Reagan by Edmund Morris. This is why:
Few, if any, biographies in recent years have generated so much controversy about the role and responsibility of the biographer as this muddled but infuriatingly readable account. Morris received the 1980 Pulitzer Prize for The Rise of Theodore Roosevelt, and, on the strength of that impressive work, was appointed Reagan's authorized biographer in 1985. Not necessarily to his credit, Morris may have invented the genre of virtual biography, through which the author insinuates himself into Reagan's life. As readers know now, the Morris in these pages is not even the real South African-raised Morris but an older American version about the same age as Reagan. Some events, notably the death of Reagan's infant daughter; his testimony before the House Committee on Un-American Activities (HUAC) about Communist infiltration of the Screen Actors Guild; and his split with first wife Jane Wyman, are actually portrayed in play form, giving a surreal quality to these very real traumas.
The way I heard it, Morris, despite years of research and access to Reagan himself, never could figure out who Reagan really was. So he turned what should have been biography into a weird literary experiment, part historical novel, part play, and even part fictional autobiography as he inserts himself into Reagan's life as a character who sees Reagan at what he thinks are key points in his life. I remember when this biography was first published way back when (1999) and the reviewers were all, like, WTF? even before 'WTF' became common usage.
As the publisher's blurb noted, Morris wrote a really good biography of Theodore Roosevelt, so everyone was blindsided by this dumpster fire of a Reagan bio.
I don't think you can go wrong than reading Reagan in his own words. For example, Reagan, In His Own Hand: The Writings of Ronald Reagan that Reveal His Revolutionary Vision for America:
Ronald Reagan was an inveterate writer. He wrote not only letters, short fiction, poetry, and sports stories, but speeches, newspaper articles, and radio commentary on public policy issues, both foreign and domestic.

Most of Reagan's original writings are pre-presidential. From 1975 to 1979 he gave more than 1,000 daily radio broadcasts, two-thirds of which he wrote himself. They cover every topic imaginable: from labor policy to the nature of communism, from World War II to the second Strategic Arms Limitation Treaty, from the future of Africa and East Asia to that of the United States and the world. They range from highly specific arguments to grand philosophy to personal stories.
Remember, this is the man the left derided constantly as a dunce, an idiot, a know-nothing, and a sleepwalking dunderhead.
Somewhere on YouTube (I'm too lazy to look it up) is a debate on the Vietnam War pitting Reagan vs. Bobby Kennedy. Reagan wiped the floor with him.
Also available are The Reagan Diaries:
During his two terms as the 40th President of the United States, Ronald Reagan kept a daily diary in which he recorded, by hand, his innermost thoughts and observations on the extraordinary, the historic, and the routine day-to-day occurrences of his presidency. Now, nearly two decades after he left office, this remarkable record—the only daily Presidential diary in American history—is available for the first time...

Seldom before has the American public been given access to the unfiltered experiences and opinions of a President in his own words. To read these diaries—filled with Reagan's trademark wit, sharp intelligence, and humor—is to gain a unique understanding of one of the most beloved occupants of the Oval Office in our nation's history.
If any of you morons know what bios of Reagan are good, please let us know in the comments.

Moron Recommendations
Got a recommendation from Captain Hate last week that looks interesting, but I have to clean up the language a bit, this being the classy, hoity-toity book thread and all:
36 Anybody read "Unholy Terror: Bosnia, al-Qa'ida, and the Rise of Global Jihad" by John Schindler? It was recommended to me because Slick's "humanitarian" bombing of the Orthodox Christians on behalf of the Muslims has bugged the ████ out of me ever since it happened, particularly how the MFM was █████ing uncontrollably at the thought of going to war. I'm not very far into it but it's already confirming nearly every ████ing thing I strongly suspected, namely that there was and always has been a ███████ ███ element present there that collaborated with the nazis that persisted through the post war commies, who oddly considered the ████ing ████ ███████████ as somehow tolerable even though those ███████████ are just as politically motivated as the ██████ ████ers. Anyway I'm still into the historical matters and it's just dawned on those ███ dumb█████ after the Iran revolution they start seeing pictures of Khomeini in windows that maybe this Shia/Sunni split isn't gonna keep those ████████ from joining the umma anyway and sorting out the differences afterward. Just ████ing brilliant.

Anyway, I wanted to know if anyone else has read this. It might be OOP and there was only one copy available in the entire Cleveland public library since this wouldn't be of interest to most of the ███████ and butt████ers who use the system.

Posted by: Captain Hate at March 25, 2018 09:17 AM (y7DUB)
You'd better read the hardback edition or Unholy Terror: Bosnia, al-Qa'ida, and the Rise of Global Jihad, since you can buy it for $11, while the Kindle edition costs a whopping $27.95.

What I'm Reading
I've heard that Ronald Reagan used to joke about his Alzheimer's affliction, saying that the good thing about it was that he got to meet new friends every day. Something like that is going on with me, only it's not Alzheimer's. It'd just that I used to have a very good memory only the various surgeries I have had in the last couple of decades have really knocked it out. Plus the old age, don't forget that. I hardly remember anything any more.
So I've started re-reading some of Terry Pratchett's DiscWorld novels, in particular those of the 'City Watch' arc. I first read them about 20 years ago, before age and ill health started to take their toll. I remember the characters (Vimes, Angua, Carrot, Detritus, etc.), but nothing of the plots. So, for example, in Guards, Guards, I had no idea that they had to deal with a giant dragon some idiots managed to summon from another dimension. And my failing memory didn't even give me the courtesy of a "oh, *now* I remember..." moment, it was like I was reading the book for the first time.
So I just finished Men At Arms earlier this week. It was like I had found a new friend.

___________
Don't forget the AoSHQ reading group on Goodreads. It's meant to support horde writers and to talk about the great books that come up on the book thread. It's called AoSHQ Moron Horde and the link to it is here: https://www.goodreads.com/group/show/175335-aoshq-moron-horde.
___________
So that's all for this week. As always, book thread tips, suggestions, bribes, rumors, threats, and insults may be sent to OregonMuse, Proprietor, AoSHQ Book Thread, at the book thread e-mail address: aoshqbookthread, followed by the 'at' sign, and then 'G' mail, and then dot cee oh emm.


posted by OregonMuse at
09:00 AM
|
Access Comments