« Liberals, NeverTrumpers Freak Out About Americans' Belief in a "Deep State"
|
Main
|
Russian Panic: The Russia Conspiracy Is Now Joined by... John Bolton »
March 22, 2018
"Destroy All Robopests"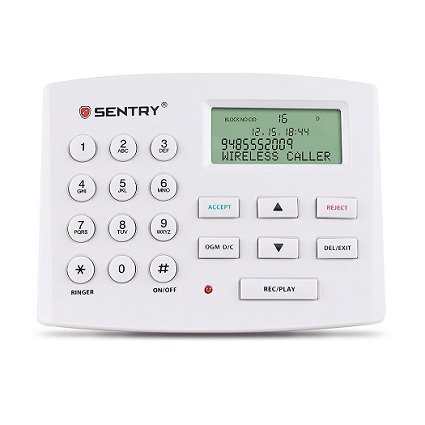 Sentry Call Blocker

Let me start out by saying that I am one of those (perhaps dwindling few) who still retain an old-school "landline" phone. And God willing, I will do so for the rest of my life. I do not like cell phones. My old ears cannot tolerate the crappy audio and satellite delays that are characteristic of cell phones.
I have a clamshell cell (from Tracfone), but I rarely use it. It's basically for emergencies.
Of course, restricting myself to a landline means that i'll be bombarded with sales solicitations, "surveys", and out-and-out scams designed to extract personal info and/or money. On really bad days, my phone will ring 10 times and 9 of them will be crap calls. Mrs. Muse and I have had the same phone number for as long as we've been married (30+ years), so I'm sure it must be on quite a lot of lists by now.
We tried putting our number on that stupid "no call" list set up during the Bush administration, and I will admit the number of crap calls did go down to almost zero -- for about a year. And then the number of crap calls/month started to creep back up, and now it's worse than ever.
And oh, by the way:
Q: If I register my number, will ALL unwanted calls stop?

A: No, the Do Not Call Registry prohibits sales calls. You still may receive political calls, charitable calls, debt collection calls, informational calls, and telephone survey calls.
Note that political parties can still call you up and pester you for money all the damn day. So what our betters in Washington DC did was pass a law which they themselves are exempt from.
Also "informational" calls are exempt. So the robopests sometimes lead off their crap call with "Here is the information you requested on our lace wigs" when you know damned well you didn't ask anybody about lace wigs. It's just a figleaf they use to pretend to be legal.
Also, a "prior business relationship" entitles the robopests to harass you 24/7, so the scammers will try to get around this with out-and-out lies such as "Since you have previously stayed at one of our resorts, you'll eligible for this special deal on lace wigs..."
All of these exceptions and loopholes render the federal no-call list practically worthless, so eff 'em all. Besides, I'm a conservative, which means I do not like relying on government to solve a problem for me and keep it solved.
So I did a bit of research to see if there are any devices available that will help with this. It turns out that there are a number of call blocking devices on the market.
Most are based on the idea of a "blacklist" i.e. a database of numbers that the call blocker will automatically reject. One particular blocker comes with 5,000 pre-programmed crap numbers and the ability to add up to 1,500 more. But despite the high ratings this device has received, I was still a bit skeptical. Because when my phone gets crap calls, it's hardly ever the same number twice. So I'd have to answer the phone and hit the 'Block' button on each crap call I received, and I don't want to have to do this. 90% of the crap calls I get are from numbers we've never seen before, and never see again. The crap callers can spoof any number they want, and they generally do.
Then I found a call blocker, the Tel-Sentry 3.1, that the more I read about it, the more I liked it. The Sentry's design is based on a "whitelist", a database of known good numbers that you can add to. All other numbers get provisionally blocked. There's also a blacklist, but it's not all that important. Here is the programming logic:
With the Sentry installed, a call comes in, and your phone will ring once. If the number is on the Sentry's whitelist, it gets passed through and the phone continues to ring. That's how you know it's a call you want to answer.
If the number is on the Sentry's blacklist, it will be dropped after the first ring.
If the number is not on either list, the caller will hear the Sentry's answering voice message to eff off if it's a crap call, or press '0' and leave a message after the beep. If the '0' is pressed, the Sentry will ring its own distinctive ring. At that point, I can pick up and talk to whoever called. If not, the caller can leave a message on the Sentry which I can retrieve later. And whether I answer or no, the number will have already been added to the whitelist.
So I ordered it directly from the manufacturer's site, received a 10% discount, so I paid $71 total. It arrived about a week ago and installing it was a snap. You can install it in "series" between your phone and the wall jack, or you can set up a "parallel" connection using a 'Y' splitter, which is what I did. It needs 3 'AAA' batteries, which must be changed every six months or so.
As soon as I installed it, I manually entered a number of our friends and family phone numbers into the whitelist.
Is it fool-proof? Of course not. There's always the possibility of a false positive, i.e. a scammer ignoring the "eff off, scammers" message and pressing '0' to get through. But this hasn't happened yet. We think the chances of it happening are remote. Most of the crap calls are robopests that can't press '0', so the call gets dropped. If the crap call is a live crap call, the dialing is done by some automated system, and by the time the crap call is connected to a live person at a crap call center, it has already been dropped.
And any number that's a false positive can be deleted from the whitelist. If it's a repeat call from the same number, it's easy to transfer it to the blacklist.
Over time, the call routing gets more and more accurate. By adding numbers selectively to the Sentry's whitelist, you're in effect training it to distinguish between good and bad calls.
So far, it has worked great for us. When the phone rings, Mrs. Muse and I just sit there until we hear the second ring before we bestir ourselves to pick up.
Is Sentry the perfect solution for everybody? No, it won't work with cell phones and it's apparently problematic with VOIP products such as MagicJack. And a friend of ours is paid by her company to use her phone to take customer service calls, which means she receives calls from strange new numbers all of the time, so the Sentry is pretty much useless for her situation. But for those of us old pharts with landline phones, it has provided us with blessed relief from the robopests.


posted by OregonMuse at
05:31 PM
|
Access Comments