« EMT 03/18/18
|
Main
|
Thought Crimes Are Alive And Well And Living In The UK. Orwell Was Correct, And He Would Be Horrified. »
March 18, 2018
Sunday Morning Book Thread 03-18-2018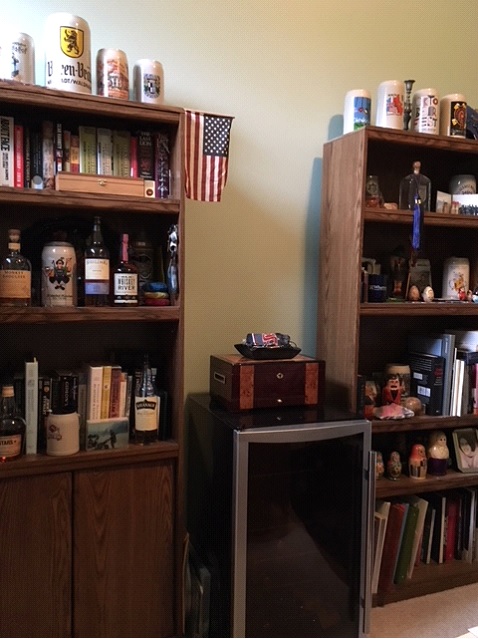 Library & Pub (but mostly pub) of Diogenes
Book Sale Tip:
Moron commenter Grey Fox sends me this:
Lindsay Books, aka youroldtimebookstore.com, is liquidating their inventory (I assume that means that they are going out of business). The code 75OFF at checkout will get folks a 75% percent discount, plus their shipping costs are very low. They specialize reprints of old technical books and collections of magazine articles about making things, mostly out of metal of one kind or another.
The tag-line on the site is "Discover the secrets of old-time technology!" Maybe you you should go on over and take a look.

It Pays To Increase Your Word Power®
A JOHN-HOLD-MY-STAFF is a servile, toadying attendant.
Usage: Shep! Smith volunteers for this sort of work. He says he is the best in the business, and you know something, I think I believe him.

Moron Library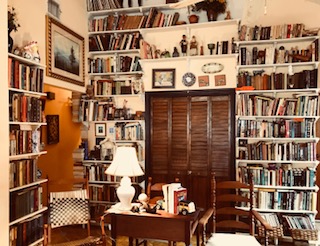 This is the library of moronette author Sgt. Mom. I'm posting it in the hopes that she'll send me a bigger pic, because it looks like a very interesting place for the rest of us morons to browse around in.

Looking For A Few Good Prepublication Reviewers
The moron known as fritzworth is about to publish his first novel:
My co-author Bruce Henderson and I have finished our first novel, CARTHAGO. It interweaves the history of Silicon Valley, the US intelligence sector's efforts at data collection and analysis, and nuclear proliferation in the private sector. We've gotten feedback from a small circle of friends, and it's been independently proofread, but I'd like to widen the circle of pre-publication reviewers a bit, as we started to send out query letters to agents.
Sounds like these guys mean business. As a teaser, here's the current "logline" for the novel:
A mobster's talented son finds himself unknowingly participating in an embittered billionaire's plans to remove Silicon Valley from global competition – with nuclear devices built right in America.
But wait, there's more:
It's a thick novel (200K words), takes plan over a span of over 40 years (1971-2016), has settings around the globe, and contains a host of characters. It's intended as a summer beach novel in the Tom Clancy/James Clavell vein. We are looking for readers who are likely to read such a novel all the way through and give us useful feedback (note: "It's great!" is very useful feedback). I only plan to send out a dozen or so such pre-publication copies, so if you are interested, drop me a line at bfwallc – at – thatgmailthing (with CARTHAGO in the subject field) and make your pitch as to why you'd be a great reviewer and what format you'd prefer (PDF, ePub, MOBI/Kindle). You could end up in the acknowledgments.
Also:
This is the first of three novels, so don't expect a happy ending. At least not yet.

Moron Recommendation
A couple of military history recommendations from a couple of weeks ago:
35 Read 'The Lonely Ships: The Life and Death of the Asiatic Fleet' by Edwin P. Hoyt.

An outstanding history of the U.S. Navy's Asiatic Fleet from it's beginning during the 1850s through the Spanish-American War, the Boxer Rebellion, Phillippine Insurrection, the Yangtze River Patrol, the China troubles during the 20s and 30s between the Nationalists, Commies, Warloads, and the Japanese. Finally it's death in March 1942.

From the book's ending; As Admiral King put it, theirs is the story of a 'magnificent display of human courage under impossible conditions.' Let that be the fleet's requiem.

Posted by: Jake Holenhead at February 25, 2018 09:15 AM (+ufX6)
This book is out of print, but inexpensive hardbacks and paperbacks can be purchased.
___________
65 Picked up Victor Davis Hanson's *The Second World Wars* early in the week.

It is fascinating. Can't put it down. Terrific analysis of production capabilities of the combatants, geographical and historical considerations of the various battlespaces, and political miscalculations and much, much more.

Highly recommended.

Posted by: Tonypete at February 25, 2018 09:30 AM (tr2D7)
The Second World Wars: How the First Global Conflict Was Fought and Won doesn't come cheap. $23 for the Kindle version and $32 for the hardback.
___________
If you're a voracious reader, you will eventually still have bookcases jammed into every room.

Bookcases jammed into every room is in fact one of the great joys in life.

Posted by: Tammy al-Thor at March 11, 2018 12:57 PM (MjjCt)

Books by Morons
Lurking moron author Brian Noggle tells me he has just published a book of poetry. But he's afraid it will be a hard sell here:
I realize it's a bit afield from the military science fiction or historic fiction favored by the Horde, but perhaps it could help the hoity-toity quotient of the book thread.
[addendum] Here's the link to the 99¢ Kindle edition [CBD]
The Amazon blurb says:
Brew Bayou. The Venice Cafe. Mokabe's. The Oasis. The Grind. Sacred Grounds. The Mud Room. The tables were often unsteady, the chairs did not match, and the coffee was of uncertain quality. But coffee houses draw English majors into their dim, warm interiors to compose innumerable sonnets or free verse as they try to figure out life, love, and iambic pentameter. Within this collection, one such poet-narrator muses on those very topics as he sought to transition from youth to adult, and then he reflects upon those days when he spent those hours in coffee houses.
Nothing wrong with coffee houses. Coffee houses are great. Coffee houses helped build Western civilization. According to this article I read a couple of days ago:
"The impact of the introduction of coffee into Europe during the seventeenth century was particularly noticeable since the most common beverages of the time, even at breakfast, were weak 'small beer' and wine. Both were far safer than water, which was liable to be contaminated … Coffee … provided a new and safe alternative to alcoholic drinks. Those who drank coffee instead of alcohol began the day alert and stimulated, rather than relaxed and mildly inebriated, and the quality and quantity of their work improved … Western Europe began to emerge from an alcoholic haze that had lasted for centuries."
I had heard that Moslem clerics first used coffee by giving it to their students so they would stay awake during their 4- and 5-hour theological harangues.
This might be worth checking out: Uncommon Grounds: The History of Coffee and How It Transformed Our World by Mark Pendergast.
Also, one of the customer reviews pointed me to All About Coffee, available for free on Gutenberg, about which the reviewer says
...is the acknowledged complete work of every aspect of the coffee world. You can sometimes find the out of print book on Ebay, but it is usually over $150 for a worn out copy! I found that you can go to "Project Gutenberg" on the web and read the entire book, with all the full color hand drawn pictures, absolutely free of charge! Do it! You won't regret it!
I downloaded the ePub version (with images), and I can say it is a monumental work. Published in 1922, it is one of those books you dip into at random points, like an encyclopedia, rather than read cover to cover.
And then there's chocolate. Not sure where that fits in, but in colonial America chocolate houses became more popular than the taverns that served coffee.
But getting back to the topic at hand, Noggle's book of poetry, Coffee House Memories, is availble in Kindle or paperback.

___________
Don't forget the AoSHQ reading group on Goodreads. It's meant to support horde writers and to talk about the great books that come up on the book thread. It's called AoSHQ Moron Horde and the link to it is here: https://www.goodreads.com/group/show/175335-aoshq-moron-horde.
___________
So that's all for this week. As always, book thread tips, suggestions, bribes, rumors, threats, and insults may be sent to OregonMuse, Proprietor, AoSHQ Book Thread, at the book thread e-mail address: aoshqbookthread, followed by the 'at' sign, and then 'G' mail, and then dot cee oh emm.
What have you all been reading this week? Hopefully something good, because, as you all know, life is too short to be reading lousy books.

posted by OregonMuse at
09:00 AM
|
Access Comments