« EMT 03/11/18
|
Main
|
Make Romance Great Again »
March 11, 2018
Sunday Morning Book Thread 03-11-2018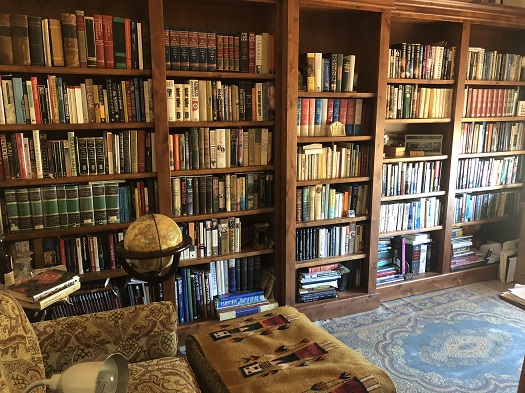 Library of wjr123

Good morning to all you 'rons, 'ettes, lurkers, and lurkettes. Welcome once again to the stately, prestigious, internationally acclaimed and high-class Sunday Morning Book Thread, a weekly compendium of reviews, observations, and a continuing conversation on books, reading, and publishing by people who follow words with their fingers and whose lips move as they read. Unlike other AoSHQ comment threads, the Sunday Morning Book Thread is so hoity-toity, pants are required. Even if it's these pants, which look like she saw something in the window and had to wear it.
Pic Note
From wjr123, whom I think mostly lurks:
That is only half of the library. To the right is a window with a low table holding a tube based stereo and more books and art going further...I spend a lot of time there.
Heh. I'd like to live there and have all my food delivered.
A fine library, that. Click on it to see the larger version.


The Bible, Condensed
Here's an amusing bit you can read on a nice, relaxing Sunday afternoon: The TL;DR Edition Of All 66 Books Of The Bible. You don't have to be a Christian or Jewish to understand the humor, but it probably helps.


It Pays To Increase Your Word Power®
A SQUAMIGEROUS creature is one that has scales.
Usage: The squamigerous James Carville is unable to be part of this week's panel discussion because he's molting.
And Now, This Public Service Announcement: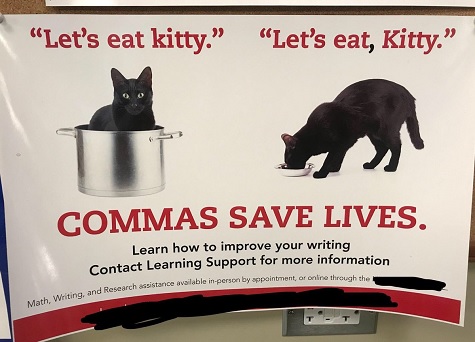 Learning to Read
A comment from a couple of weeks ago:
260 Hi, Weasel! I remember vividly the first time I comprehended a word on my own. We were sitting at a stop sign, and I actually read the word stop instead of just seeing the big red octagon. It was life changing.

Posted by: no good deed at February 18, 2018 11:07 AM (eIQHF)
This got me thinking: can any of you remember a time when you couldn't read? That is, do you remember, in the dim recesses of your youth, ever looking at a book, or newspaper, and not knowing what those black squiggles were supposed to be? Me, I have no such memory. It is as I always knew how to read. I just wonder if any of you can actually remember.

Defending the Unborn
The fight over abortion wasn't always a Republican vs. Democrat thing. As Defenders of the Unborn: The Pro-Life Movement before Roe v. Wade argues, the battle was not drawn on conventionally partisan lines:
For decades, the media portrayed the pro-life movement as a Catholic cause, but by [1972], that stereotype was already hopelessly outdated. The kinds of people in attendance at pro-life rallies ranged from white Protestant physicians, to young mothers, to African American Democratic legislators-even the occasional member of Planned Parenthood...The language with which pro-lifers championed their cause was not that of conservative Catholic theology, infused with attacks on contraception and women's sexual freedom. Rather, they saw themselves as civil rights crusaders, defending the inalienable right to life of a defenseless minority: the unborn fetus. It was because of this grounding in human rights, Williams argues, that the right-to-life movement gained such momentum in the early 1960s. Indeed, pro-lifers were winning the battle before Roe v. Wade changed the course of history.
Meanwhile, an Episcopalian priest sez abortions are just fine:
Tennessee Episcopal Priest Kira Schlesinger believes so strongly in legalized abortion that she wrote a book to reconcile her Christian beliefs with the killing of unborn babies.

In her new book "Pro-Choice and Christian: Reconciling Faith, Politics, and Justice," Schlesinger criticizes churches that "shame" and stigmatize women who abort their unborn babies. She said church congregations should have more open conversations about abortion, and support women who have them.
Odds are that her argument is careful enough to mitigate against Gosnell-style infanticide? Slim to none.


Moron Recommendation

From SandyCheeks:
383 This week I read More Beautiful Than Before: How Suffering Transforms Us, by Steve Leder, a rabbi in L.A. Not that I am suffering by any means, but because of a recent interview Leder did with Dennis Prager.

You know how some books are tough to put down because of the plot? This little tome is tough to put down because it feels like Leder is having a heartfelt discussion with the reader. I got it from the library but was wishing throughout that I could highlight about 50 percent of it.

Leder spends a lot of time with the dying, with parents of deceased children and those battling illness, divorce and various forms of heartbreak. The insights in this book were golden.

The quotes are noteworthy on nearly every page. Ironically, one that I remember without the book in front of me was Leder recounting a quip by Dennis Prager while addressing an atheist convention! Prager said, "As a believer in a moral God, I am often asked to explain human suffering; but as atheists, you are forced to explain everything."

Gem after gem. Highly recommended. In fact, I'm going to get my own copy and buy a few extras for those who will eventually find themselves in need.

Posted by: SandyCheeks at March 04, 2018 12:38 PM (ihzOe)
More Beautiful Than Before: How Suffering Transforms Us is availble on Kindle or hardback.

What I'm Reading
A few months back, Barnes & Noble settled some stupid "let's enrich the lawyers" class-action lawsuit, and being a B&N Nook customer and purchaser of e-bookw, my share was a few cents north of $3. So I used it to defray the cost of Nothing Lasts Forever by Roderick Thorp (link is to Amazon). Alert readers might recognize this thriller as the basis for the first Die Hard movie. I would rate this book 3 stars out of 5. I would say this is one of those rare books which movie version is actually better, but perhaps this is because I saw the movie first. I had fun noting what was different and what's unchanged as I read the book. Without getting into a lot of spoilers, the main character isn't named John McClane, and he's not an NYC street cop, but rather a retired LEO who now runs a consulting firm for law enforcement agencies, which is why he goes in with prior knowledge of a new breed of criminal gangster called "terrorists" (the book was published in 1979) which is why he recognizes the main bad guy, "Anton 'Red Tony' Gruber" when he first sees him. The ending is a bit different, too. But, all-in-all, it's worth reading.
___________

Don't forget the AoSHQ reading group on Goodreads. It's meant to support horde writers and to talk about the great books that come up on the book thread. It's called AoSHQ Moron Horde and the link to it is here: https://www.goodreads.com/group/show/175335-aoshq-moron-horde.
___________
So that's all for this week. As always, book thread tips, suggestions, bribes, rumors, threats, and insults may be sent to OregonMuse, Proprietor, AoSHQ Book Thread, at the book thread e-mail address: aoshqbookthread, followed by the 'at' sign, and then 'G' mail, and then dot cee oh emm.
What have you all been reading this week? Hopefully something good, because, as you all know, life is too short to be reading lousy books.

posted by OregonMuse at
09:01 AM
|
Access Comments