« CNN: Broward County Sheriff's Deputies Didn't Enter School to Stop Shooter
|
Main
|
EMT 02/24/18 »
February 23, 2018
The Right of the People to Read and Share the ONT Shall Not Be Infringed
I know Ace is big on the GAAAAAAAAINS, so I recently considered taking up jogging. After seeing this graphic, however, I've decided against it.

Parkland

I mentinoned in the comments section last night that I had seen some disturbing allegations regarding the BrCoward County Sheriffs Department. More information has come out today. This whole thing stinks to high heaven, and not just because of multiple failures of the authorities to act on the multiple warnings they received about the shooter. First off, what I mentioned last night. Here's a Twitter thread (conveniently aggregated at Unrolled for easy reading) from @TheLastRefuge2 (Twitter handle for the Conservative Treehouse blog). It alleges that the department has been downplaying and outright ignoring student crimes in order to cook the books for federal grant money. He claims to have documented proof of these allegations.
Second, it has now come out that three additional deputies joined the one assigned to the school and took up positions behind their cars while the massacre was going on. There they waited, while children were dying, until Coral Springs Police arrived and entered the building. I'm not buying the "danger" excuse either. Yes, rushing the gunman would have been dangerous. It's part of their job. Firefighters, many of them volunteers getting paid exactly nothing, rush into burning buildings every day to save lives. It's dangerous. They do it because it is their job.
Finally, there's this: Sheriff's hiring of political supporters under fire. Seems Israel was using his post as Sheriff to further his political career, and loading up the department with political hacks on the taxpayer's dime.
Enough is enough. This needs to be immediately investigated by the DOJ, and if these allegations are proven true, heads should literally roll (I'll settle for long jail sentences. In general population).

Ooops
Enough. I'm sick to my stomach reading about all of this. How about a clip of Demi Lovato kicking snow into her own face. The arms twitch at the end makes the clip.

Gettin' in the Wind

Anyone know what this is?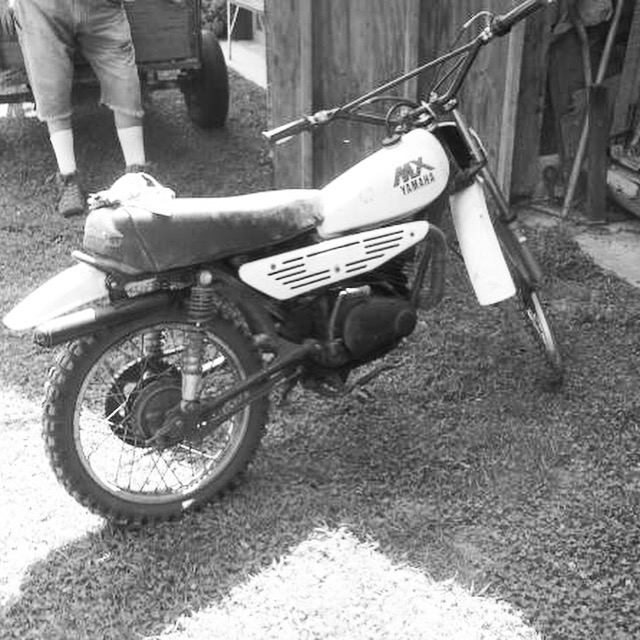 That, my friends, is a 1979 Yamaha MX 100 that I found in a barn 2 years ago. I bought it for a song for Little so he could learn to ride, and the kicker is that it is identical to the first motorcycle I ever owned as a kid. I know, right? Sadly, I never could get it running. When it started it would rev at full throttle, and even then I couldn't get it started often. I puttered with it, but I'm no mechanic. I don't really know what I'm doing. A local motorcycle shop kinda blew me off when I took it in for them to fix. And so it sat in the garage, mocking me, my promise to my son of a motorcycle unfulfilled.
For Christmas I bought him a YZ 125 that's really too big for him, but I figured he'd grow into it. The guy I bought it from, however, reconditions motorcycles on the side as a second business. After I recounted my story, he told me to bring it over. I did, he tore it down and figured out that the crankcase seals and the oil injector were bad. He tore out the injector system (NBD, I'll just use mix), and replaced the seals. The thing runs like a top now, and he only charged me 400 bucks to basically rebuild the whole engine! So now we have 2 bikes, and the YZ is plenty big enough for me to ride....
So tomorrow, weather permitting, Little and I are going to have a Daddy/Little day together riding our new (old) dirtbikes.
Life is good if you let it be, y'know?

How Bizarre
Sorry for the personal anecdote there, but here's a story that's completely bizarre.
The story of a weird world I was warned never to tell
You really have to read it to believe it. A woman's whole life was based around the outrageous delusion of her otherwise exemplary step father. I don't even really know how to describe it better than that.

I Hear What You're Saying

And now scientists can prove it

Troll of the Week

The response from the Canadian Foreign Policy office is pretty good too.
Speaking of Canada, Trudeau's India trip is a total disaster — and he has only himself to blame. And this from a self described Fluffyhair von Fancysuit fangirl.

Welcome to America
Charles C.W. Cooke became an American citizen today. Welcome to America Charles. I guess this means we can't hold your accent against you anymore. A piece of advice:
If an American gal asks you to knock her up in the morning, it's a hell of a lot more fun here than in the old country. But, by the same token, the natural assumptions Americans make when a British gal asks them if they have a rubber are wildly optimistic.
They've Got the Brain Damage
The Hellhole of Tumblr Creeps Into The Real World
Fido Friday
It's easier to train a dog if you have an assistant.
In honor of Charles C.W. Cooke, tonight's ONT is brought to you by 'Merica
BTW, Brent Cochran and Alexthechick are resuming their podcast this coming week. Check the sidebar for the link. If they follow their old schedule, it'll probably be up Wednesday

ETA The gal who did the Chibi Presidents I linked last night is the daughter of a Moron. She was quite pleased by the reception they received here, and has decided to do a series of AoS Chibis. I can't wait to see them.

posted by WeirdDave at
09:46 PM
|
Access Comments