« EMT 02/25/18
|
Main
|
Senator Durbin Can't Have It Both Ways; He's Either A Catholic Or An Abortion Supporter...Not Both »
February 25, 2018
Sunday Morning Book Thread 02-25-2018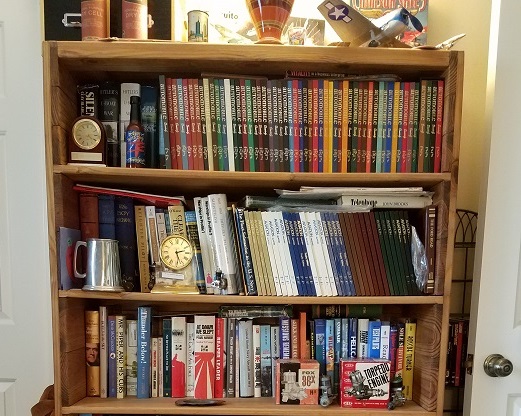 Library of Moron Lurker 'f6f'
Good morning to all you 'rons, 'ettes, lurkers, and lurkettes. Welcome once again to the stately, prestigious, internationally acclaimed and high-class Sunday Morning Book Thread, a weekly compendium of reviews, observations, and a continuing conversation on books, reading, and publishing by people who follow words with their fingers and whose lips move as they read. Unlike other AoSHQ comment threads, the Sunday Morning Book Thread is so hoity-toity, pants are required. Even if it's
these pants
, which were probably designed and submitted to a fashion show by a master-class troll. I feel sorry for the guy who's modelling them, and hope he's well-paid.

Pic Note
If you click on the library photo for the full version of the entire bookcase and browse around, you will see:
1. A couple of interesting-looking timepieces
2. Several of what I believe are engines for model airplanes
3. A bottle of hot sauce.
4. Books
Yeah, that's a Moron library, alright.


It Pays To Increase Your Word Power®
OXYPHONIA is a sharp or shrill way of speaking.
Usage: After her long-anticipated retirement, Hllary Clinton moved to a luxury villa in Oxyphonia where she spent the remainder of her years thinking about what might have been.

The Wynderfyl Wyrld of Wymyn
Last week, I put up a tweet from a pinched-face scoldy prude posting from the Penguin Books account lamenting women reading books from dead white males. She (I assume it was a 'she') linked to an article entitled Danielle Lazarin Recommends 6 Must-Reads By Women, For Women, and even though I have never heard of Danielle Lazarin, I thought it might be fun to look at her recommendations:
Up first is All Grown Up by Jami Attenberg which is described as
From the New York Times best-selling author of The Middlesteins comes a wickedly funny novel about a thirty-nine-year-old single, childfree woman who defies convention as she seeks connection.​
This description sounds like every woman in the book publishing business, i.e. middle-aged, neurotic, and lonely. So the insistence that she "defies convention" makes me giggle like a schoolboy who has just hidden a frog in the desk of the girl next to me. If this woman really "defied convention", she'd be a husband-loving, church-going housewife with 3 children.
Next up is On Immunity: An Inoculation by Eula Bliss:
Upon becoming a new mother, Eula Biss addresses a chronic condition of fear-fear of the government, the medical establishment, and what is in your child's air, food, mattress, medicine, and vaccines. She finds that you cannot immunize your child, or yourself, from the world.

In this bold, fascinating book, Biss investigates the metaphors and myths surrounding our conception of immunity and its implications for the individual and the social body.
Do women actually enjoy reading this sort of stuff? To me, this is like listening to someone ask one of those 'If you were a flower, what kind of flower would you be?' type questions and then run her mouth for 200 pages. I simply don't have any patience for it, but then again, I'm not the author's target audience.
And naturally any list of "must reads for women" has got to do some cheerleading for abortion. This role is filled by The Story of Jane: The Legendary Underground Feminist Abortion Service by Laura Kaplan. Lazarin comments:
It's a thrill to read about women literally taking power away from men who had exploited other women, and to witness the change their work created, even as their work was meant to be invisible.
Of course, the questions you're not supposed to ask are, what kind of medical training did abortionists have, and how many pregnant women did they seriously injure or even kill? Also elided are the ethics behind justifying "taking power away from men" by killing another human being.
One Amazon reviewer has a different take on it than Lazarin's "yay for wymyn!" angle:
Though clearly romanticized and seen through the rose-colored glasses of hindsight, The Story of Jane tells a tale of women running a criminal abortion syndicate for ideological rather than financial motives. The author's treatment of Harvey Karman (whom she identifies as "Jordan Bennett") overlooks the less savory aspects of his career, such as his conviction in the death of a woman in a motel-room abortion in Los Angeles, and leaves this reader wondering what else she chooses to gloss over.
I was going to do the other three books on the list, but this has left a bad taste in my mouth. Lazarin is recommending this book for all women, but what about the women who think abortion is wrong, and who think that even though they may have been horribly abused by men, killing an unborn child is worse? The feminists' claim that they speak in the name of "women" is infuriating, because clearly they don't. They say they want to hear women's voices, but apparently not all women's voices, because, the voices of the six books Lazarin is recommending are all marching in rigid ideological lockstep, just like those scripted Parkland kids CNN showed in their 'townhall' meeting. Apparently, only some voices are worth listening to.

Call For Submissions
Lurker Oren tells me he's accepting stories for an uncoming anthology:
[T]his anthology's theme is "Ye Olde Magick Shoppe." We're looking for stories of between 3500-7000 words. To qualify, stories must contain, as a significant plot element, the sale of a magical good or service by someone for whom this is their profession. Naturally, the whole collection will have a bit of a free-market slant to it, but individual stories can go in whatever direction the author prefers. Full details and instructions are here.

Books On the Radio
Lurker Dwight tells me:
The other day I was changing the channel on SiriusXM and wound up on station 143 by accident. It's BYU Radio. I had no idea this even existed. What caught my ear was they were talking about Moby Dick, Day of the Locust, Lolita, and many other books and topics regarding books. It was an extremely well done and I enjoyed it.

I found out the program was called "This'll Take a While" and can be found online at https://www.byuradio.org/show/1f0520e7-c091-448f-a781-c3fa97098ad8/this-ll-take-a-while

While the program covers all sorts of cultural topics, books seem to figure quite a bit on the list of programs. I've only heard a couple of the programs, both were engaging and I plan to check out more.
Dwight discusses the book episodes a bit further on his blog. Most of them look very interesting.

Good To Know: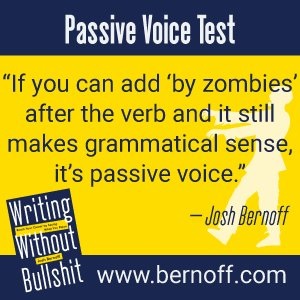 So, for example, 'I totaled my car' uses the active voice, but 'My car was totaled' is passive because the sentence 'My car was totaled by zombies' still makes sense.

Moron Recommendations
A lurking moron e-mailed to recommend In the House of Wolves by Michael David Anderson, which he calls a "hellacious spin on the haunted house genre."
It's a different story than MDA's past two novels (Teddy & Wake), but still manages to connect elements of all his work into this new haunted house tale. Like all of Anderson's other work, he has a certain point in this book where he tries to stomp your brain flat. I found this "twist" a little bit thin compared to his other novels, but he still doesn't disappoint.

The ending of the book is like a good season finale for a TV show. You're left going "OH COME ON" because you're going to want more.
According to Amazon, right now the book's on sale for $2.99 for the Kindle edition.
___________

Books By Morons
Test of Valor is right wing yankee's just-released novella:
Alain de Kerauille wants to be a knight more than anything in the world, to win as many jousting tournaments as he can, become wealthy and famous, and gain the hand of the fair lady Emma. As a squire in a noble household, he's well on his way to success, and when he's chosen to joust in a celebratory tournament, all of his dreams seem within his grasp. Until his rivalry with a fellow squire reaches the boiling point, threatening to destroy everything Alain has worked for and send his future crashing down around him.
It's young adult friendly though not specifically geared toward that age group, and is available as an ebook on Amazon for $1.99.
___________

Don't forget the AoSHQ reading group on Goodreads. It's meant to support horde writers and to talk about the great books that come up on the book thread. It's called AoSHQ Moron Horde and the link to it is here: https://www.goodreads.com/group/show/175335-aoshq-moron-horde.
___________
So that's all for this week. As always, book thread tips, suggestions, bribes, rumors, threats, and insults may be sent to OregonMuse, Proprietor, AoSHQ Book Thread, at the book thread e-mail address: aoshqbookthread, followed by the 'at' sign, and then 'G' mail, and then dot cee oh emm.
What have you all been reading this week? Hopefully something good, because, as you all know, life is too short to be reading lousy books.

posted by OregonMuse at
09:00 AM
|
Access Comments