« EMT 02/04/18
|
Main
|
Another Charming Leftist Whose Words Pull Back The Curtain On Their Monstrous Political Philosophy »
February 04, 2018
Sunday Morning Book Thread 02-04-2018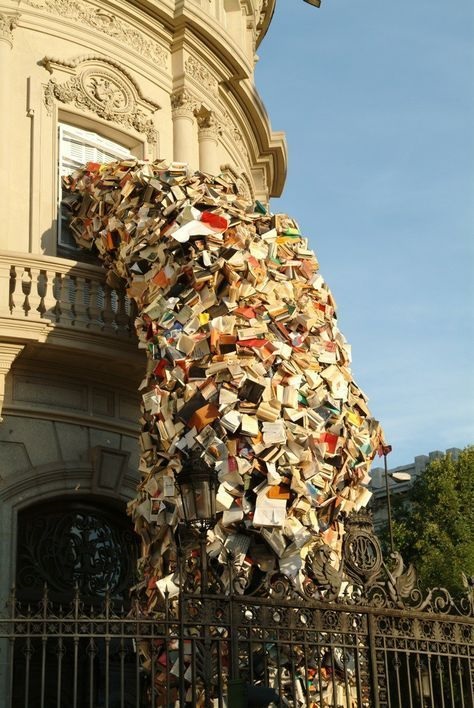 "I Had Too Much To Read Last Night"
(h/t
The Electric Prunes
)

Good morning to all you 'rons, 'ettes, lurkers, and lurkettes. Welcome once again to the stately, prestigious, internationally acclaimed and high-class Sunday Morning Book Thread, a weekly compendium of reviews, observations, and a continuing conversation on books, reading, and publishing by people who follow words with their fingers and whose lips move as they read. Unlike other AoSHQ comment threads, the Sunday Morning Book Thread is so hoity-toity, pants are required. Even if it's these pants, which sort of look like a below-the-waist burqa.

Thank You
Thanks to all of you who welcomed me back with words of encouragement last week.
Also, thanks to you morons who sent me photos of their personal libraries. You may be seeing them on an upcoming book thread.

It Pays To Increase Your Word Power®
To APOLACTIZE something is to kick it away.
Usage: What did Jim Acosta apolactize first, his objectivity, integrity, or credibility?

Moron Library
This is part of the library of (Mrs.) Hadrian the Seventh: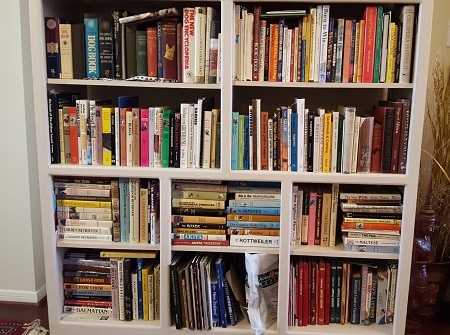 H7 says:
She is an AKC judge and these are the books with which she acquaints herself with known and new breeds.
You can click on the pic for a larger version, to see her many doggeh books.

'MAGA ran' Is An Anagram of 'Anagram'
This one's a beaut, a poem constructed entirely of anagrams:
I sent to a moron lurker who is an amateur anagramologist who topped it with this, the plot of Tolkien's 'The Hobbit' anagrammatized from the title:

Is This a Thing?
Looks like Walmart is getting into the e-book business:
Today, we announced a strategic alliance with Rakuten, the number one e-commerce company in Japan.

Initially, the relationship focuses on two areas. First, we'll launch an online grocery delivery joint venture in Japan and, second, we're adding an entirely new category to our U.S. assortment – eBooks and audiobooks, powered by Rakuten's digital book business, Kobo. I wanted to talk about the second here as it directly serves customers in the U.S...Working with Rakuten Kobo enables us to quickly and efficiently launch a full eBook and audiobook catalog on Walmart.com to provide our customers with additional choices alongside our assortment of physical books.

Kobo is a global leader in eBooks and audiobooks with nearly six million titles from thousands of publishers – everything from children's books to New York Times best sellers and indie titles. As the exclusive mass retail partner of the Kobo brand in the U.S., that full assortment of eBooks will be available on Walmart.com later this year, with audiobooks launching after that.
I've always thought of Kobe as an also-ran, behind Kindle and Nook. But Nook appears to be fading as the fortunes of Barnes & Noble's declines, and with the heft of Walmart behind it, who knows? Kobe has the potential to put itself in the #2 spot.
(h/t Anna Puma)

Books By Morons
Long-time lurker and moron author David Welch has a new book coming out:
I have a new book available for pre-order on Amazon, titled: TALES OF THE FAR WANDERERS. It's an episodic novel full of adventure tales, set in a medieval future twenty thousand years from now, inspired by the style of the old pulp writers and more gritty, modern historical fiction.
Tales of the Far Wanderers is available for pre-order on Kindle for $2.99. It will be delivered to your device on or after Feb. 1, 2018. From the Amazon blurb:
To Gunnar of the Tarn life is wandering. A half-breed with no home to return to, he has escaped the endless wars of his father's people to drift through the vastness of a land once known as North America. Slow to trust and swift with a sword, he had resigned himself to a lonely, itinerant life. That all changes the day he meets Kamith of the Red Horse. The last of her kind, Kamith barely escapes being sacrificed and joins Gunnar in his wanderings...

Inspired by the sword-slinging pulp heroes of old, this story cycle tells the tales of two vagabonds spurned by the world, and forced to fight off it's madness at every step. But they're nothing if not tough, and find in each other much to fight for, and to live for…
You can read the write-up I did on Welch's earlier book, Chaos Quarter; Horde, in this book thread.

Moron Recommendations
Longtime lurker Kevin Ley (who, by the way, has his own movie blog) emailed me a recommendation for Down and Dirty Pictures: Miramax, Sundance, and the Rise of Independent Film by Peter Biskind because it is filled with stories about Harvey Weinstein:
The intimidating image of Miramax's Harvey Weinstein plows powerfully through Biskind's saga; the studio honcho emerges as a combination of blinding charm and raging excess, a boisterous bully who tears phones out of walls and overturns tables. Former Miramax exec Patrick McDarrah, in comparing Weinstein with his brother and partner, Bob Weinstein, concludes, "Harvey is ego, Bob is greed."
Harvey + Bob = Hollywood.
By the way, is anybody else disturbed, as I am, to discover that Harvey Weinstein has a brother?
___________
I was asked to mention the publication of a new magazine, StoryHack, which might be of interest to morons:
It's a magazine of Action & Adventure, a mix of genres, with a deliberate pulp sensibility. The first issue contains science fiction, weird westerns, horror, and a WWII tale. I have a story in it, so I'm biased, but Bryce Beattie, the editor and publisher, really did a wonderful job. The 'rons and 'ettes should enjoy it.
StoryHack #1 is available for $3.99. The cover looks delightfully retro, like something you'd see on an old issue of "Amazing Stories"
And if you like that, you might be interested in PulpRev Sampler Anthology 2017:
This is a collection of short stories and novel excerpts from writers associated with the PulpRev movement in the latter half of 2017. PulpRev is a literary movement aimed at restoring the spirit of the old pulp adventures, not just the aesthetic, and has roots in the Appendix N and OSR movements.

Note: This anthology is intended as a sampler, and stories within are very short (2,500 words or less). John C. Wright's contribution is available for free at his website
I never knew 'PulpRev' was a thing. And I'm not going to even bother trying to track down Appendix N or OSR, so you're on you own with those. This anthology is available on Kindle for 99 cents.
But:
This anthology itself is available for free for those who sign up for the PulpRev mailing list by sending an email to scoop@pulprev.com with the subject line "Subscribe."

___________
Moronette 'votermom' is putting together a list of moron authors over on the Goodreads site which is intended to be accessible to non-members. Here is the list she has compiled so far. Let her know if there's an author she's missing.
http://www.bookhorde.org/p/aoshq-authors.html
___________
Don't forget the AoSHQ reading group on Goodreads. It's meant to support horde writers and to talk about the great books that come up on the book thread. It's called AoSHQ Moron Horde and the link to it is here: https://www.goodreads.com/group/show/175335-aoshq-moron-horde.
___________
So that's all for this week. As always, book thread tips, suggestions, bribes, rumors, threats, and insults may be sent to OregonMuse, Proprietor, AoSHQ Book Thread, at the book thread e-mail address: aoshqbookthread, followed by the 'at' sign, and then 'G' mail, and then dot cee oh emm.
What have you all been reading this week? Hopefully something good, because, as you all know, life is too short to be reading lousy books.


posted by OregonMuse at
09:00 AM
|
Access Comments