« Mini Chess Thread 01-20-2018
|
Main
|
Saturday Overnight Open Thread (1/20/18 ) »
January 20, 2018
Saturday Evening Movie Thread 01-20-2018 [Hosted By: TheJamesMadison]
Animation



When I was growing up, movie animation was the Disney movies from the 90s. The Little Mermaid, The Lion King, Aladdin. They were ubiquitous and formative about my views on what animation should look and feel like. They became, in a word, the standard in my mind.
I'm using the word standard a bit more pejoratively than I expected. I equate it to standard features on a car. Do you get excited about power steering, seat belts, or air conditioning anymore? Probably not. They're what you expect, and when looking at a new car, you take those elements for granted.
I bring this up because I've seen some things over the last few years that have really opened my eyes about the beauty of hand-drawn animation, and each one has the distinct value of being made by someone other than the Walt Disney Company. What made me fall in love with animation as an art form was those films that looked, moved, and felt different from Disney, while also being beautiful. I've previously talked about the 1971 short film version of A Christmas Carol and how I love it because it looks like the sketches from the book come to life. It's that sort of thing that sparks my imagination and gets me looking.
I'll admit it, though, I think my love of animation has begun to override my other critical impulses.
The Thief and the Cobbler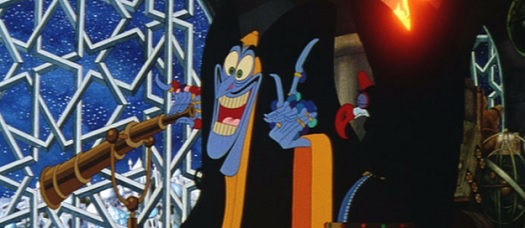 Here's a movie where the history behind the film is more interesting than the film itself, and I love the film. Richard Williams was and is a great animator. He was in charge of the animation of Who Framed Roger Rabbit? and used the success there to fund a movie he had been in some process of making on and off for about twenty years. He already had Vincent Price's performance as ZigZag in the can for years before he got serious money to make the film. Williams' process, though, is exacting and ever-expanding, which translated to a ballooning budget and production schedule, angering the studio so much that they eventually took the film from Williams and gave it to a bond company to finish. What was finished got released just after Aladdin, a movie to which it shared many similar visual cues. The documentary Persistence of Vision outright states that Disney stole those cues from Williams' long in production film, but because Disney was bigger and their movie got released sooner, everyone considered The Thief and the Cobbler to be a knockoff.
Which is really too bad, because what he put together, while choppy and disjointed, is wonderful. As I said earlier, he didn't actually finish the film. The movie released in theaters had songs added on, and a bunch of other changes, including new, much less impressively animated, sequences. However, the original vision is one of those counter-factuals that attracts the attention of a lot of movie fans. One of those fans has spent years trying to reconstruct the original idea as much as possible into what is called The Recobbled Cut, the entirety of which is available on Youtube.
Enough of that, though. Here's why I love this movie:
Do you see what he did with motion, design, and color to bring it all together? No matter how well or poorly that sequence fits into the movie, it's a thrill to watch. And, it involved not a single computer. The bit down the staircase, where the camera swings down? To my eyes, it looks like an early computer background with the characters animated on top of it. It was done by hand.
That, above, is a sequence done fairly early in the process that Williams used whenever he needed to find new funding or get support from a new executive. And it pretty consistently worked because it's gorgeous, complex, and wonderful.

The Secret of Kells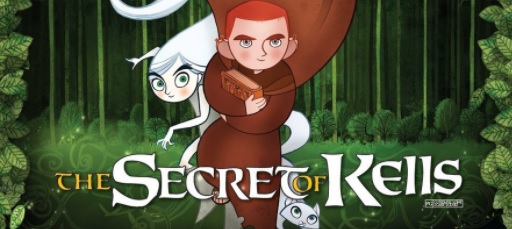 Here's a movie that looks so different from most animated movies, that simply seeing it's poster in a gallery draws the eye. The movie's style almost completely eschews any sense of the third dimension, preferring to look more like a medieval tapestry than a modern animated film. It shares a certain aesthetic with the television show Samurai Jack but with greater detail and a gentler soul.
Below are two clips that exemplify what I mean when I find animation that is decidedly different from the standard to be fascinating and, when well done, beautiful.

CGI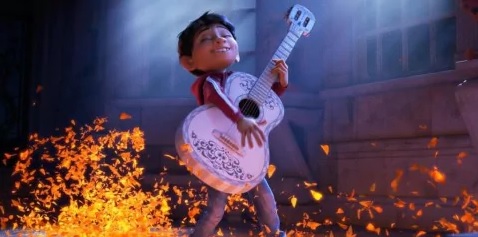 Comparing either of the two movies above (one that is more than 20 years old the other about 8) to the most recent animated film from Disney and Pixar, Coco (a movie I love, by the way), and all I see is that traditional hand-drawn animation is still more beautiful and soulful than computer generated animation. No matter the beauty put into the designs of a computer-generated image, I always find that the image itself has a certain sterile feel to it in comparison. I don't disdain computer animation. I celebrate how it's allowed some very good stories to be told. Moana is an example of a movie that contains a lot of very detailed and realistic water effects that would be damn near impossible to create with hand-drawn animation.
And yet, there is no awe in me when I see the marvelous water effects in Moana. I feel like it's expected at this point. In my mind, computers can create any image, and it feels easy (I know that computer artists work really hard at a job that few people can do, but still, it feels like the computer is doing most of the work). Seeing a sequence come together like the war machine sequence in The Thief and the Cobbler or the fight against Maleficient in Sleeping Beauty and knowing that a team of people started with blank paper and came up with that is amazing to me.

Best Picture Update
The votes are in, and we have a winner.
I'm holding off for another week though. Because reasons. I'll let you know next week.

Movies of Today
Opening in Theaters:
12 Strong
Den of Thieves
Forever My Girl
Next in my Netflix Queue:
Fiddler on the Roof
Movies I Saw This Week:
Pirates of the Caribbean: Dead Men Tell No Tales (Netflix Rating 3/5 | Quality Rating 2/4) Poster blurb: "Really wants to entertain and succeeds about half the time." [Netflix Instant]
Bone Tomahawk (Netflix Rating 4/5 | Quality Rating 3/4) "Quiet western that becomes horrifying in the best of ways by the end." [Amazon Prime]
Jiro Dreams of Sushi (Netflix Rating 5/5 | Quality Rating 3.5/4) "A wonderful little look into the life of a man and his dedication to his work." [Netflix Instant]
Seance on a Wet Afternoon (Netflix Rating 4/5 | Quality Rating 3/4) "Successful little thriller that relies on one of my pet peeves where the main characters know something but the audience doesn't until the end." ["Library"]
Salome (Netflix Rating 5/5 | Quality Rating 4/4) "Absolutely everything about this movie is wrong, and it's glorious. Whoever recommended that I watch this, thank you so much. Probably the earliest example of so bad its good." [Youtube]
I don't feel at home in this world anymore. (Netflix Rating 5/5 | Quality Rating 3.5/4) "Very funny movie made in the same stylistic vein as Blue Ruin and Green Room." [Netflix Instant]
Real Genius (Netflix Rating 4/5 | Quality Rating 3/4) "Witty and intelligently written while being consistently fun." [Netflix DVD]

Contact
Email any suggestions or questions to thejamesmadison.aos at symbol gmail dot com.
I've also archived all the old posts here, by request. I'll add new posts a week after they originally post at the HQ.

posted by OregonMuse at
06:44 PM
|
Access Comments