« This Is CNN
|
Main
|
Trump Rips Democrat Senator Joe Manchin: "He Talks, But He Doesn't Do Anything" »
December 30, 2017
Ace of Spades Pet Thread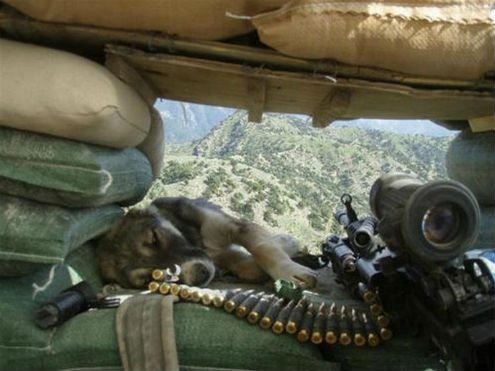 Welcome to the almost world famous Ace of Spades Pet Thread. Grab a T-R-E-A-T & hang out for awhile with us.
Top photo too serious? How about this?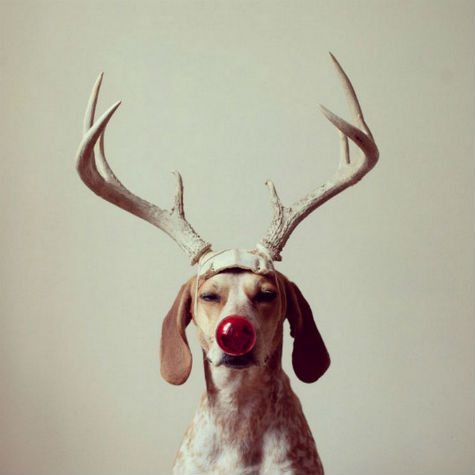 Dressed like that he must be a member of the Sporting Group.
***
A Little of This. A Little of That.
*****

Our very own Hank Curmudgeon and his very own Wild Kingdom.
*****
Meet The PetMorons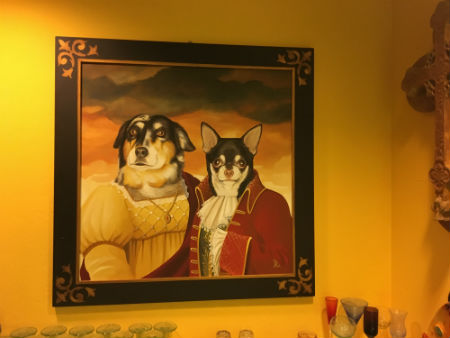 Silent lurker for many years. Ace and company are the best! Love the pet thread. Wondered how many others have portaits of their loved ones....

17 years ago we were in Rome. Saw what one of the artists could do. Paid our money, exchanged emails for the photos and hoped we'd really see it in the mail. Several months later my mom got it.

The beautiful girl on the left is Toby. A rescue dog who started out life as Tribble, who killed her owners cat. whoops. My mom adopted her, changed her name and then pampered her with food and jewelry. (she actually did like wearing my mom's chunky necklaces). The debonair gent on the right is Jake, who was an applehead Chihuahua. She got him from birth. He never met a piece of food he didn't like. We miss both of them very much. I especially miss Toby who alerted me to an attempted break-in when I was staying at my parents home. I'm telling you the guy was horrible looking and she saved me from god-knows-what. Until her dying day she hunted and killed the mice on their patio. Jake was gotten in an attempt to ease the pain. He did a good job!

Crop the photo if need be. It hangs in my parents wet bar, and I plan on it being mine someday.
That is a remarkable painting. Worth every penny!! Thanks for sharing with us today. And thank you for the kind words. They are appreciated.
***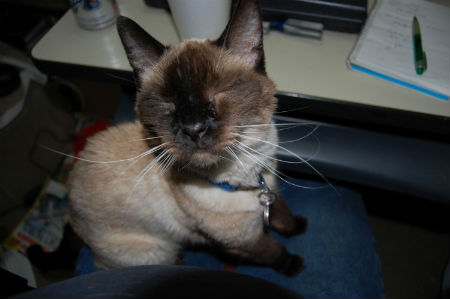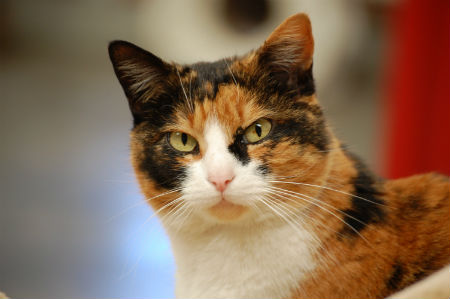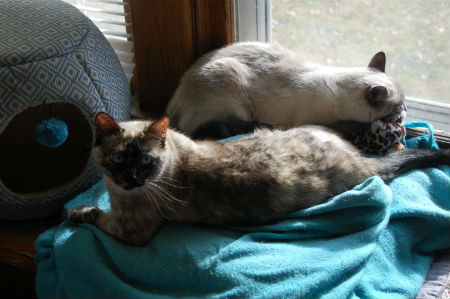 Hi!

Long time lurker (2001-ish) and Big Fan of the pet thread. Finally worked up the courage to share my own family. First up is Zuzu. She was a shelter rescue gift from my then girlfriend who went on to live with me for 15 loving years. I don't know how old she was, she was full grown when she came into my life, but she was a charming little old lady to the end of her days.

Next is Lucky. Lucky is not mine. She is a barn cat who lives with my uncle in Texas protecting his vintage car collection from the ravages of field mice and other vermin. She's a barn cat and, so, a bit wild. Doesn't like people much. However, if you show the proper respect and give her time to evaluate you she might deign to allow you to pet her. Maybe. I am proud to be among that select few.

The last is the two cats who live with me currently. Missy and Sissy or, Slinker and Stinker as I like to call them. Technically they are my mothers cats. (Yes, I live with my mother. When dad died it was that or put her in a home.) When Zuzu passed I chose not to replace her. The hurt was too deep and I'm getting old enough that a new cat could outlive me. My mother is in her eighties and last year declared that she missed having a cat around the place and had found these two for sale in the local ad paper. They are litter mates and were aprox one year old when they came to live with us. They are now two and a half and have claimed me as their slave. Missy is the one in the back and her coloring is pure Siamese. Her personality matches up with the cats in Lady and the Tramp. When she wants attention she wants it NOW. When she doesn't she won't let you touch her. Her most common expression is one of 'I didn't do it'. Missy is the opposite. A total love-muffin. Would sit in your lap 24/7 if you let her. She is heavily abused since I won't pet her more than five or six hours a day.

Hope the horde enjoy the pics. I apologize for the pic size but figured you were better suited to resizing them to meet your needs than I am.

Cheers!

Fuloydo
Thanks for for your support! And thank you for the photos of your kittehs. No doubt that the Horde will enjoy these.
***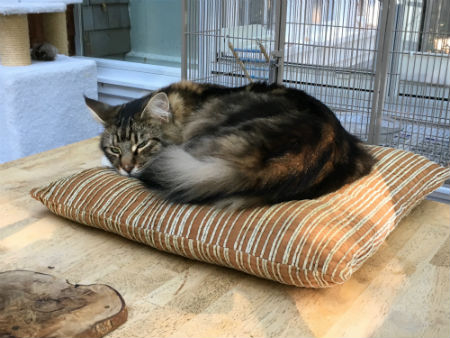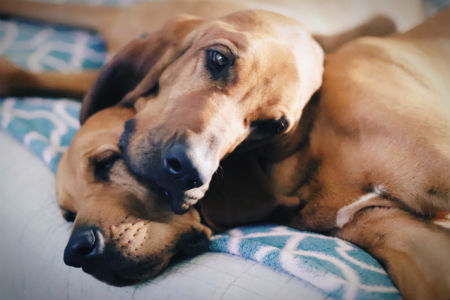 Hello from AZ where it was in the 80's last week.

Attached are my 2 current favorite pet photos. The cat is Bruce. When we visited our freshman daughter at UMaine, we decided to stay in an Airbnb house owned by a UMaine professor. Beautiful house with a nice sunny conservatory, we had the added extra of having 2 cats sleep with us at night. I'm not really a cat person, but these cats were lovely.

The bloodhounds (whom you've featured before) are the Duchess of Marlborough and Scarlett O'Hara. They are inseparable and when not laying on my bed, are outdoors chasing jackrabbits and baying at joggers.

I wait for this thread every week. -Lurker Rebecca
I really don't want to talk to you as I put this together it is -10. Oh well. Lovely pets. The snuggly dogs are so cute. Thanks for sharing!!!
*****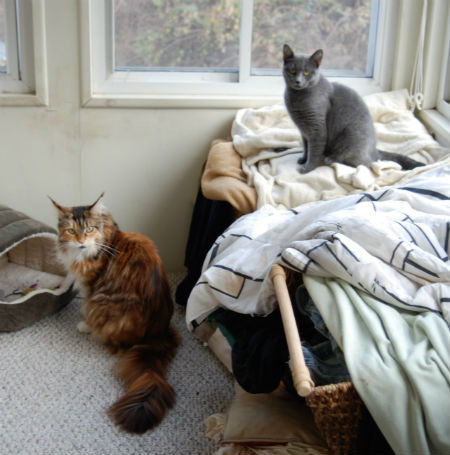 ***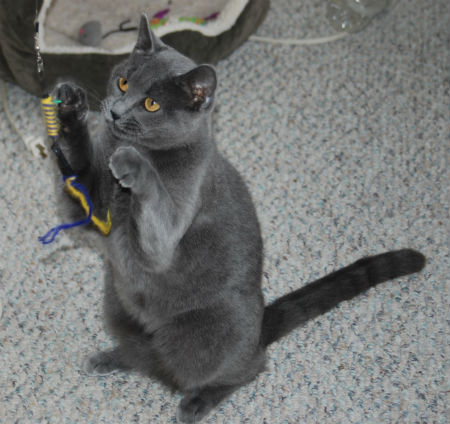 Lonetown here (also Bob, Joe Pilates, Mao Tse Tongue)

The world renown Ace of Spades pet thread was kind enough to let me share pics of my pets Trixie, Gracie (2x) and Chaps. Here is our latest addition, a rescue I got as a playmate for Gracie (the Maine Coon Cat). Her name is Honolulu, I call her Lulu. She is a little over a year old. She was in a hoarder situation and part of a 50 cat rescue. They were all feral indoor cats but they told me the others socialized quickly. Lulu is coming around to humans, its only been 5 days, but already gets along well with Gracie and if that's as good as it gets, my wife and I are OK with that.

Bob

Hi Bob. Thanks for your submission of your fur kids. They look like a nice pair. Glad to hear they are getting along. Can't wait to hear some stories down the road.
***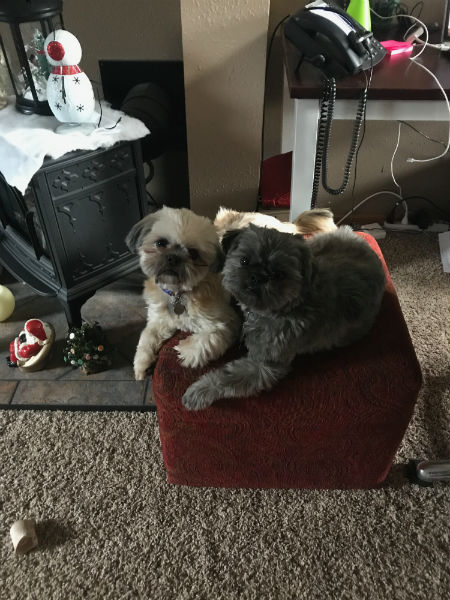 Boomer and Moose. The Beavis and Butthead of dog world. Our daughters' two pups. They are now her coworkers. They were on here a few months ago. - Chavez the Hugo
A proud Grandpa, Grandpa Chavez. Hope they are staying warm this week. Or did you and Grandma get them little doggeh sweaters? Thanks for sharing.
***

A wonderful crew of pets. Thank you for sharing them with us this afternoon.
Do you have a short story, a photo or two or a video to share with us? Please send the photos in jpeg form, videos in youtube to us at petmorons at gmail.
Don't forget your name!
See you next year!!!

posted by Misanthropic Humanitarian at
03:33 PM
|
Access Comments