« Nikki Haley For President 2024
|
Main
|
Take The Last Train Out of Christmas »
December 25, 2017
A Very Moron Christmas Poem
I don't know how many of you know R.M. Huffman. In addition to being a doctor, the man is a sharp debater, a damn good author, a very talented artist, and a fellow Moron. He's written a series of quite amusing short stories called Sweet Tooth about a vampire Doctor (J.D. from Scrubs did not sue). The second novel in his Antediluvian Legacy series was just published. I haven't read the first one, but it looks like a swords and sorcery type novel set in Old Testament times. He also wrote an completely unauthorized but nonetheless brilliant sequel to Frozen called The Mermaid War which is funny AF (and he wrote it just for fun!). You can find it in his Twitter feed here.
In any event, it seems he saw the following picture this week, and was inspired to put pen to paper (as it were) and scratch out a new twist on a Christmas classic.
(Pen and ink drawing of a corpulent Santa in his undies below the cut)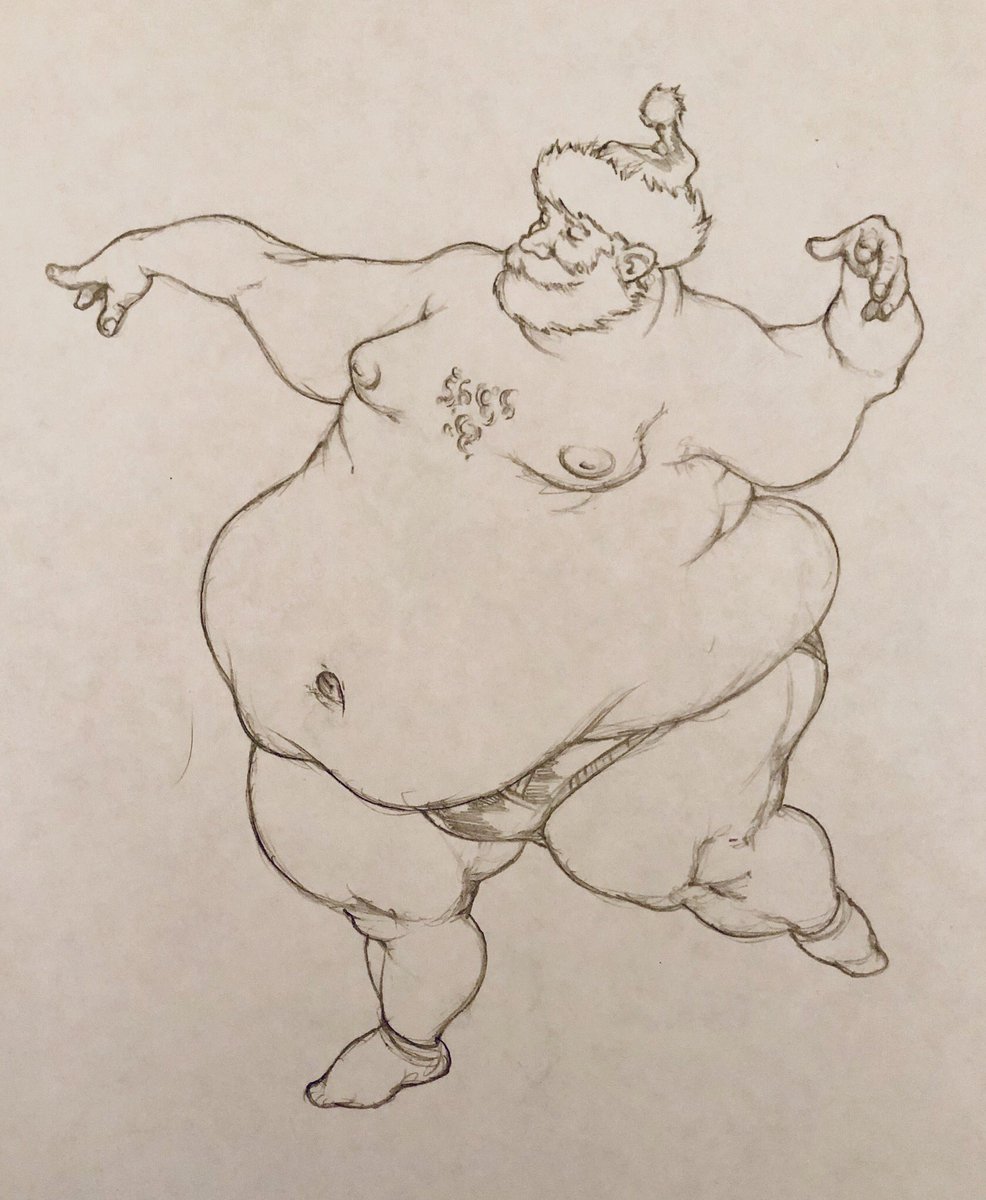 'Twas the night before Christmas
And Santa awoke
He'd been sleeping all year
What a well-rested bloke!
He adjusted the nightcap
He'd worn on his head
With his pannus a-jiggle
He leapt out of bed
He had kept his toes warm
With the socks on his feet
And he'd pulled some white briefs
'round his generous seat
Beyond that, he was nude
So he took out his clothes:
White-fur trim and crushed velvet
As red as his nose
When he tried to get dressed, though
To his great surprise
Both his pants and his coat
Were a much smaller size!
So he called for an elf
And he asked, "What's the matter?"
I've not eaten all year
And I've still gotten fatter!"
"Um, that's not quite correct"
said the sad, skinny elf
"When you sleepwalk, you eat
Everything on the shelf!
"You've been quite the somnambulist,
Santa, I fear
You've been raiding the pantries
Each night for all year
"You consumed all the candy
The corns and the canes
And you drank all the syrup
Not one drop remains
"You ate hamburgers, jelly beans
Sausages, waffles
Fajitas, ham sandwiches
Latkes, falafels
"Hasty pudding, roast goose
Ice cream sundaes, pad Thai
Several gallons of wassail
And ten kinds of pie
"Every midnight we'd find you
Asleep at your feast
Stuffing food in your mouth
Like a ravenous beast
"And when real food was gone
You went on to devour
Ingredients too
Sugar, salt, baking flour
"And if that weren't enough
You've been stealing from elves!
Drinking Valu-Rite vodka
We keep for ourselves!
"I'll be honest, m'lord
You're the king of the gluttons
It's no great surprise
You can't fasten your buttons"
"Well, I've still got my magic,
So that's a relief
I'll deliver my gifts
Wearing naught but a brief!
"I may get a bit chilled
In the cold, wintry air
But my task must be done
So I don't really care
"Now it's time to depart, elf
Go hitch up my sleigh!"
"Sir, you ate seven reindeer
The rest ran away"
"Is that so? Let me think now"
Saint Nick grew concerned
At this new information
He'd suddenly learned
If he couldn't bring presents
'Twould be a disgrace!
But the answer was staring him
Full in the face
"Then you elves have to pull it!
No time to delay!"
And since Santa was master
They had to obey
So let this be your warning:
This Christmas, you might
See a fat naked stranger
In your house at night
There's no need for alarm
It's just Santa, like normal
But perhaps a bit casual
Instead of more formal
So don't call the police
But please, leave out a treat
Like some ribs, or a cake
Even Santa must eat!
THE END
That sound you just heard was Clement Clark Moore rolling over in his grave.
Open thread.


posted by WeirdDave at
05:27 PM
|
Access Comments