« Saturday Gardening Thread: The Horde before Christmas [KT]
|
Main
|
The Twelve Days of Christmas, 2017 Version »
December 23, 2017
Ace of Spades Pet Thread
Merry Christmas Edition
***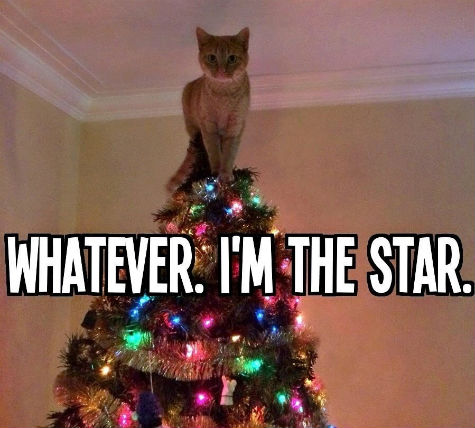 ***
Merry Christmas from the almost world famous Ace of Spades Pet Thread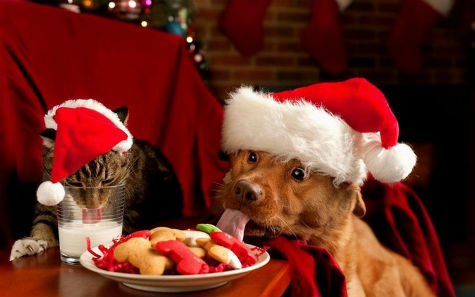 *****
A Little of This. A Little of That.
***
Now that "winter" is officially here, time to stay warm. For example here on Christmas Day they are talking a high of -4. How to winterize your dog.
***
The one thing about dogs, is that you can dress them up. They are so cute at Christmas time.
***
Meet The PetMorons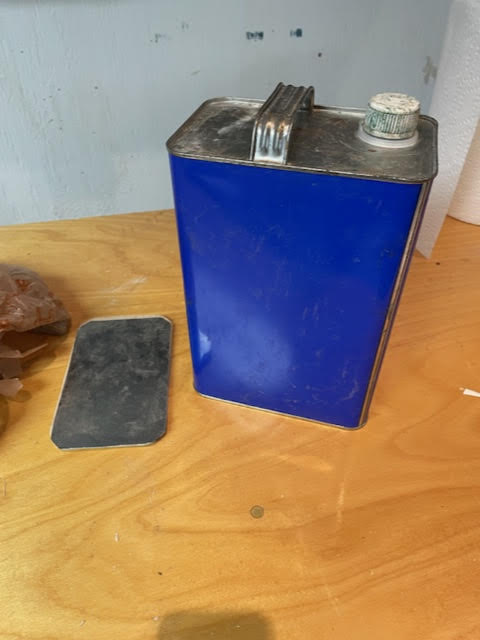 There's something on the roof! Some-Thing, on the roof!

The Yellow Labrador of the giant Labrabeast variety is Falco. He came home when he was 7 weeks and already 14 pounds. By the time he was 2 years old he was 110 pounds of solid muscle and teeth…and paws

The cat is Loki and is a Bengal. He belongs to my oldest and they now live in Chicago. He was almost dispatched as a kitten by Falco, who was reluctantly convinced that Loki was not vermin. -Michael
Thanks for the photo Michael. Cute pets!
***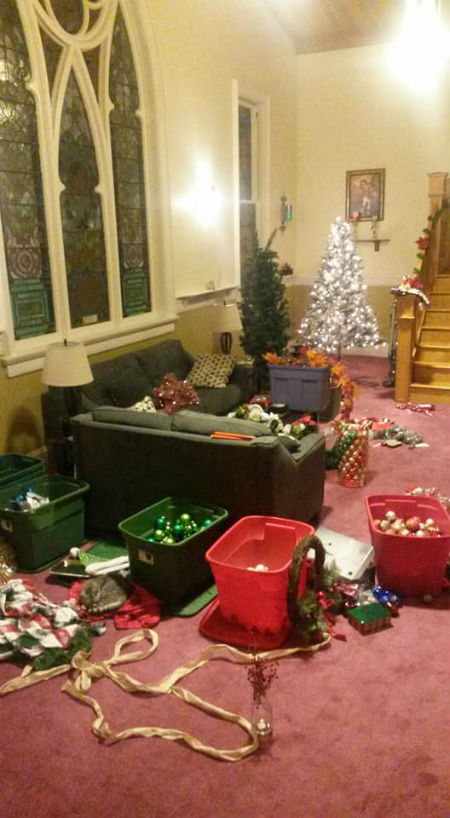 &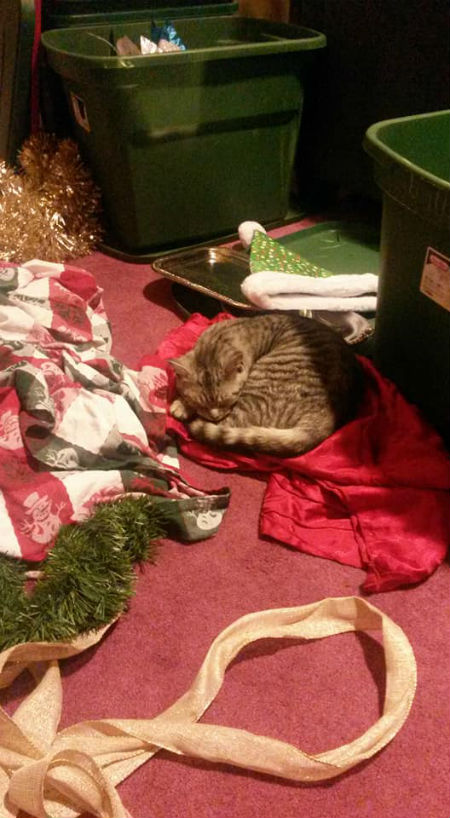 I call this pair of pics, "Tranquility amidst chaos." I took it just a few minutes ago as we were decorating for Christmas and I noticed Izumi, the rescue khet who was found jumping from car to car in the parking lot at work, asleep in the middle of everything. We tried to locate an owner for her without success, and now we're sort of stuck with her.

- Victor Tango Kilo (ex V-the-K)
Quite the story. Stuck? Yeah, if that's what you call it. :)
***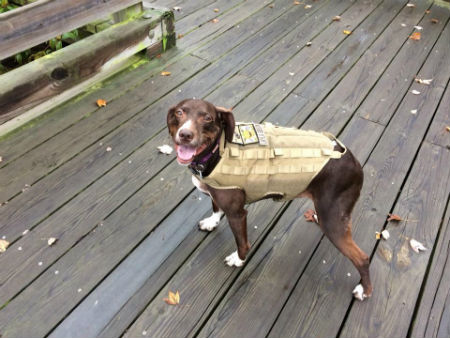 That Deplorable SOB Van Owen here. Shortly before this Halloween Layla, Mrs. SOB, and I watched a movie about a War Dog returning to live with the family of his late handler. Layla, always a thoughtful pup, decided then and there that she wanted to go trick or treating as a Belgian Malinois Force Reconnaissance Marine. She got the warlike expression down, but she wouldn't wear the boonie hat or ballistic goggles.
We appreciate your patience when submitting photos. This goes to show you sooner or later your pet will be in The Pet Thread.
***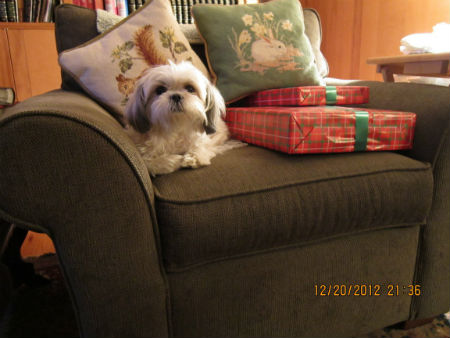 Find attached a picture of Sophie, taken a couple of years ago. Waiting patiently for Christmas. She's been through a rough patch lately, but is looking pretty much like the picture. I may have sent this before, but do not recall. Anyhow, it's Christmas. See you on the blog.-Mike Hammer
Merry Christmas to you and yours Mr. Hammer.
***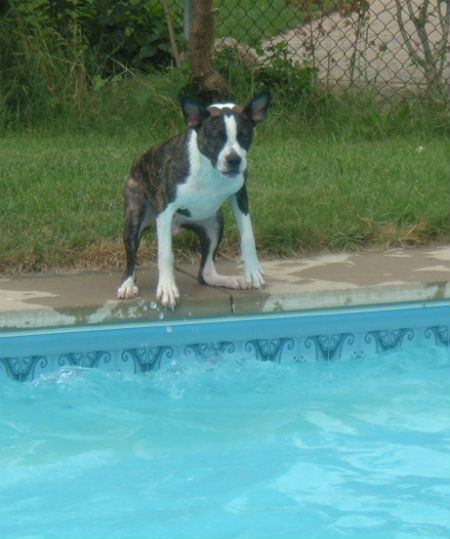 Hello Misanthropic Humanitarian, Here is aphoto of my niece's mutt -- sorry, I've forgotten the breeds making up the mix.

Dexter is very friendly although hyper but always does as his mistress commands using the shortened version of his name so that my niece's young daughter's first word was "Dex"! -Andy Canuck
Quite the pup there Andy. Thanks for the submission. Who knew that there were swimming pools in Canada, Eh?
***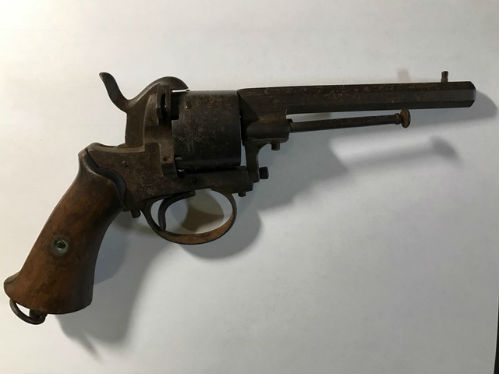 Hello MH!

This is Mrs. Cannibal Bob with our boys, Ernest and Julio. They have both passed on but they were epic kitties. Ernest is in the front. He had a big empty head and a heavy paw with any lizard he caught. Julio had the brains and the finesse. They stayed with my mom for a bit while we traveled (although they were great travelers and walked with leashes). She couldn't tell them apart so after Ernest got himself locked in a cabinet overnight, she put a red dot on his forehead saying that he didn't mind it. It lead to his first nic, Mahatma Ernie. Julio was constantly letting us know when Ernest had gotten himself locked somewhere he shouldn't be. Despite the huge quantity of fur, they were the best!
It seems all the good pets shed like there is no tomorrow. Thanks for sharing.
***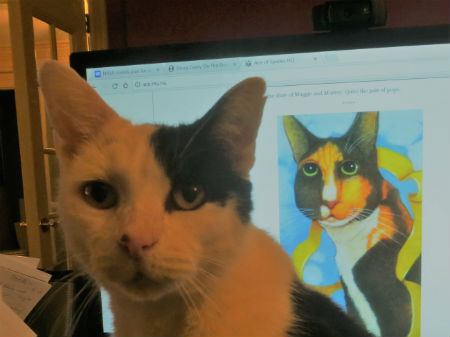 From: Long-time Ace reader… Not a poster, though. But for ID purposes, just call me… Arctic Fox. Huuuge fan of Pet Morons thread. Last week, I was perusing the PeMo-photos when Pluto jumped up on my desk to block my view and take a peek. Pluto is a former shelter-cat, about 11 yrs old and beginning to show some wear from his mis-spent youth. Still, never too old to be entirely happy with himself, he took a look at the kitty on the screen, turned to me and inquired who is better-looking. "You are, champ." I replied. "Besides, that other kitty is just a painting. You're the real, furry thing." Pluto was satisfied with the answer, and allowed me to pass through security and board my flight.
Thank you for jumping into the thread. Also happy to hear that Pluto overcame his insecurity.
*****
That's a wrap for another week. You folks never disappoint.
If you would like to submit a photo or two to us, please use jpeg form and send in a short little description of your pet, breed, name, etc. You can reach us at petmorons at gmail dot com
h/t: anonymous-9 X-mas Pug
h/t: ALH X-mas tree cat
The Staff here at the Ace of Spades Thread wish you and your family a Merry Christmas.

posted by Misanthropic Humanitarian at
03:02 PM
|
Access Comments