« EMT 12/17/17
|
Main
|
Weekend Gun Thread »
December 17, 2017
Sunday Morning Book Thread: 12/17/2017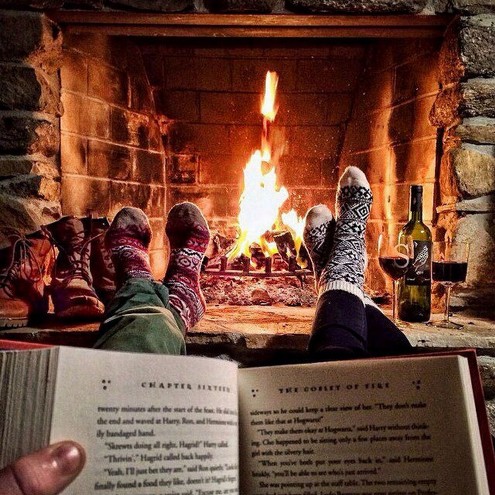 Where do you read? More precisely, where are you happiest and most comfortable reading a good (or goofy or bad or silly) book in which you are engrossed and you want to read forever?
Believe it or not, my requirements include an ottoman, so I can put up my feet and really relax.
Does anyone read comfortably at a desk? Or is the point of reading at a desk to keep us from getting too relaxed, so that we maintain our concentration on that fascinating Grignard reaction?
How about in bed? On the couch? On a train going into work? Sneaking a peek at your book while driving home from a long day at work? Or maybe even at work?
Anyway, what's your special place or time to read?
******
Some Recommendations From The Horde
From commenter Greg:

Saw the Daniel Silva stuff. Best spy author of today, IMO, is Jason Matthews. He's an ex spy himself and has written a trilogy with the third book out early next year. "Red Sparrow" is the first one, followed by "Palace of Treason". Putin is often mentioned in the books which adds excellent flavor.
From Amazon:
"Jason Matthews is a retired officer of the CIA's Operations Directorate. Over a thirty-three-year career he served in multiple overseas locations and engaged in clandestine collection of national security intelligence, specializing in denied-area operations."
From Commenter Dave H.:

The Half Drowned King by Linnea Hartsuyker (Part one of a trilogy)

If you enjoy the TV series The Vikings, you will enjoy this book.
Hartsuyker, who traces her lineage the Harald Fairhair, the first king of Norway, tells a tale of Ragnvald Eyesteinsson and his sister Svanhild Eyesteinsdatter.

Ragnvald is attacked and left for dead by men in the pay of his grandfather. He survives and begins a quest to regain lands denied by his grandfather, and to retrieve his sister from the man who attempted his assassination. His searching takes him through several battles, meeting several kings, and binding himself to a minor king, until he finally meets Harald, another minor king, who has some serious ambition.

The book shows some serious research into the lives and customs
of Norway in the times of the Vikings and complements the Viking TV series.

******
Hey OM,
how's it goin'? Just wanted to send you my latest. I was going to release this one around July 4th next year but my readers said the country is so at odds right now we could use a reminder of what we all have in common. If you could mention it next weekend I would be really grateful :)
I hope you enjoy it!
Lisa a.k.a. Krukke1
About the Book -- Vol. 8 Glimpse of America
In volume 8 of The Glimpse Series, Mathisen holds up a mirror to her fellow citizens, challenging us to look past superficial differences to the values that keep us wound together in a glorious and sometimes curious patchwork of states. The chapters unfurl a banner of common purpose and dreams shared by all regardless of creed or status. From overcoming hardships to the thrill of accomplishment we comfort and cheer each other in brotherhood.
Glimpse of America is a celebration of us.
"As we agree or disagree, we will all be free." -- L. Mathisen
The book: Glimpse of America vol. 8: a patriotic short story anthology $2.99 on Kindle

******
Here is another Moron author (damn...you people are prolific!) with a book that has a good chance of being quite meaningful to the genetically male amongst us. No offense to those Morons who identify as male but don't have the benefit of...you know...a Y chromosome and all that goes with it.
They Took My Prostate: Cancer•Loss•Hope
Yeah, I am joking around a bit, but it is an inescapable fact that prostate cancer is a very big deal for men.

******
So...this is where the digital world really is better. Imagine what a huge PITA it would be for anyone who needs to read this stuff...for work, for research, simply because you think that Da Vinci was hella-cool...without the benefit of high speed internet and incredible resolution scanners and cameras.
The British Library Has Fully Digitized 570 Pages of Leonardo da Vinci's Visionary Notebooks
Yeah...I love the feel of the printed page. Everything about a book is great. Except for when I can't get it. And this is the next best thing. So I will happily stand astride the digital world and say, "YES! Bring it on!"

******
Addendum
From Muldoon:
Muldoon's Library of Limericks Vol. 1 by Seamus Muldoon is now available in paperback at Amazon. A compendium of over 250 limericks. The perfectly overpriced bathroom book.

These are not your typical lowbrow limericks. Don't get me wrong. They are definitely lowbrow. They're just not typical.

Enjoy!
&topic=world_news">

posted by CBD at
09:00 AM
|
Access Comments