« Mid-Morning Open Thread
|
Main
|
FBI Agent Who Exchanged Anti-Trump, Pro-Hillary Messages Was Also Key Investigator for Russian "Collusion" Probe, As Well As... Hillary Clinton Email Investigation »
December 04, 2017
The Morning Rant: J.V. Edition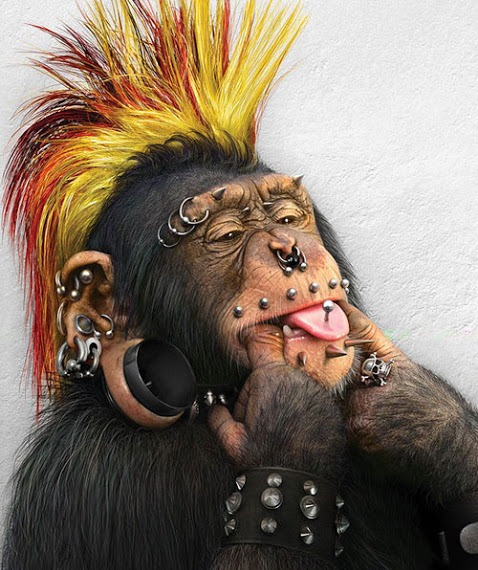 When one of us does something so stupid that it threatens the troop, we mostly throw poo at him. We certainly don't let him get away with getting some of us killed. Poo throwing is much better than dying.
Barrier windows in Philly beer delis: Symbols of safety or distrust?
This is "Peak Stupid."

For Jeff Liu, the thick plexiglass window that separates him from patrons at his Germantown beer deli, Kenny's Seafood & Steak, is a matter of safety. For City Councilwoman Cindy Bass, the barrier window is an insult.
An insult? Were you dropped on your head as a child? Do you have brain damage that prevents you from forming coherent thoughts? If this is an insult how about getting the cops to give up their pistols because that is an insult to the mostly peaceful people in Philadelphia? And why do you have locks on your doors in your office? Are you insulting those whom you represent?
Bass has proposed legislation that would force beer deli owners to remove thick plexiglass counter windows. Her bill has five co-sponsors.
If I were a shopkeeper I would tell her to stick this where the sun don't shine. I cannot imagine it being enforceable, and with just a bit of work the shopkeeper's association can keep it locked up in the courts for years.
And let us not ignore the real reason for this offensive bill: most of these shopkeepers are the wrong color. Councilwoman Bass is pandering to her Black constituents by trying to stick it to the foreigners who own businesses in the ghetto. Her most fervent desire is a nice little riot, during which these businesses get burned to the ground. Then she will rant and rave and scream about "under-served communities" and the racist underpinnings of zoning laws and how WalMart and Wegmans are racist because they won't build stores in her district.
And the fires of division will be stoked for another few years, and the permanent underclass will continue to vote for her and her ilk: race-baiting crooks who care nothing for their "people," and care only for the graft and the favors and the bribes that are their stock in trade.
******
Muldoon mentioned this a few days ago, and we had a bit of fun with it in the comments, but it is a wonderful compendium of official stupidity that deserves to be enjoyed again.
New Details Emerge From Bizarre Police Shooting

A CBS4 Investigation has learned Arapahoe County Deputies and Colorado State Troopers poured more than 50 shots into a stationary car in March believing the driver was armed. It now turns out she was only armed with either a dustbuster or tire jack but emerged unscathed. However at least one deputy inadvertently shot up a marked state patrol unit during the unusual standoff.
I sort of get that. We had a dog once who was terrified of dustbusters,, and would bark and growl whenever we used it.
"Those deputies and troopers showed a lot of restraint in not causing a further confrontation," said Walcher.

In about 30 minutes, from approximately 75 feet away, deputies and troopers fired 55 rounds at Johnson's car from AR-15 rifles, .40 caliber pistols, and a shotgun. Not a single round hit her.

"I am surprised," said Walcher.
Restraint. Yes, that is exactly how I describe the word "Restraint." I guess in the context of calling in F16s from the Colorado Air National Guard and dropping 500 pound bombs on the car, firing 55 rounds at an unidentified target is "restraint."
Although no weapons were found in her car, a Colorado State Patrol spokesperson apparently told multiple media outlets the next morning that officers only fired at Johnson after she shot at them. CSP Chief Scott Hernandez now acknowledges that was not true. "Unfortunately sometimes things are said that's not specifically accurate", said Hernandez. "I don't think it was intentional to go out that way".
Ah yes, it wasn't "specifically accurate," which suggests that it was generally accurate but specifically inaccurate. Or, in human-speak, it was total bullshit and a cover-up because some trigger-happy idiot started shooting and his equally idiotic compatriots figured, "Eh, what the hell, we're bored...let's join in."
Photos of the crime scene obtained by CBS4 also show that in the bursts of gunfire, an Arapahoe County deputy accidentally shot up a state patrol cruiser. Reports suggest the patrol vehicle was struck 28 times. The deputy was standing immediately behind the car but was apparently unaware that many of his shots intended for Johnson were actually hitting the patrol car. Arapahoe County Sheriff Dave Walcher said,"With all the distractions and lights I don't think our deputy realized he was hitting the top of the car". He said his department is doing additional training to address the misfires.
28 shots. That's a reload if it's a pistol and almost a full magazine if it's a standard rifle. Wow. This guy had absolutely no idea where his rounds were going. Impressive! And this is the one that surprised me the most. I have a romantic and apparently incorrect notion that outside of the cities the cops actually know how to shoot.
I guess not.

******
&topic=world_news">

posted by CBD at
11:30 AM
|
Access Comments