« Mid-Morning Open Thread
|
Main
|
Al Franken Can Neither Confirm Nor Deny That His Hand May Have Inadvertently Contacted Women's Asses »
November 27, 2017
The Morning Rant: J.V. Edition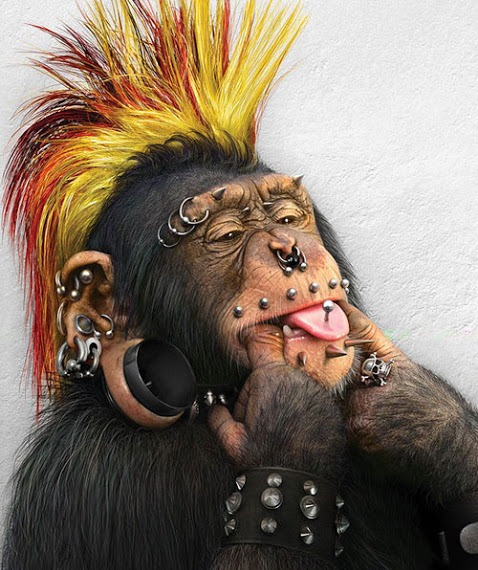 Even chimps can tell the difference between males and females. This isn't tough, like building rockets or curing cancer. But this guy deserves to have some poo thrown at him.
Complaints over New Zealand Commonwealth Games transgender selection Laurel Hubbard

Australian Weightlifting Federation chief executive Michael Keelan on Friday claimed Hubbard would have both a physiological and mental edge over her rivals.

"We're in a power sport which is normally related to masculine tendencies ... where you've got that aggression, you've got the right hormones, then you can lift bigger weights," he told AAP.

"If you've been a male and you've lifted certain weights and then you suddenly transition to a female, then psychologically you know you've lifted those weights before.

"I personally don't think it's a level playing field. That's my personal view and I think it's shared by a lot of people in the sporting world."
This isn't tiddlywinks or curling or shooting. This is weightlifting, maybe
the
sport where men have the biggest advantage. Why this deeply deluded and troubled man wants to compete against women is beyond my imagination. Most of us have competed at some athletic endeavor, and the concept is pretty simple. A level playing field is a pretty good start, and a lifetime of androgenic hormones does not a level field make.
This guy should be mocked and laughed at and hounded out of athletics. And if he isn't then the destruction of athletic competition will accelerate. It is not unimaginable for men who simply identify as women to begin to insist on participating against real women.
But...maybe this is an opportunity? Is there an intrepid and brave golfing or basketball-playing Moron out there who will file a claim with the EEOC, claiming that now that he simply identifies as a "she," "her" rights were violated by not being allowed to compete on the LPGA tour, or play in the WNBA.
We are forcing the Left to play by its own rules with respect to the many sexual harassment claims we have seen recently, why not expand to the truly idiotic and force them along the athletic path of their own devising?
******
******
The Saudi Spring
Crown Prince Mohammed bin Salman of Saudi Arabia has won from Thomas Friedman of the Times an endorsement of what the columnist calls the "reform process" in the Saudi regime. "Unlike the other Arab Springs — all of which emerged bottom up and failed miserably, except in Tunisia — this one is led from the top down," Mr. Friedman writes. He adds: "Only a fool would predict its success — but only a fool would not root for it."

Call us a fool, but the Sun is going to hold out for an unconditional recognition of the Jewish State. We admire Mr. Friedman's reporting chops, but this isn't the first time he has returned from Riyadh full of excitement. In 2002, the Timesman retailed a Saudi plan for peace between Israel and the Arabs. It centered on the idea that in return for mounting riots — the Second Intifada — the Palestinian Arabs would get half of the Jewish capital at Jerusalem.
Hopefully the editors of The New York Sun are praising Friedman with tongues firmly planted in their cheeks, because he has a nearly unblemished record of being spectacularly wrong. And his additional baggage, that of a self-hating Jew, is just one more reason to be deeply suspicious of any of his prognostications about the Middle East.
Jerusalem is the heart and soul of Israel, Judaism, and the Jewish people. L'shana habaah b'yerushalayim, or "next year in Jerusalem" is not a throwaway line. It encapsulates much of Judaism's cultural and religious desires, and it is taken very seriously.
Imagine the Saudis demanding that Muslims get half of Madrid or half of Paris (wait...they already have a lot of it) or half of Seville. That would be a non-starter. Until the "Saudi Spring" shows its hand as a player in the destruction of militant Islam, and not merely a power play amongst the many young princes of the house of Saud, I will reserve judgement.

&topic=world_news">

posted by CBD at
11:30 AM
|
Access Comments