« MeAgain! Megyn Kelly Treats Woman Who Gave Finger to Trump's Motorcade Like a Returning Hero
|
Main
|
Blaring Media Headline: Russians Offered Trump's Bodyguard to Send Five Women to Trump's Room
Buried in the Story: The Bodyguard Viewed it as a Joke and Declined, Saying "We Don't Do Stuff Like That" »
November 10, 2017
Hillary: You're Welcome for Those Victories on Tuesday
Oh By the Way, I'm Also Starting a Super-PAC
Hillary Clinton wants credit for the Democrats winning races they were expected to win.
Oh, and that's a reference to her current super-PAC "Onward Together," which is as pointless and gassy as her last presidential slogan, "Better Together," so yeah, she thinks she's running again.
She's even starting a new Super-PAC, Onward Together,"Party Majority."
Old and busted: Buying the DNC. New hotness: Competing against it. NBC News reports that former aides of Hillary Clinton have launched a new super-PAC that looks an awful lot like a campaign. Party Majority, NBC reports, will "act as a parallel structure to Democratic party committees at the national and state levels," while remaining in the hands of "Clinton world," as Jonathan Allen characterizes it later.
Before running, she'll have to first prove she has the mettle to overcome the sexist forces that conspired to defeat her before: Stairs.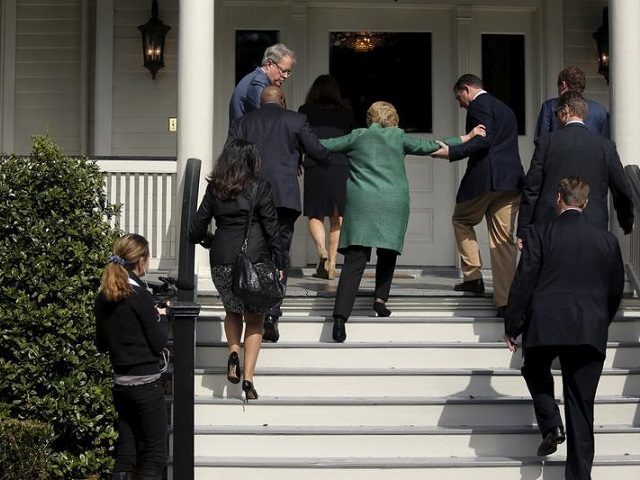 On that, this Paul Sperry article on the Hillary Health Cover-Up -- with the media doing most of the heavy lifting on the cover-up, natch -- is worth a read.
But her campaign always denied anything was wrong [with her health] -- allergies, the candidate and her flacks insisted, caused the persistent coughs, and major news organizations mostly nodded their heads and stayed mum, accepting the official denials without skepticism.

The dam cracked a bit on Labor Day, when an NBC reporter filed a 91-word, four-paragraph story that said Clinton had been unable to finish her speech in Ohio because of a coughing fit.

The truth was dangerous, so the Praetorian Guard sprang to Clinton's defense. The NBC reporter, Andrew Rafferty, was mocked and insulted, first by the campaign, and then by journalists, including some MSNBC commentators who turned on their colleague as if he had violated a secret oath.

CNN joined the Clinton amen chorus, and at the Washington Post, political writer Chris Cillizza denounced the topic of Clinton's health as "a totally ridiculous issue" and declared it a "sure-fire loser" for Trump.

"It's hard to plausibly insist, based on the available data, that Clinton is ill," insisted Cillizza, who is now at CNN.

Five days later, Clinton was unable to walk on her own and collapsed at the 9/11 ceremony in Manhattan as she tried to get into a van.

posted by Ace at
05:56 PM
|
Access Comments