« Mid-Morning Open Thread
|
Main
|
Surprise: John McCain, Jeff Flake, and Bob Corker All More Popular With Democrats Than Republicans »
November 03, 2017
The Morning Rant: J.V. Edition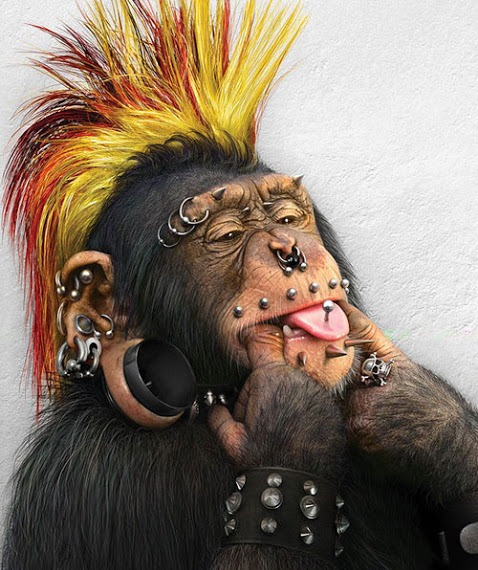 There's a scary looking tree in the corner of the enclosure. At night it looks like a lion about to leap. But it doesn't scare me anymore. It's just a tree. Maybe these people can join me one night and watch the tree to make sure it doesn't eat us all. And then I'll fling poo at them for being weenie-babies!
Profs: Offensive monuments, names cause 'psychological harm'
In a recent academic paper, professors Jordan Brasher, Derek Alderman, and Joshua Inwood call for the development of a "responsible landscape policy" to help colleges assess monuments, statues, buildings, and dorms named after racist historical figures.

Campus buildings named after such figures, they argue, contribute to the tradition of "valorizing public figures with reputations for defending and perpetuating slavery, white supremacy, racial segregation, and disenfranchisement."
Statues of historical figures and buildings named after them are the new bugaboos of academic life. Shuttled to college in mommy's new BMW X5, after a youth unsullied by outdoor playtime, roughhousing, staying up late, throwing snowballs or anything remotely connected to independence, these pathetic little brats demand protection from the anti-totems surrounding them. And the meek and whipped administrations, and equally immature professors desperate to be loved by bratty 18-year-olds, are there to take the place of their helicopter parents and ease their transition into the real world. Which in their cases are satisfying careers drawing frilly patterns in espresso foam, or being the overnight tweeters for third-tier web-zines.
******
Red debt rising: China faces an economic slowdown as the era of easy borrowing ends
I am aware that China has a huge influence on the world economy, but I cannot help the joy I feel that their overlords simply cannot keep up the charade any longer.
China's economic progress has been the marvel of the world for decades. Going forward, though, two of its main growth engines will no longer push forward, but will go in reverse. China's working-age population stopped growing in 2015 and is now shrinking. And new debt will no longer fuel growth. On the contrary, borrowers will start repaying loans. China has many challenges ahead.
So maybe, just maybe, restricting families to one child wasn't such a brilliant idea!
******
Oh man, this is just impossibly awesomely great!
In a New York minute, Ricketts shuts DNAinfo and Gothamist
The shutdown was so sudden that reporters were unable to retrieve clips of stories. Visitors to the sites were greeted by Ricketts' letter --and nothing else.

Many of the 115 employees suddenly out of a job were not happy.

"shutting down gothamist and DNAinfo entirely -- without even leaving up an archive -- is jaw-droppingly vindictive," tweeted @Max_Read.

Senior Editor Rebecca Fishbein, who appeared to be just starting an ill-timed vacation, tweeted: "Would anyone like to come to LaGuardia [Airport] and buy me 15 drinks."
Yeah....pretty sweet. Entitled journalists getting a taste of the real world. But it gets much, much better!
Both sites had been racked by layoffs over the past year but it was not enough to put them on a successful footing. Last week, employees voted to unionize.
HAH HAH HAH HAH HAH HAH HAH HAH HAH HAH
Now, this could be a "post hoc, ergo propter hoc" fallacy, but I really doubt it. These people are so entitled that they simply could not make the connection that a demand for more money and benefits (which is axiomatic of unionizing) from a business that is not on a sound financial footing might be unwise?

******
What the hell happened to John Schindler?
He used to be interesting and readable. But his vitriolic hatred of all things Trump has blinded him. He is almost as bad as Rick Wilson, who is now a laughable, fat, middle-aged mean girl.

posted by CBD at
11:30 AM
|
Access Comments