« Former NPR CEO Ventures Out of the Liberal Media Bubble In Search of Actual Americans; Finds Out They're... Normal and Non-Threatening
|
Main
|
The Morning Report 10/27/17 »
October 26, 2017
Thursday Night ONT: Corndog Edition
Thursday night, and the living is easy. Actually, the living isn't easy, the living is busy. Health insurance open enrollment starts next week, and states have FINALLY released the official rates for next year. Guess what? No, go on, guess, you'll never get it. That's right. Obama's promised $2500 per family decrease in premiums turned out to be a huge underestimate. Prices have fallen by a lot more than that!
Nah, I'm just jacking you, everybody's getting screwed. ACA rates are up 40, 50, in some states even 70 or 80 percent from last year. Since I am an insurance agent, and one who specializes in health, and one who also doesn't act like a glorified navigator and actually can help people find plans outside Obamacare....Lets just say I'm a very popular man in 31 states. The phone has been ringing off the hook, but as always, any Morons who need help with their health coverage go to the front of the line. You can email me, my nick at gmail if you need assistance.
6 SECONDS
This story has been in the news this week as General Kelly brought it up as part of the Gold Star family flap. I've read it before, but every time I do I get chills. Would I have the courage to do the same if I had been one of those sentries? I don't know, but I do know that I'm awfully glad to live in a country that produces men of this caliber.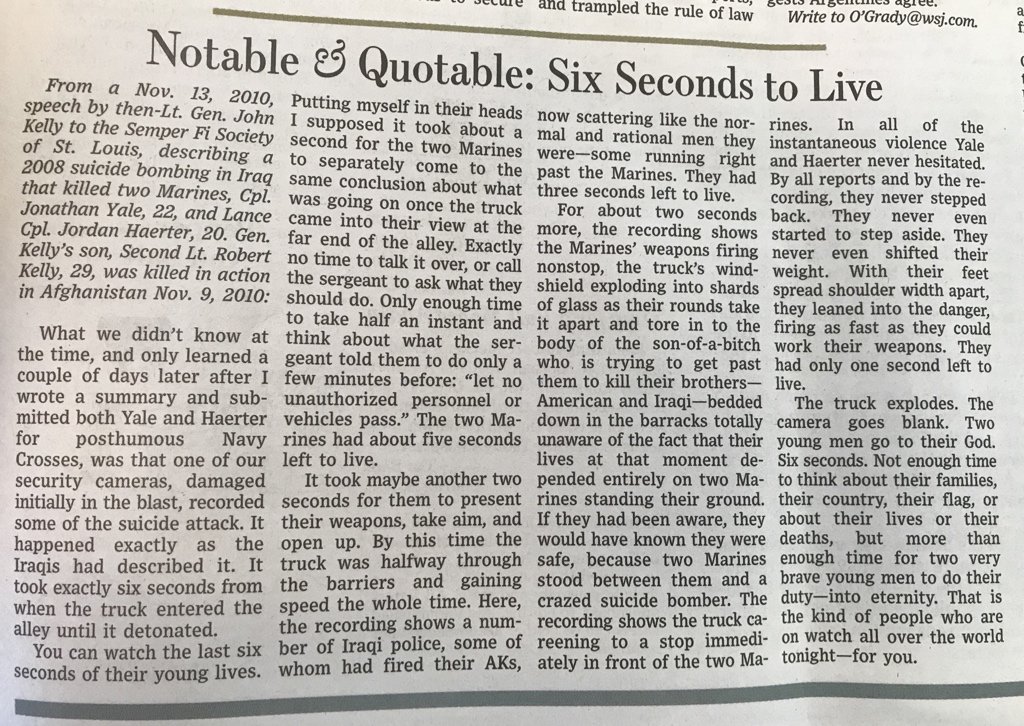 TRAVEL
The 50 Best Places to Visit in the U.S.A.. The title is a little misleading. It's a list of the best place in each state. I'm sure that if we were to make a list of the top 50 places to visit in the US, some states would have more than one, and some (I'm looking at you New Jersey) might not have any. How many of these places have you visited?
Related: Meet the 10 Nicest Places in America. I note that Oriole Park at Camden Yards makes both lists. Often imitated, never duplicated, it truly is the best place to take in America's pastime on a clear summer evening. Y'all come on by some time, hear? We'll steam a bushel of blue crabs and Silver Queen corn, tap a keg of Natty Boh and go down to see dem Ohs. The politics may suck, but there's a reason this is The Land of Pleasant Living.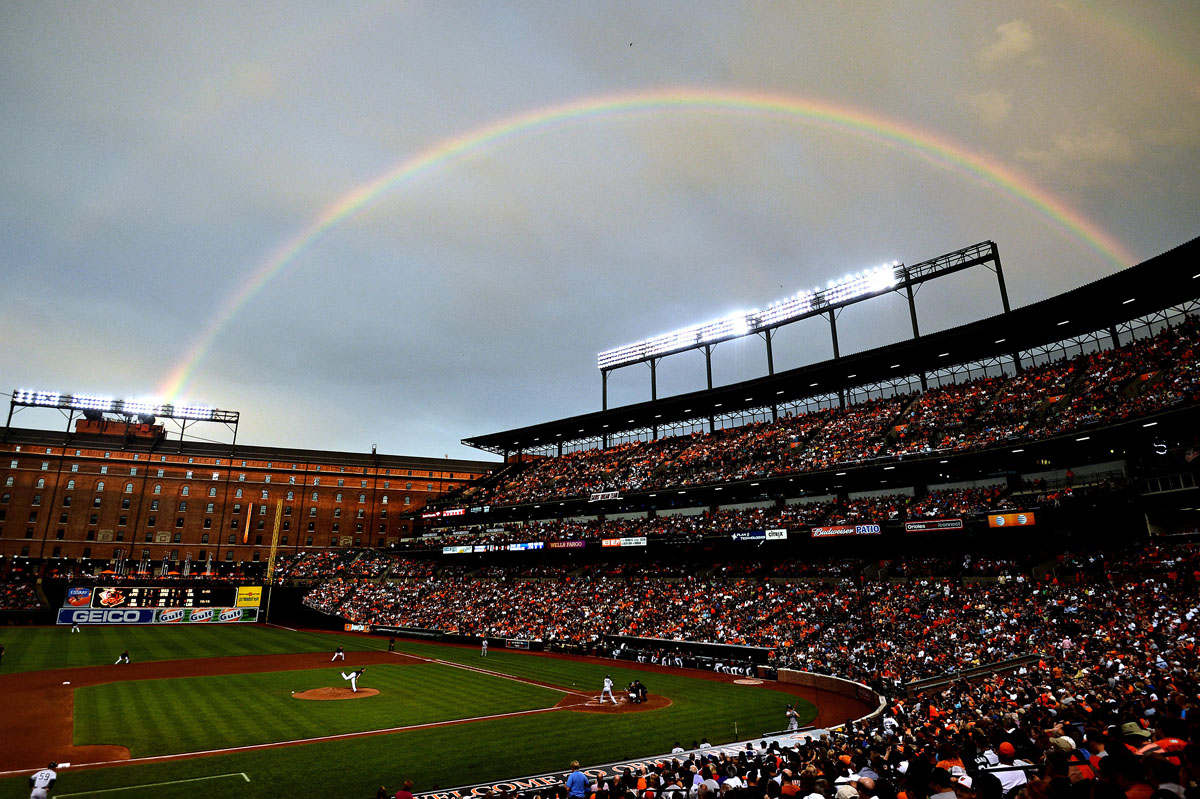 The gold at the end of the baseball rainbow

TRUMPY BEAR!

Apparently, this really is a thing.
This seems silly more than anything, and the commercial looks like a parody of itself, but would Teddy Bears have been marketed any differently if today's media was around a century ago?
It's possible that what was originally intended as a joke ended up catching fire with both the type of person who sees a kitschy, made-for-TV product and thinks "Ha, that's hilarious, I need to get one for myself/as a joke for a friend" as well as the kind of person who would see that ad and legitimately think it's a fantastic way to support Donald Trump and his various values and ideals.

It's entirely possible, though, that someone came up with a dumb bear idea, a reasonably well-done joke commercial, and is now about to make a ridiculous amount of money.


(Yeah, that's a long link. So?)

MIND-BOGGLING

This was really, truly, said by someone who thought this was a good defense of abortion:

Um...yeah. Click and read the whole chain if you want, but there's nothing edifying there other than the pro-life side mercilessly attacking and ripping these sick bastards to pieces. The entire victory lap this week from the #JusticeforJane* crowd was extremely depressing. Not unexpected, but depressing.
*If you don't know the story, an underage illegal alien snuck into the US. She was detained, but when it turned out she was pregnant, she demanded an abortion. The Trump administration was blocking her from getting one as it is against Texas law without an adult sponsor. The ACLU filled suit with a sympathetic judge, he ruled that she should be allowed to abort, and ACLU activists immediately rushed her to a local abattoir where the deed was done while the Trump administration was still in the process of filing the appeal. Everybody on the pro-abortion side pretty much reacted like this:
Just vile people.
Here's the story, with examples

TROLL OF THE WEEK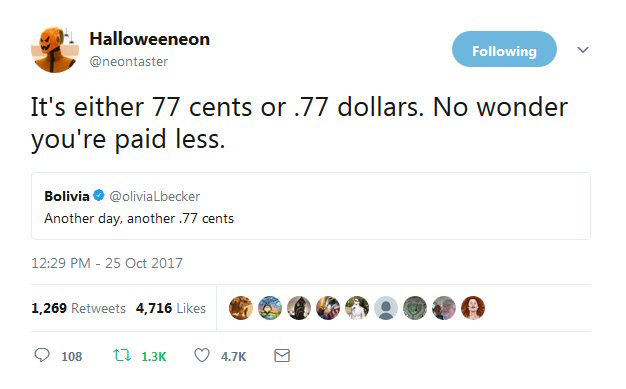 NEWS YOU CAN USE
Halloween is next week, and we here at the ONT would like to point out this Twitter user who offers this handy tip:
Click on the tweet, she has a whole thread of great pumpkin carving ideas.
Also: How about ideas for the most culturally appropriating Halloween costume? I'll start: A coolie hat, buck teeth, blackface, a Frito Bandito mustache, a peg leg & a dress.

HAPPY BIRTHDAY HILLARY!
Today is Hillary Clinton's birthday.

BETA-MALE FANTASY
Really, this is garbage. Complete and utter garbage. Still, it's worth a read because it's just so pathetic. And probably a great look into the mind of a social justice wanker.
I've been told that Antifa have physically fended off neo-Nazis who have attempted to enter people's homes in raids in predominantly black neighborhoods. Unverified; but even if that instance is false, the point is that there can be physical intervention that is the product of strategy or defense or care.
He's just so Goddamn furious over stuff that hasn't happened. He fantasizes about boldly beating up those with whom he disagrees. My advice would be that he should stick to what he's good at.
The left thinks women should pee on rapists to drive them off, right? Maybe crying can be the boogeyman repellent for their males.

NACHO NINJA
See what happens when you get drunk and get in a fight with your boyfriend in public? We all laugh at you.

Tonight's ONT brought to you by Hey, I thought that guy looked familiar!
The Yahoo Group plans to hide in the bushes and egg trick-or-treaters.

posted by WeirdDave at
10:08 PM
|
Access Comments