« EMT 10/22/17
|
Main
|
Uranium, Russia, Obama, Clinton, Money: A Match Made In Hell »
October 22, 2017
Sunday Morning Book Thread: 10/22/2017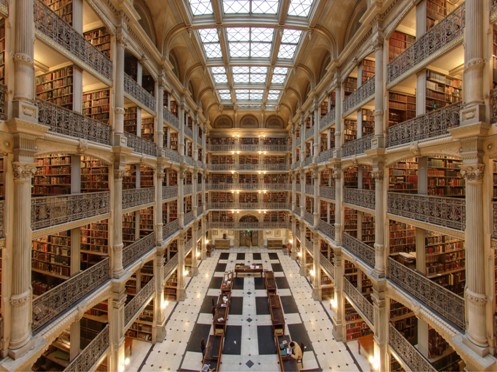 George Peabody Library, Baltimore, USA
One Hit Wonders
Let's face it, most authors never have a single hit, much less more than one. But there are books (fiction, for the purpose of this discussion) that I found wondrous, yet when I excitedly read another by the author, was disappointed.
City of Thieves was written by none other than David Benioff, of "Game Of Thrones" fame, and it is a beautiful, inspired, elegant book. Is it a great book that belongs on the never-to-be-published list of Dildo's 100 Great Books? No, but it is well worth a read, if for no other reason than to catch a glimpse of what it was like in Western Russia during WWII.
His other stuff? Eh. 25th Hour was readable but without any sympathetic character development, so it was like watching the story unfold from 10,00 feet above. And that is the best of a very small lot.
Anyway, who are your one-hit wonders?
******
Anyone like the Harry Hole series by Jo Nesbo? I have read the first three, and they are loads of fun. The first installment...
The Bat
, introduces Harry as a weird egg; an antisocial oddity. You know, like most of us!
******
Victor Davis Hanson has written a
The Second World Wars: How the First Global Conflict Was Fought and Won
Max Boot says:

"If you think there is nothing more to be said about World War II, then you haven't read Victor Davis Hanson's The Second World Wars. Hanson displays an encyclopedic knowledge of every aspect of the conflict, ranging from land to sea to air, and from grand strategy to infantry tactics, to analyze what happened and why. Page after page, he produces dazzling insights informed by his deep knowledge of military history going all the way back to ancient Greece. The Second World Wars is compulsively readable."
I thought that
The Storm of War: A New History of the Second World War
by Andrew Roberts was the definitive account of World War II, but I will have to give Hanson's book a shot. He is too good a writer and too fine a scholar to miss this one.
******
If you think that Pete Hamill is a New York ultra-liberal, you would be correct. But he is also a pretty damned fine writer, with two books in particular that in my opinion are worth a read. The first is a novel:
Snow In August
, set in a New York City that is long gone. It has baseball! The second is his memoir, suitably called
A Drinking Life.
But it isn't preachy, which far too many books by ex-drinkers tend to be. He has led an interesting as well as drunken life, and he describes it wonderfully.
&topic=world_news">

posted by CBD at
09:15 AM
|
Access Comments