« Jaguars, Ravens Take the Knee During National Anthem In Overseas London Game; Pittsburgh Steelers Refuse to Come Out of Locker Room for National Anthem
|
Main
|
So, What Do You Want To Talk About? »
September 24, 2017
Food Thread: Store-Bought Or Homemade: What's The Dividing Line?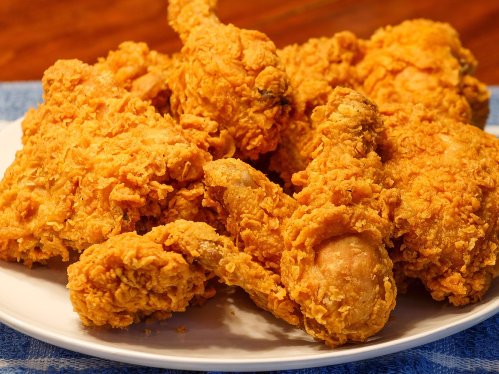 Sure I can make fried chicken. I have on many occasions, and it's pretty good. But the question is: "Should I?" And the answer is: "Nope!" There is local supermarket that makes solid chicken, and a take-out place just a few minutes farther away that makes fantastic stuff, so unless I just feel like cooking it, I burn some hydrocarbons and go pick it up.
But...don't you dare suggest I buy a container of hummus. How DARE you! Mine is better and cheaper than almost all of the commercial stuff, and the one place around here that makes hummus worth a damn is in Brooklyn, and that is a very long way. It takes five minutes to make a quart of it, so in the time it takes to buy some overpriced and under-flavored mass-market hummus, I can have a great batch whipped up.
So...where is your dividing line? What foods can you make but choose not to, and what foods do you make even though there are reasonable commercial alternatives.
******
Out of the blue, I got a collect call from a state prison, and for amusement's sake I accepted the charges. The upshot of the conversation is:
Welcome to the first Moron Cookbook give-away contest! Test your skill with our Word Search/Hidden Message puzzle. Print the puzzle, find the 15 hidden words, complete the hidden message, and email the list of words AND the hidden message to moroncookbook@gmail.com. The words run horizontally, vertically, diagonally, forwards, and backwards. Directions are written on the bottom of the puzzle. First one to get everything to us correctly wins a free cookbook. We will post in the comments when we have a winner. GO!!!

This is the first of the give-aways - you never know when or where another give-away will show up!

******
I stopped by my local fish purveyor recently and was delighted to discover that they had fresh blowfish tails on sale for a very reasonable price. Actually, I have no idea how much they were, because I was giddy with glee and was bouncing up and down with anticipation of the great snack I was going to make. They are ridiculously easy to make, loads of fun to eat, and absolutely delicious.
What's that? Blowfish? Yes. Tetrodotoxin? Well...yes, but not these! Just to be on the safe side read this: Consumer Advisory: Only Eat Puffer Fish from Known Safe Sources. And then fry the little buggers in a simple dusting of flour, then an egg-wash and a thin layer of plain breadcrumbs. They fry in about two minutes, and are worth every bit of the slight risk (really...no risk at all) of agonizing death.

******
Walmart Testing Delivery Service That Gives Drivers Direct Access To Your Fridge
Yeah....no.
Aside from the terminally creepy feeling that some stranger has pawed through my refrigerator, how would he know where to put anything? I keep a 3D spreadsheet of the contents of my refrigerator, cross-indexed with the cupboard, and some of the locations are not heternormatively patriarchal.
Just kidding. I lose stuff sometimes in the fridge, just like everyone else.

******
Is Fondant Free Speech? Chefs Show Support For Gay Marriage As Court Case Looms
The arrogance, ignorance and plain old stupidity on display in this article is hard to beat. The bakers who support the destruction of someone else's free speech rights are perfectly content to exercise their own.
The Justice Department, under President Trump, is backing the baker. In a brief filed with the court this month, it argues that the wedding cake case is at heart about the First Amendment and the right to free expression. Acting Solicitor General Jeffrey Wall wrote:

"The government may not enact content-based laws commanding a speaker to engage in protected expression: An artist cannot be forced to paint, a musician cannot be forced to play, and a poet cannot be forced to write."
******
I have played around with this recipe quite a bit. Some people don't use olive oil, preferring a less rich and creamy dip. I think they are nuts.
Hummus
• 15 ounce can of chick peas (cecci beans) packing liquid reserved
• 1 small clove of garlic
• Cayenne pepper to taste (I use 1/8 teaspoon)
• Pinch of Kosher salt
• Juice of one large lemon
• 7 ounces Tahini (Sesame paste)
• 2/3 cup Extra Virgin olive oil (Do not use a very flavorful one...neutral is best)
In a food processor with the metal blade, blend the beans, half the liquid, garlic, salt, pepper and 1/2 the lemon juice. At least 10-15 seconds....you want it nice and smooth.
Add the tahini (be sure to stir it thoroughly before using) and process until smooth...another 10 seconds or so.
Gradually add to olive oil, starting very slowly, until the mixture is emulsified and nice and thick. It might not need the entire cup of oil, so go slowly and check frequently.
Taste and correct for salt and lemon juice. After you add more lemon juice it might require a bit more oil to thicken. Or it might be too thick in which case use some of the reserved ceci bean liquid to thin it. The consistency is entirely up to you and your palate.
The traditional scoop is pita, but try it with pretzels.
Addendum Here is the answer key for the word search.
This is the official announcement from Moron Cookbook Corporation:
There once was a doc named Muldoon
Who posts here once every blue moon
He puzzled it out
And gave us a shout
He's the winner - I hope he won't swoon!
And here is an alternate announcement:
Roses are red
Violets are blue
Muldoon won the contest
And all the rest of you suck

******
Food and cooking tips, great sourdough baguettes, spare bottles of Oban Scotch Whisky , fresh Morels and other goodies with impressive girth:
cbd dot aoshq at gmail dot com
&topic=world_news">

posted by CBD at
04:00 PM
|
Access Comments