« EMT 09/24/17
|
Main
|
Is This Something? A School Full Of Special Snowflakes Who Actually Aren't Snowflakes And Are Pushing Back? »
September 24, 2017
Sunday Morning Book Thread 09-24-2017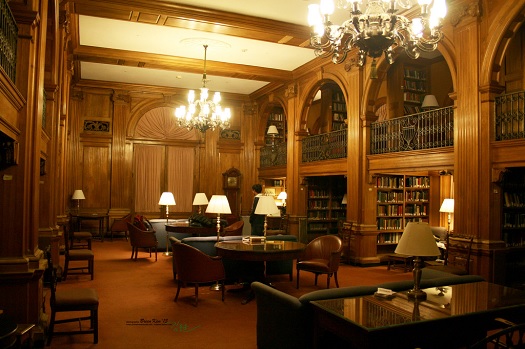 Sanborn House Library, Dartmouth College
Good morning to all you 'rons, 'ettes, lurkers, and lurkettes. Welcome once again to the stately, prestigious, internationally acclaimed and high-class Sunday Morning Book Thread, where men are men, all the 'ettes are gorgeous, safe spaces are underneath your house and are used as protection against actual dangers, like natural disasters, or Literally Hitler, and special snowflakes do not last. And unlike other AoSHQ comment threads, the Sunday Morning Book Thread is so hoity-toity, pants are required. Even if it's these pants, which look even sillier with those boots. (h/t to lurkette 'LaughingOutLoud!')

Pic Note
According to this, Sanborn House is
...home of the English department at Dartmouth College. It contains faculty offices, seminar rooms, and, most important to English majors, a library with Oxford editions of all the major and minor English and American authors, quiet alcoves for reading, a large fireplace for cheerful log fires on cold winter afternoons -- in the 1960s, there were lots of cold winter afternoons in Hanover, N.H. -- and tea for faculty and students every afternoon at 4:00.

It Pays To Increase Your Word Power®
A VAUNTPARLER is someone who speaks on another's behalf.
Usage: Progressives have set themselves up as vauntparlers for all of the world's oppressed and downtrodden -- whether they've been asked to be or not.

What Is To Be Done?
Earlier this week, ace published one of his long think pieces, The National Nervous Breakdown, and How to Exploit it Ruthlessly, and if you haven't read it, you should. And, as brilliant as it is (and it is brilliant), one of the 'ettes (Emmie) noticed one tiny flaw: after all the exposition about the meltdown of the list, ace never discussed how it is to be exploited, as the title of his piece implied he would. So she asked him about it.
This is ace's excuse:
uh, i kinda wrote that title just to be catchy, and planned to think of something to say along those lines, but then I wrote All the Words and wanted to post it and be done with it. I had hoped that no one would notice I'd mentioned "exploiting it" in the headline.

So thanks.

Posted by: ace at September 19, 2017 07:52 PM (8rNrN)
Terrific. In other words, the Great Communicator just forgot. And then he gave the stinkeye to Emmie for bringing it to everyone's attention. Also, for wanting to Control His Body.
But maybe the book thread can help out here.
Kurt Schlichter's latest column looks like it could have been written as a counterponit to ace's article. It is entitled Unleashing the Power of Mockery on Annoying Social Justice Warriors and it's a book review of conservative author Lisa de Pasquale's latest book, The Social Justice Warrior Handbook: A Practical Survival Guide for Snowflakes, Millennials, and Generation Z, which, he says, "does exactly what today's embattled conservatives need to do - it goes full bull in the progressive china shop." Schlicter describes it as:
...a faux guide to how to be a crying, bitter baby demanding that mommy and daddy submit to his, her or xir's increasingly ridiculous commands. And by writing it, Lisa provides a template for us to do what we all need to do all the time – see through their lies and strip them of their power by ruthlessly mocking these proto-fascist geebos until they flee back to their safe spaces.
It is available on Kindle (pre-order) for $7.99.
But there are other possibilities as well.
In his book SJWs Always Lie: Taking Down the Thought Police, Vox Day observes:
You should be aware that you have a very important strategic advantage vis-a-vis the SJWs with regards to morale. A large percentage of SJWs are prone to various forms of mental illness; being competitive with regards to their victimhood, it is not at all uncommon for them to openly brag about being on various antidepressants and other psychiatric medications. I have been told by observers that the majority of commenters on several SJW sites have publicly made reference to their being prescribed such medications. Because so many of them are miserable and depressed, the strategy of repeatedly hammering SJW morale with dark messages of inevitable failure, doom, and defeat tends to be considerably more effective than it is when aimed at normal, happy, self-confident individuals.
Shorter Vox: SJWs are susceptible to moby and concern-troll attacks because they're mentally ill.
(Of *course* progressives are mentally ill. You can't force your mind to believe obviously untrue and ridiculous things day in and day out for years on end and expect that nothing will go wrong.)
And this made me wonder if this is why the SJWs invented the moby and concern-troll attacks: they're projecting. That is, SJWs like to call their enemies "h8rs" because they're full of h8 themselves, and they think mobying will work on conservatives because they know it will work on them.

Book Reading Program
How many books can you read in a lifetime? Centuries ago, you could read pretty much every book that had ever been written. William F. Buckley once claimed that probably the last guy who could've read every book was Erasmus.
So, instead of reading every book, we have reading programs.
CBD mentioned to me the other day that he was swapping e-mails with Jay Guevara, who recommended The New Lifetime Reading Plan: The Classical Guide to World Literature, Revised and Expanded by Clifton Fadiman:
Now in print for the first time in almost 40 years, The New Lifetime Reading Plan provides readers with brief, informative and entertaining introductions to more than 130 classics of world literature. From Homer to Hawthorne, Plato to Pascal, and Shakespeare to Solzhenitsyn, the great writers of Western civilization can be found in its pages. In addition, this new edition offers a much broader representation of women authors, such as Charlotte Brontë, Emily Dickinson and Edith Wharton, as well as non-Western writers such as Confucius, Sun-Tzu, Chinua Achebe, Mishima Yukio and many others.
Of course, Fadiman's is not the only list out there. There's also The Well-Educated Mind: A Guide to the Classical Education You Never Had by Susan Wise Bauer and The Western Canon: The Books and School of the Ages by Harold Bloom.

True Romance
Science fiction legend Ray Bradbury met his future wife in a bookstore:
If you want to fall in love with a reader, go where the readers go. The late Ray Bradbury met his future wife, Marguerite McClure, at Fowler's Bookstore in Los Angeles when he was 22 years old.

It was not love at first sight. McClure, who was clerking at the store, accused Bradbury of shoplifting.

"He carried a briefcase and wore a trench coat on a clear day, so I was immediately suspicious," she remembered later. "I expected him to slam his briefcase down on a pile of books and make off with a few. Instead, he told me he was a writer and invited me to have a cup of coffee with him."
I thought this was sweet:
McClure was the first woman Bradbury ever dated—and the last. They were married in 1947 and remained married for fifty-six years until McClure's death in 2003.
(h/t Christopher Taylor)
Books By Morons
I forgot to mention this book last week as requested by a lurking moron, so I hope it's not too late to tell you his wife has just published a book, the second adventure of her heroine, Emerson Ayre, Ayre Conditioning. This is a sequel to Into Thin Ayre, which I mentioned about a year ago:
Emerson Ayre was a normal girl with a normal life until a supernatural inheritance leaves her questioning the nature of reality.

Forced into moonlighting in a job that she doesn't want and can't quit, Emerson joins the ranks of an elite group of women with special powers tasked with protecting the future of the planet.
The Amazon blurb for Ayre Conditioning assumes you've read the first book:
Emerson Ayre is still new to the Orber game. With the memory of her botched first assignment still fresh in her mind, the stakes are high. When she gets a vision of two sexy cowboys for her next assignment, she is thrilled. That is, until cop and best friend, Cal, points out that she is no match for a couple of ranchers.

With the help of Cal, techie friend Simon, Imogen and the other ladies in the Orbsphere, Emerson sets out to find her marks, and realizes along the way that Cal just may have been right...
The Kindle editions for both are $2.99.

___________
On the AoSHQ Goodreads group, moronette C. Chancy has published a sequel to her urban fantasy novel, A Net of Dawn and Bones, which I should probably tell you about first.
But before that, the Amazon blurb has a bit of Ms. Chancy's explanation of why she writes what she does, and now that I've read it, I want to read her books. This is what she says:
This book was written because I couldn't find anything like it on the shelves.

...No, seriously. After the umpteenth time picking up yet another urban fantasy that looked promising but on closer skimming had the Designated Protagonist choosing the Sexier Evil, I kind of snapped.

Part of the fun of any story is putting yourself in the character's shoes. But these shoes I not only didn't want to slip into, I wanted to set them on fire. Where were the good guys? The honest cops? The ordinary people choosing to do the Right Thing, no matter how hard it was? Where was the belief that there is a Right Thing; that there is Good, and Evil, and you pick the side you're going to fight for, even if the heavens fall?

In short - where were the heroes?

I assure you, if I were in on ground zero of a vampire versus werewolf blood war, my thoughts would not be centered on, omigod the two main supernatural guys are so darkly yummy in their hellspawn black leather. They would be, stake, silver - where are they and how fast can I reload?

So here they are: an honest cop, a half-demon, and an ancient heretic who just might be a saint. Out to kick butt, save lives, and hopefully save souls.
Here is the actual blurb for her first novel:
Blood rituals, black magic, and broken masquerades. Names to run away from really fast. And maybe the end of the world....

Welcome to Intrepid, North Carolina. Where autumn brings leaf season, tourists, and bloody sacrifice.

Twenty years have passed since the Dark Day brought creatures of horror onto the evening news. Now vampires run nightclubs, alchemists deal potions on the street corners, and werewolf gangs lay claim to shady alleys. The honest cops of Intrepid enforce human laws on supernatural evil, and pray. Because the turn of the leaves brings Halloween, tourists... and the return of a serial killer who's plagued Intrepid for over two decades.

Yet the night holds darker secrets than even the best detectives have unearthed. Somewhere in Intrepid, a demonic sorcerer plans to bring Hell on earth. And the Demongate is almost complete.
Heh. Turns out I mentioned all of this on the book thread a little over a year ago. Same quotes and everything. Yeah, it's a repeat. Sue me. Anyway, Ms. Chancy has just published the sequel, Seeds of Blood:
Over two decades of bloody murder, Steven Savonarola carved a sorcerous Demongate into the heart of his own hometown. With less than two weeks to disarm it before Halloween, Detective Church and the IPD are running out of time.

Lucky for them, they have an edge: Myrrh, a hell-raider with over a thousand years' experience shattering dark magic, and Aidan, a half-demon fire mage with a very personal grudge against evil.

The plan is simple: Find the tainted sites. Purify them. Try not to die.

They'll need all the help they can get. Steven may be gone, but shadows in the mountains are determined to see the Demongate open - even if they have to slaughter half the city to do it. And when it comes to killing shadows, even hell-raiders don't know everything.

If they're going to make it to All Saint's Day, they're going to need hot lead, cold mead, and a weapon that's out of this world.

And a little praying wouldn't hurt...
Ms. Chancy has also written another comic fantasy, Count Taka and the Vampire Brides. They're all available on Kindle for $2.99 each.

___________
Don't forget the AoSHQ reading group on Goodreads. It's meant to support horde writers and to talk about the great books that come up on the book thread. It's called AoSHQ Moron Horde and the link to it is here: https://www.goodreads.com/group/show/175335-aoshq-moron-horde.
___________
So that's all for this week. As always, book thread tips, suggestions, bribes, rumors, threats, and insults may be sent to OregonMuse, Proprietor, AoSHQ Book Thread, at the book thread e-mail address: aoshqbookthread, followed by the 'at' sign, and then 'G' mail, and then dot cee oh emm.
What have you all been reading this week? Hopefully something good, because, as you all know, life is too short to be reading lousy books.


posted by OregonMuse at
09:15 AM
|
Access Comments