« Obama's Iran Deal bears Fruit...For Hezbollah...What Could Possibly Go Wrong?
|
Main
|
Open Thread »
September 17, 2017
Food Thread: Shuck And Jive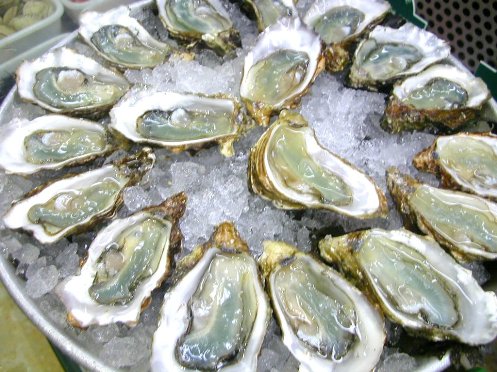 Bluebell, Weasel, and the rest of the staff of the vast bureaucracy that is Moron Cookbook Inc. have been doing a huge amount of work on editing the submitted recipes, creating a logical and pleasing template for each one, creating a legal framework for the endeavor, finding a publisher, and most of all making reservations at a dozen bars and restaurants at which the staff will drink up all of the profits in a bourbon-fueled orgy of oysters and foie gras and caviar and lobster and Kobi beef and Chateau Petrus....
In the meantime, please heed Bluebell's lovely and gentle request:

Would you mind putting something in the food thread for us about the cookbook? I've been sending out emails with questions re some of the recipes, and most have been good about getting back to me, but not all. Plus, there will be more emails yet to come, so I want to alert people. Who woulda thunk that morons writing a cookbook would be a problem?

The emails come from the Moron Cookbook gmail account that Weasel and I share.

Short version: Do what Bluebell says or she will hunt you down and skin you for your pelt.
And speaking of oysters...the reason that photo is up there is because for no particular reason I suddenly had a hankering for a dozen (or two or three) good fat briny East Coast oysters on the half-shell. No idea why. Maybe I dreamed of them, forgot my dream, but it was hovering just outside my consciousness?
So what food or drink jumps up and reminds you that, "Damnit, I haven't some in a very long time!"
Mine is usually oysters or fried chicken or a good braised meat like lamb shanks. But I am also not above meandering down to McDonald's for a sausage-egg-n-cheese biscuit.
******
Yeah, I know it sounds stupid, but endives are great in salads. I mean, it's not bacon, so why bother? But here is an
Endive Salad Recipe
from Eat Dangerously, which is a fun placed I have linked before.
Endives are sort of bitter, but not too bitter, and they have a great texture when raw. There is also a fun but sort of odd dish with endives, gruyere, ham and bechamel.
Yes, that was one of the foods I ate as a child. But I put my foot down after I tried calf brains. I think I am still traumatized.

******
Here's a very nice recipe for
Simple Grilled Fish with Basil
from Hunter-Angler-Gardener-Cook, which is an earnest but fun website that has some really interesting recipes, and his take on food is refreshing.
Maybe I am not as good a cooking technician as I think I am, but grilling fish is a tough one for me. Anyone have any tips?

******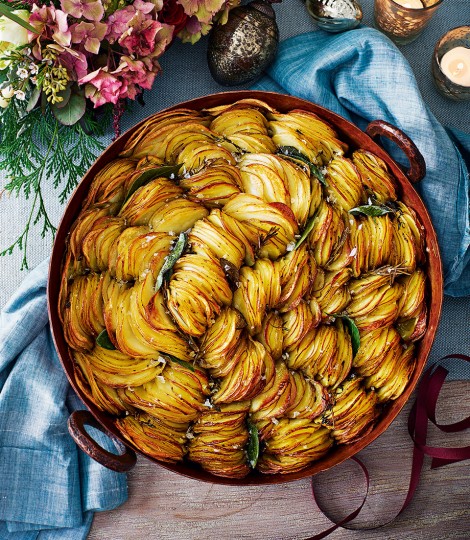 Crispy Pan Potatoes
It's a pretty straightforward recipe to which I would add more butter and perhaps some heavy cream. But what caught my eye was the clever presentation. Standing the potato slices on edge looks great!
******
This recipe was given to me by a neighbor who served it at a Christmas party several years ago. It is good. Very, very good. My neighbor quite rudely moved to North Carolina, so I now have to bake this for myself instead of mooching off of her whenever she baked one.
Chocolate Velvet Cake
4 oz. semi-sweet or bittersweet chocolate, broken into ½" pieces
6 Tbl. unsalted butter
3 Tbl. flour
3 eggs, separated
¼ cup sugar
Prepare, for one recipe an 8" or for a double recipe a 9-10" spring-form pan by cutting a wax paper bottom, spraying with cooking oil then dusting with cocoa. Set aside.
Melt chocolate and butter over low heat stirring constantly until melted. Remove from heat and immediately stir in flour, set aside to cool.
Beat egg whites until foamy throughout and gradually add the sugar, continue beating until mixture form s soft peaks, set aside.
Temper egg yolks by adding 1-2 Tbl. of slightly cooled chocolate and mix well. Add this chocolate/egg mixture to the slightly cooled chocolate and mix until well incorporated.
Fold whites into chocolate mixture and pour into prepared spring form pan. Bake at 350 degrees for about 20 minutes for single recipe or 30 minutes for double recipe, or until toothpick inserted into center comes out clean. The top of the cake will rise in the oven and then fall and crack as it cools.
Remove form pan. If the top has cracked substantially, I usually try to peel the biggest pieces off. Invert onto platter and glaze with the recipe below.
NOTE: this recipe is best when doubled.
Chocolate Glaze
4 oz. semi-sweet or bittersweet chocolate, broken into ½" pieces
3 Tbl. water
3 Tbl. unsalted butter
Heat water until just ready to boil, remove from heat and add chocolate pieces. Stir until melted, add butter and let cool slightly. Glaze the cake. This recipe doubles nicely. Glaze will run over sides of cake, but, there is not enough to completely cover sides as a frosting would.
[Neighbor's comments]
The above is Kathryn's recipe. Here are my annotations for more excellence.

1) Get a springform pan that has a glass bottom so you can see if the cake is coming out alright. You can run a knife under the glass to avoid unseemly potholes in the cake.

2) Always double the recipe for the cake AND the glaze. You'll be glad you did!

3) I use semi-sweet chocolate for the cake and bitter-sweet for the glaze.

4) For the glaze, use coffee instead of water. You'll be buzzing all night!

5) Be careful that absolutely no yolk gets into the egg whites. AND be sure you temper the egg yolks well or it will curdle.

6) My oven seems to take longer than the recipe directs. Test it with a knife, but don't let it get too dry, certainly.

7) After you've put the cake on a fancy-schmancy plate, you can put some cocoa in a little sieve and decorate the plate around the cake. Also, it's really good if you put fresh raspberries on top of the cake or around the side of it. Or make up something else you'd like to put on top. A beacon, perhaps? Your initials in edible gold leaf? It's all good.
And now it is time to determine who is worthy of this cake. Take it to the home of him or her. But do not – DO NOT – take it to the home of someone who is unworthy. You will live to regret it.
Yeah...she was a good neighbor!

******
Food and cooking tips, great sourdough baguettes, spare bottles of Oban Scotch Whisky , fresh Morels and other goodies such as fresh-killed possum:
cbd dot aoshq at gmail dot com
&topic=world_news">

posted by CBD at
04:00 PM
|
Access Comments