« EMT 09/17/17
|
Main
|
Breitbart Had A Point: Why You Should Read The Comments: Example #43,091 »
September 17, 2017
Sunday Morning Book Thread 09-17-2017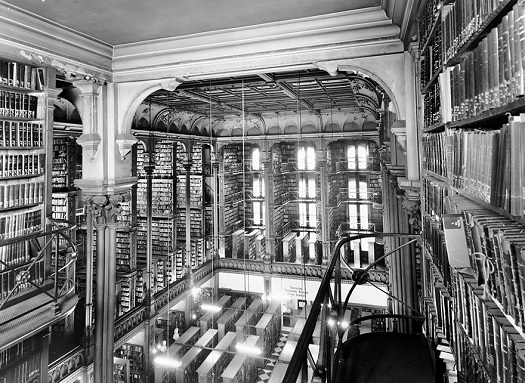 Cincinnati Public Library, 1920s
Good morning to all you 'rons, 'ettes, lurkers, and lurkettes. Welcome once again to the stately, prestigious, internationally acclaimed and high-class Sunday Morning Book Thread, where men are men, all the 'ettes are gorgeous, safe spaces are underneath your house and are used as protection against actual dangers, like natural disasters, or Literally Hitler, and special snowflakes do not last. And unlike other AoSHQ comment threads, the Sunday Morning Book Thread is so hoity-toity, pants are required. Even if it's these pants which I can't tell if these guys are a barbershop quartet or curling team.

Pic Note
You're going to want to click on the pic to see the larger version as the old b&w photo looks very impressive. This fine old library has unfortunately long since been demolished.

Hillary's Book, Part Thrieuuxx
So from the online published excerpts and quotes from interviews Cankles has given this week, there's nothing new here, no surprises, no astounding revelations, no insight, no self-awareness, no thing. It's just what we would have expected from her: a boringly dull, whining, self-pitying, woulda coulda shoulda blame-a-thon that has all of the wit, intelligence, and readability of a cinder block.
My prediction is that it will all but be forgotten in a month. Like her other books. Oh, I know that Hillary's peeps at the NY Times will figure out which bookstores to interview so they will be able to guarantee a place for it on their "bestseller" list, but nobody will care.
"Attempting to define reality is a core feature of authoritarianism. This is what the Soviets did when they erased political dissidents from historical photos. This is what happens in George Orwell's classic novel Nineteen Eighty-Four, when a torturer holds up four fingers and delivers electric shocks until his prisoner sees five fingers as ordered. The goal is to make you question logic and reason and to sow mistrust toward exactly the people we need to rely on: our leaders, the press, experts who seek to guide public policy based on evidence, ourselves."
So let me get this straight, Orwell wrote 1984 because he thought we needed to trust "our leaders" *more*? Is she *seriously* trying to make that argument? That's monumentally dumb. That's like reading Uncle Tom's Cabin and claiming that it supports slavery.
Hrothgar sent me this article, a bleak description of a tubercular George Orwell struggling to complete 1984 before he died or became too ill to write. As Her Thighness ascertained, he really had a strong desire to communicate how we should all trust the government and our political leaders. After all, what could possibly go wrong?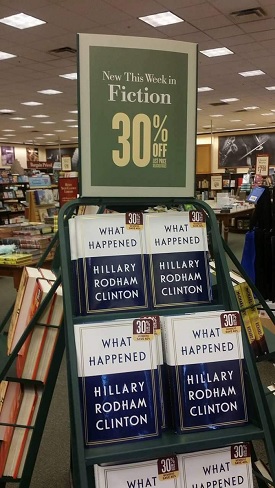 It Pays To Increase Your Word Power®
CAPNOMANCY is divination by examining the patterns made by smoke.
Usage: The US Dept. of Capnomancy dates back to FDR's "brain trust" and the New Deal.
Great Books Podcast
From NRO:
I'm pleased to announce another new NR podcast: The Great Books. This one, as the old English paint commercial has it, "does exactly what it says on the tin." Each week, Hillsdale's John J. Miller will join a professor to discuss one of the great works of the Western literary canon. This week, it's Shakespeare's Macbeth. Next week, Austen's Pride and Prejudice. The week after, Xenophon's The Expedition of Cyrus. And so on. Each episode is around half an hour — perfect for your drive to work or trip to the gym.
You can go to this page to either play the current podcast or check out the various download and subscription options.
Next up, a book report from Hilary Clinton about how Franz Kafka's The Trial taught her that everything will work out for the best if we all just submit to faceless government bureaucracy.

I Like Big Books and I Cannot Lie
Meanwhile, Hillary will soon relate how reading Animal Farm helped her to see that many wonderful things can be accomplished if we all work together for the common good.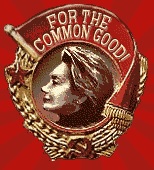 (h/t thepeoplescube.com)

Moron Recommendations
Got an interesting book recommendation from long-time 'ette shibumi for Lord of the World by Robert Hugh Benson. It's on old, obscure book that perhaps not many have heard about.
Lord of the World is a 1907 dystopian science fiction novel [1] by Monsignor Robert Hugh Benson that centers upon the reign of the Anti-Christ and the End of the World. It has been called prophetic by Dale Ahlquist, Joseph Pearce, Pope Benedict XVI and Pope Francis.[2]
Shibumi writes:
In many ways, it can be seen as Catholics vs. the Non-religious. However, I'd basically say it's the Religious vs. Statist Humanism. It's terrifying insofar that as I'm readying it, I can see the people I know who are not religious turning into the Statist Humanists in the book. In fact, if you simply changed some words and references around, it could easily been seen as a treatise of what could happen today.

In any case, I'd highly, highly recommend it for the horde, simply because of the religious aspects to it (Catholic, but relevant to all Christians) as well as the fact that we're seeing many around us turn to the State for meaning and purpose, rather than God. And it's absolutely terrifying...[W]ritten in 1907, [it] is relevant today. Like Orwell.
She also says "there is Latin at the end, so be prepared. I literally had to go online and look up the phrases to get the final meaning."
You can get the Kindle version for free. I assume it would be also available on Gutenberg, but I didn't check.

___________
A lurking moron recommended Things Worth Fighting For, a collection of the writings of journalist Michael Kelly, who has killed in 2003 while covering the Iraq War. "The chapter Ted Kennedy On the Rocks is worth the price of the book alone." No Kindle version available, but used copies of this book are available for as low as $1.60.
The Ted Kennedy essay is available here. He really was a disgusting pig whom the press pretty much covered up for for most of his entire career.

Books By Morons
Lisa Mathisen has published the 7th volume of her short stories. Glimpse: BOT is
A Sci-Fi Glimpse of Possible Futures Imagine a world where aliens finally make contact….via text. Where biotechnology and cryogenics go wild, then insane. Where geeks save the planet and the moon is a burial plot……….. "I looked at the long list of Sci-Fi subgenres and began mixing them to create my own style. There are terrifying musings in my campy 1950's retro and farce in my apocalyptic scenes...BOT is a shiny steel android with heart; unfathomable technology tripping over a stone and humanity reaching into the universe; tongue firmly in cheek."
Promotional video here.

___________

Don't forget the AoSHQ reading group on Goodreads. It's meant to support horde writers and to talk about the great books that come up on the book thread. It's called AoSHQ Moron Horde and the link to it is here: https://www.goodreads.com/group/show/175335-aoshq-moron-horde.
___________
So that's all for this week. As always, book thread tips, suggestions, bribes, rumors, threats, and insults may be sent to OregonMuse, Proprietor, AoSHQ Book Thread, at the book thread e-mail address: aoshqbookthread, followed by the 'at' sign, and then 'G' mail, and then dot cee oh emm.
What have you all been reading this week? Hopefully something good, because, as you all know, life is too short to be reading lousy books.

posted by OregonMuse at
09:13 AM
|
Access Comments