« Saturday Afternoon Chess/Open Thread (Featuring Dress Pr0n) 09-09-2017
|
Main
|
Saturday Night Open Thread (9/9/17) Click And You'll See Edition »
September 09, 2017
Saturday Evening Movie Thread 09-09-2017 [Hosted By: TheJamesMadison]
Spoilers Ahead!

The first time I remember finding out a spoiler for a yet to be released movie was with
Episode I
. A few weeks before the film's release, 20th Century Fox released the movie's soundtrack which included a track name on the back, "Qui-Gon's Funeral".
I immediately put the case down and cursed myself for ruining the movie.
Now, everyone is going to judge me harshly for this, but I saw that movie 9 times in theaters. I was young, stupid, and loved Star Wars, so I kind of forced myself to love the first prequel (that's my story and I'm sticking to it). Did Qui Gon's death diminish m y affection for the movie? Nope, not one whit. Especially on viewings 5-9.
(For the record, I revisited the movie about a decade ago and realized how truly awful it is. Not just, "I'm trying to pile on" bad, but genuinely, truly terrible.)
Who's Your Daddy?
So, when people talk about spoilers, the definition that I like to use is, "a part of a movie that represents unexpected turns beyond the basic premise". I came up with that one. Merriam-Webster defines it as "information about the plot of a motion picture or TV program that can spoil a viewer's sense of surprise or suspense". I tend to put it a bit more generally than the dictionary, but I'd say we're largely in line, but the part of the dictionary definition that I find illuminating is the use of the word plot.
I'm sure you all have realized by this point, but I'm not a plot guy. I don't find it terribly important (not unimportant, just not as important as everything else that goes into a movie). I also realize that I'm most likely in the minority on that point, and that's okay. I understand that most people don't share my priorities, so I'm happy to alter my discussion of movies slightly to keep them from being spoiled.
But for my own experience? Yeah, I don't care about spoilers. Spoil away!
Does the fact that I know that Darth Vader is Luke Skywalker's father diminish my opinion of The Empire Strikes Back in any way? Not in the least. It's still an amazing movie experience.
Does the fact that I know that Bruce Willis is actually dead in The Sixth Sense diminish my enjoyment of it? Again, that's a no. The movie is rich enough that knowledge of the plot twist really doesn't affect my opinion of the movie at all.

That's all there is?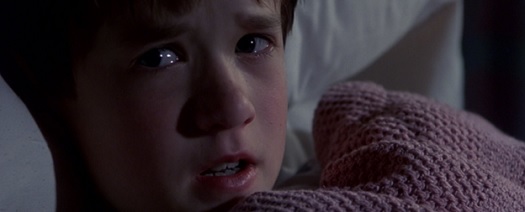 One person who disagreed with me on The Sixth Sense was a professor I had in college. He called the movie a One Trick Pony, meaning that it didn't have much in it beyond that plot twist to recommend it.
I disagree on that specific example, but it presents an interesting question: If all a movie has going for it is a plot twist, or some other turn that just simply cannot be spoiled without "ruining" the movie, then how much fun can you have with it, really?
If there's nothing to the movie other than, "Oh, it was that guy who did it, not the guy we were led to believe from the beginning, " then will you ever be able to revisit the movie and have any fun? Conversely, if a movie experience gets completely ruined because you know how it's going to end, are you ever able to come back to a movie?

The Assassination of Jesse James by the Coward Robert Ford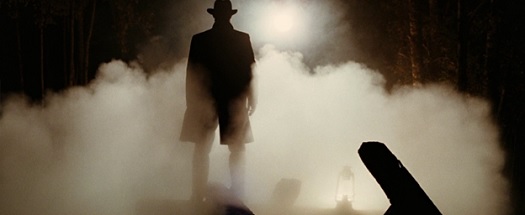 There, I just gave away the ending of that movie by telling you the title. Are you completely uninterested in watching it now?
I've read comments by random nobodies on the Internet who say yes to that question.
I don't bring it up to make fun of random nobodies on the Internet, but to highlight a particularly egregious example of a movie being spoiled before anyone walks in. This isn't Han Solo dying at the hands of his son unexpectedly, but a slice of small American history brought to screen.
Also, it's a decent excuse to talk about a great movie.
I can understand people not liking the movie because it's slow (which it is), or for almost any other reason, but not liking it because you know how it's plot is going to be resolved? I find that confusing. Some great endings are telegraphed from the beginning. The Dark Knight has Harvey Dent say exactly what's going to happen to Batman about half an hour in to the movie. Casablanca is a constant build to Rick regaining his humanity and shooting a Nazi. Searchers is about John Wayne going so far down the rabbit hole that there's no way he can come back from it, so he must stand apart at the end.
This one? It tells you in its title.
Does that make the performances less good? Or the cinematography less sumptuous? Or the tone less melancholy?

Is that all you've got?



So, think back to my college professor who thought so little of
The Sixth Sense
. Again, never mind the specifics of whether the movie is actually good or not, but if all that was there in the movie worthwhile was that twist, is the movie worth spoiling? If the spoil ruins the movie completely, was it worth seeing in the first place?
There's so much more to a movie than just it's twists and turns of the plot, or at least there should be, I think, that "ruining" the plot feels like a small concern.
And yet, I do get it. A quick example from television: I watched the first season of Game of Thrones all the way through without reading the books or even a summary. I went into each episode, week after week, completely unspoiled so that when Ned Stark does actually have his head removed from his shoulders, I was genuinely surprised. The guy featured on the poster of the show got killed. Granted, it was Sean Bean who dies in almost everything (funnily enough, he's just about the only person to not die in Silent Hill), but I still felt that shock that everyone else seems to want to feel from an unspoiled plot twist. And yet, at the same time, Dolley keeps rewatching the show on a yearly basis, and I keep continuing to enjoy it every time, despite knowing that good, honorable Ned Stark is going to get it.

Movies of Today
Opening in Theaters:
It
Home Again
9/11

Next in my Netflix Queue:
The Stoning of Soraya M.

Movies I Saw This Week (Home Alone edition):
Dark Star [Director's Cut] (Netflix Rating 4/5 | Quality Rating 3/4) Poster blurb: "Slightly shorter than the original, but still just as fun." [Netflix DVD]
Baby Driver (Netflix Rating 5/5 | Quality Rating 4/4) "A rollicking good time at the movies with a surprisingly serious emotional core about escape." [Theater]
Muppet Treasure Island (Netflix Rating 4/5 | Quality Rating 3/4) "A fun little romp with fun songs and a fun performance by Tim Curry. Fun!" [Netflix DVD]
Close Encounters of the Third Kind (Netflix Rating 5/5 | Quality Rating 4/4) "A gloriously made and near perfect movie. I'm so happy I got to see it in theaters." [Theater]
Guardians of the Galaxy Vol. 2 (Netflix Rating 3/5 | Quality Rating 2.5/4) "Unfocused and structurally off, but very enjoyable in individual segments." [Redbox]
Kong: Skull Island (Netflix Rating 2/5 | Quality Rating 2/4) "Way too many characters and a very thin Vietnam metaphor (seriously?) weigh down some halfway decent monster action." [Redbox]
King Arthur: Legend of the Sword (Netflix Rating 3/5 | Quality Rating 2.5/4) "A fair bit of a mess, but fun enough to almost recommend. Almost." [Redbox]
Knight and Day (Netflix Rating 3/5 | Quality Rating 2/4) "Generic action movie stuff, but buoyed somewhat by Cruise's nonchalant attitude through it all." [Netflix DVD]

Contact
Email any suggestions or questions to thejamesmadison.aos at symbol gmail dot com.
I've also archived all the old posts here, by request. I'll add new posts a week after they originally post at the HQ.


posted by OregonMuse at
07:48 PM
|
Access Comments