« Hurricane Thread Below The Book Thread
|
Main
|
Hypocrite...Thy Name Is U.C. Berkeley »
September 10, 2017
Sunday Morning Book Thread 09-10-2017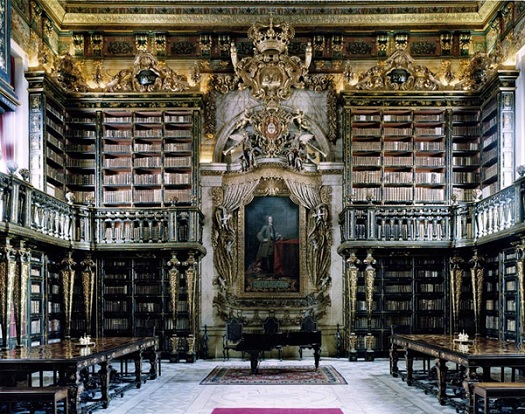 The University of Coimbra General Library, Coimbra, Portugal

Good morning to all you 'rons, 'ettes, lurkers, and lurkettes. Welcome once again to the stately, prestigious, internationally acclaimed and high-class Sunday Morning Book Thread, where men are men, all the 'ettes are gorgeous, safe spaces are underneath your house and are used as protection against actual dangers, like natural disasters, or Literally Hitler, and special snowflakes do not last. And unlike other AoSHQ comment threads, the Sunday Morning Book Thread is so hoity-toity, pants are required. Even if it's these pants which I guess are supposed to be "woke", but perhaps they're just being ironic.

Pic Note
Gorgeous library. Unfortunately, I could not find any large photos that would allow you to see the details, which I'm sure must be exquisite.

Some Random Items From the Mailbag
'Ette biancaneve (who really should drop by the book thread and say 'hi' more often) tipped me to an interesting site, Juniper Books, for people with hoity-toity libraries who want beautiful books to fill all those shelves. They're not publishers, but they create custom dustjackets for already-published books. They specialize in book sets where the spines form a picture. Fun, and aesthetically pleasing, but they're kind of pricey. I poked around the site, and the books definitely look nice, but for me, it was window shopping only.
___________
She also pointed me to this article, about scamming your way onto the NY Time best-seller list. I don't think this is the first time someone had tried to goose up their position on the Times' list by finagling some sales somewhere that they're likely to count.
A major conservative publishing house has decided to tell the Times to go pee up a rope:
Regnery, the nation's premier publisher of conservative books, has cut ties with The New York Times over long-simmering allegations the newspaper took a decided left-leaning slant in picking which books to feature on its best-seller lists.
Instead, they'll be using the Publishers Weekly lists to determine best-seller status.
The Times, of course, denies everything:
"The notion that we would manipulate the lists to exclude books for political reasons is simply ludicrous."
Right, because the accusation that the NY Times could ever be politically biased in its coverage is simply unheard of.
And then there's this:
The Times...says it interviews stores about actual sales. I am not certain who still buys books in a bookstore, but the surviving brick-and-mortar outlets occupy a declining niche in the market...Every time radio hosts Michael Savage and Mark Levin publish one of their bestsellers, I seem to recall listeners calling in with tales of covers turned the wrong direction, or conservative authors relegated to the children's fiction section and the like. Never mind doubts about which bookstores the Times calls up.
So the Times bases its list on calling up some brick-and-mortar stores? Really? That's it? By ignoring online sales, that alone should be enough to disqualify the NY Times list from any role of authority or prestige, even without the accusations of political bias. It's a dinosaur.
___________
Anna Puma sent me this link to 15 Calls for Themed Submissions (Fiction, Essays, and Poetry) so you authors may have a chance to earn some coin. Especially if you're into writing stories about LGBTBBQyadda-yadda-yadda interspecies romance.
Some of those deadlines are coming up pretty quick, so you'd better get cracking.

It Pays To Increase Your Word Power®
To EXSATURATE yourself is to fill yourself with food.
Usage: Some say that last time Michael Moore got loose in an all-you-can-eat Chinese buffet, he rekt it so bad that it had to close for a month, but that may be a bit of an exsaturation.

Hillary's Book, Part Dieux
This is such a target rich environment. Her new book, What Happened, is coming out tomorrow, September 11. Here's an "excerpt" that's been making the rounds on Twitter: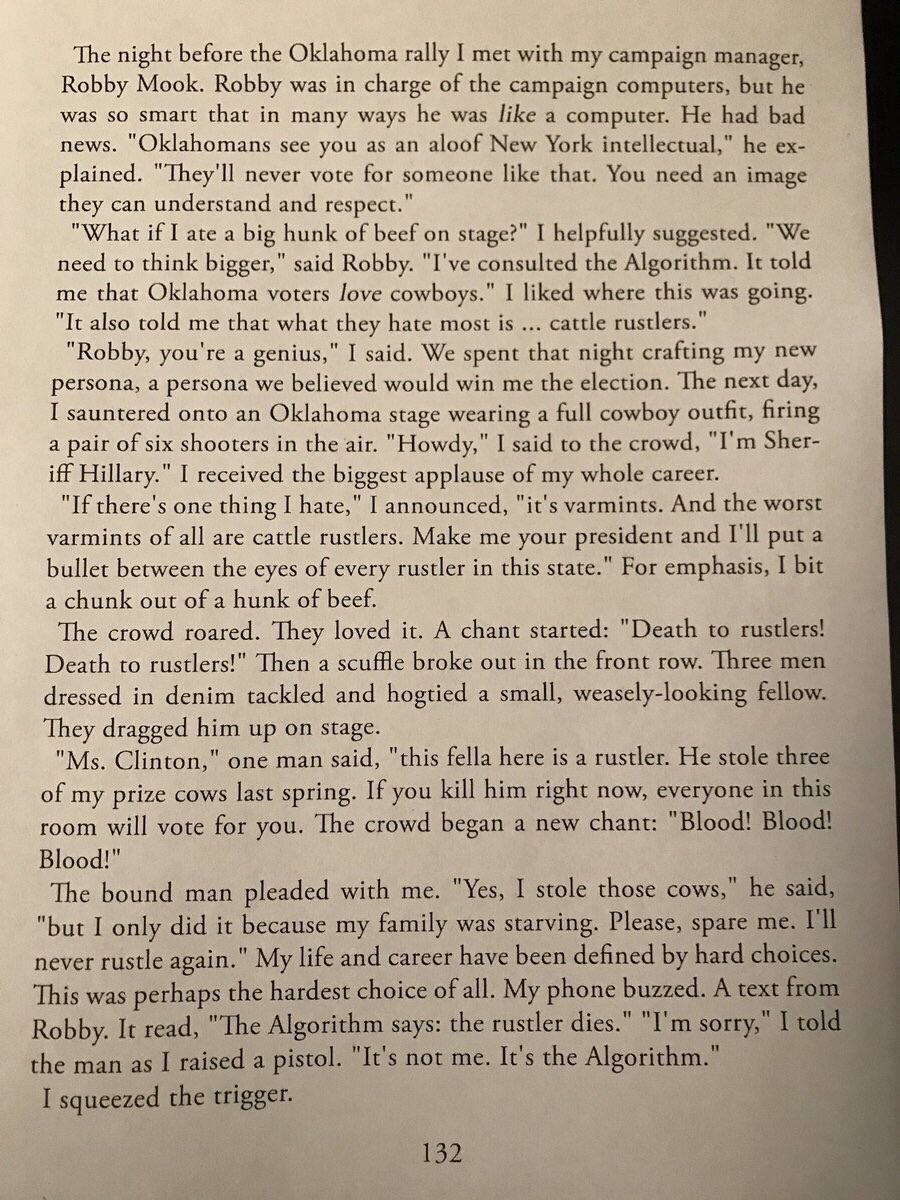 (Click for larger version)
Of course, this publishing event has inspired a number of gag books, such as The Achievements of Hillary Clinton, which is pretty funny especially if some humorless scolds do not get the joke. Like this unhappy purchaser:
This is a sham book....it is nothing but blank pages with a picture of trump laughing. ...if you really are a Hillary supporter, DO NOT BUY THIS BOOK!!!!!!!!! It is published by Cro.O Ked Publications. I would return it but I don't want to pay to send it back. Amazon should be ashamed of itself for selling this book as a legitimate book. Obviously, this was printed by the koah or merser brothers. DO NOT BUY THIS BOOK!!!
What Happened (Really) to Hillary Rodham Clinton: The Actual Evidence Supporting Her 34 Reasons For Losing the 2016 Election (President Obama Journals) is another page full of blanks, other than the chapter headings.
Why Hillary Lost: A Sore Loser Exposed is probably not blank pages:
Instead of listening to Hillary Clinton's long list of excuses, read this book to see exactly why the American people rejected her as the next President of the United States. This book goes item by item through the reasons why Americans didn't want to vote for her and voted to Make America Great Again instead.
And then there's Hillary's book of devotions, The Necronomicon Strong for a Moment Like This: The Daily Devotions of Hillary Rodham Clinton by Rev. Dr. Bill Shillady, a Methodist "pastor friend" of Mrs. Clinton. A couple of points: (1) if you keep having to tell other people you're strong, you're not strong. (2) who is the intended audience of this book? Is it the knuckle-dragging, snake-handling rubes in flyover country whom her marketing team believes would be favorably impressed by a display of religiosity or is it liberal churchgoers on her side of the aisle?
I don't know the answer, but I will say that one thing I've noticed about the Clintons (and I've been watching them ever since they and their slimy retinue of fixers, bagmen, hustlers and other reptilian creeps came slithering out of Arkansas 25 years ago) is that they think of themselves as "good persons", they want everyone else to think of them as "good persons" which is why they always have gone to extreme lengths to viciously attack anyone and anything that would cast them in any light where they are not perceived as "good persons". So I think this book of devotions is devoted chiefly to Hillary's self-image. And what would be better to prop up your image that has taken so many (deserved) hits over the years than a little bit of religion? Remember during one of the debates Trump told her to her face that she belonged in jail? She tried to laugh it off, but I think it probably hurt her more than she let on. So a book proclaiming her piety would be soothing balm for that wound.

RIP Jerry Pournelle
On Thursday, epobirs passed along the news that science fiction author Jerry Pournelle had passed away. Not many details are known, only this brief note from Jerry's son Alex posted on Pournelle's web site Chaos Manor:
I'm afraid that Jerry passed away
We had a great time at DragonCon
He did not suffer.
They set up this well-wishing page for readers to post their remembrances.

Another Moron Library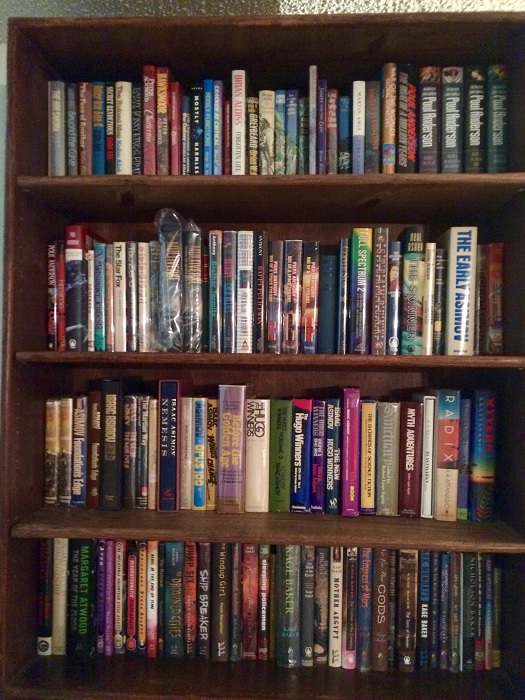 (Click for larger version)
Lurker Lawrence Person sent me this link to a giant post on his blog where he detailed his library collection. The photo above is just his books "A-Ba" which should give you some idea of the size of his library.
He's also got an impressive list of signed first editions and other one-of-a-kind items of interest to bibliophiles.
Mr. Person is an author himself, with an extensive bibliography.
And I like the looks of his conservative political blog. Very meaty.

Bleg
A lurking moron writes:
I am attempting to write fiction, possibly sci-fi, and I was wondering if you could provide a link to a past thread where Morons provided tips to help one another with ideas and how-to starters. Unless I am dumb and making all of this up. It's possible --- scotch is a helluva drug.
I *thought* we had a thread like this, but I didn't keep track of it, so I have no idea which one it is. Any of you morons bookmark it?

Moron Recommendation
Anna Puma made an interesting comment about flying ace Douglas Bader in one of the morning threads this week:
If you read Brickhill's biography of Douglas Bader, Reach for the Sky, the young Douglas could have been a serial killer. Older brother constantly picked on him and when his father took the family overseas, Douglas was left in England. Then his father died overseas and his mother remarried. Douglas was starting to torture animals but intervention came in the form of adults who showed an interest in his well being and team sports like rugby.
Yeah, when you've reached the animal torture stage, you've got some real psychological problems going on. I don't know how participation in team sports could ameliorate such a deep disturbance, but evidently it did, and Bader was guided away from the dark path.
I pimped his biography, Reach for the Sky: The Story of Douglas Bader, Legless Ace of the Battle of Britain, all the way back in 2012:
Douglas Bader was a legend in his lifetime. After losing both legs in an air crash in 1931 and being dismissed as a cripple by the Royal Air Force, he fought his way back into the cockpit of a Spitfire to become one of the great heroes of the Battle of Britain. This inspiring biography of the famous World War II fighter pilot, first published in 1954, has a following of faithful readers who come back to the book time and again to re-read, share with their children and pass along to friends. Not many books have made such an impact on people's lives. Bader's story is so extraordinary that no one would dare invent it, and Brickhill succeeds in matching the excitement of Bader's war deeds with the triumph of his greater battle over a severe handicap. Told he would never walk without a cane, Bader learned to dance, swim, golf, and play tennis. Told he would never fly again, he became not only one of the RAF's top combat pilots but a squadron leader and innovator of fighter tactics that helped win the Battle of Britain. Among the thrilling incidents chronicled in the book are Bader's first successful encounter with an enemy plane, his own shoot down, and his succession of escapes from German prisons.
The guy's got no legs, and he's busting out of German POW camps. Holy cow.

___________
A few weeks ago, I pimped Lawdog's book based on his experiences in law enforcement, The LawDog Files. 'Ette Roamingfirehydrant let me know in e-mail that Lawdog has another one out, The LawDog Files: African Adventures. She says
If you liked his first book, you'll like this one. The African tales are only about half of the book, so it bogs down in the middle with, well, more observations than funny stories, then it picks up again with dogs, squirrels, and military life. I literally laughed out loud with the Nigerian Space Program story.
About Lawdog, the Amazon blurb says
[L]ong before he put on the deputy's star, he grew up in Nigeria, where his experiences were equally unforgettable. In THE LAWDOG FILES: AFRICAN ADVENTURES, LawDog chronicles his encounters with everything from bush pilots, 15-foot pythons, pygmy mongooses, brigadier-captains, and Peace Corp hippies to the Nigerian space program...Africa wins again, and again, and again.
The Kindle edition (which is the only edition available) is $4.99.

Books By Morons
Moron author Alec Lloyd has released the fourth and final chapter of his 'Man of Destiny' series, The Imperial Rebellion.
The story takes place 20 years after the events of the first three books as the remnants of the Commonwealth groan under political oppression and military occupation.
Not to give any spoilers, but Mr. Lloyd assures me there is no Death Star. He also said:
I also want to convey my profound gratitude to the Moron Horde for their support. I hope they like the books as much as I enjoyed writing them.

If any of them are interested in fully experiencing the mindset of the author as he wrote it, try drinking lots of whiskey while reading, increasing both the quantity and proof as you go. By the time you get to The Imperial Rebellion you should be on the cask-strength stuff.
Mr. Lloyd is apparently a graduate of the Ernest Hemingway School of Writing.

___________
Don't forget the AoSHQ reading group on Goodreads. It's meant to support horde writers and to talk about the great books that come up on the book thread. It's called AoSHQ Moron Horde and the link to it is here: https://www.goodreads.com/group/show/175335-aoshq-moron-horde.

___________
So that's all for this week. As always, book thread tips, suggestions, bribes, rumors, threats, and insults may be sent to OregonMuse, Proprietor, AoSHQ Book Thread, at the book thread e-mail address: aoshqbookthread, followed by the 'at' sign, and then 'G' mail, and then dot cee oh emm.
What have you all been reading this week? Hopefully something good, because, as you all know, life is too short to be reading lousy books.

posted by OregonMuse at
09:15 AM
|
Access Comments