« Mid-Morning Open Thread
|
Main
|
The Big Nothing »
September 04, 2017
The Morning Rant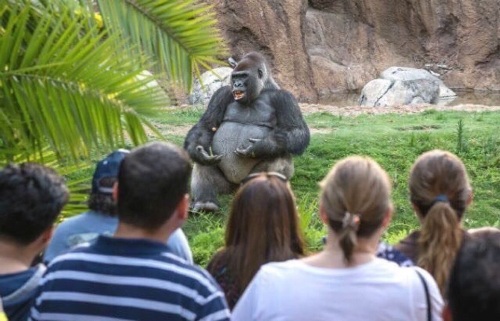 "Morrey the Orangutan is a big Texas A&M fan, so I had a bet with him on last night's game. Ha! You should've seen the look on his face when my man Rosen faked the spike and threw for the winning TD. Morrey now has to give me half of his monkey pr0n collection. And I get to pick."
I don't know about you, but this photo creeps me out. I look at it and I think, whoa, that building should not be there. I get kind of a Lovecraftian ("Things That Should Not Be") vibe from it.
You might think this is a doctored photo, but if you look at the photos on this page, you'll see why it isn't. And how massive a structure the Empire State Building is.

Got Hills?

Believe it or not, this is actually not the steepest street in San Francisco. That honor belongs to
Filbert Street
.
And I was surprised that the steepest street in America is not in San Francisco, but rather Canton Avenue, located in the Beechview neighborhood of Pittsburgh, PA.

The Old Days:

"When women forced men to wait until marriage before having sex, marriages and families were stronger. Men were more polite and respectful. Men worked harder at courting and felt more appreciative of the privileges marriage provided. As women have given up that power and made sex outside of marriage more available to men in recent decades they have found themselves, their children, and society in worse condition."

Hungary 1956

I'm wondering if any of you morons can identify the particular make and model of firearm she's totin'.

posted by OregonMuse at
12:05 PM
|
Access Comments