ę Mid-Morning Open Thread
|
Main
|
Houston: Flood Waters Fall, But Death Toll Rises as Bodies Are Discovered Ľ
August 31, 2017
The Morning Rant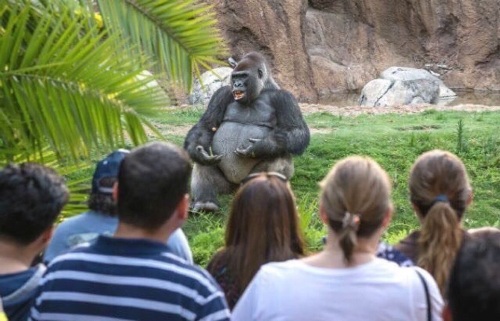 "It's funny how things get reversed. It used to be the John Birchers who were accused of trying to find a communist in every woodpile. Nowadays, though, it's the left-wing fringe-dwellers who are claiming there are nazis and white supremacists hiding under every bed."
Can We Maintain A Sense of Proportion Here, Please, Before We All Lose Our Minds?

You should click on this Part 1 of a 17-part Tweet-storm explaining why you should NOT donate to the Red Cross, and then read the whole thing. Hopefully, you will find it as interesting as I did:
Note: This is the first I've ever heard of ProPublica. For all I know, they could be a left-wing outfit.
Unpopular Opinions
The Council on Biblical Manhood and Womanhood ("Founded in 1987, CBMW exists to equip the church on the meaning of biblical sexuality.") put out something called the Nashville Statement on homosexuality and transgenderism, a 14-article document of the form 'we AFFIRM...' such and such, 'we DENY...' this and that. Naturally, this has triggered all of the usual suspects, and so now they're running around with their hair on fire. They think this is some big, new oppressive thing that racistevilnaziwhitesupremacist Christians have just come up with, but actually, it's what every denomination of the church has taught for nearly 2000 years. So there's nothing really new about it:
Article 1


WE AFFIRM that God has designed marriage to be a covenantal, sexual, procreative, lifelong union of one man and one woman, as husband and wife, and is meant to signify the covenant love between Christ and his bride the church.
WE DENY that God has designed marriage to be a homosexual, polygamous, or polyamorous relationship. We also deny that marriage is a mere human contract rather than a covenant made before God.
Bold words for this day and age. I've already seen lists of the Nashville Statement signers being passed around on Twitter. The only purpose for this that I can think of is so that they (and their families) can be doxxed and harrassed for holding such retrograde opinions.
And now for a ThoughtCrime™ that's possibly worse:
On August 9, University of Pennsylvania law professor Amy Wax and University of San Diego law professor Larry Alexander published an op-ed in the Philadelphia Inquirer calling for a revival of the bourgeois values that characterized mid-century American life, including child-rearing within marriage, hard work, self-discipline on and off the job, and respect for authority. The late 1960s took aim at the bourgeois ethic, they say, encouraging an "antiauthoritarian, adolescent, wish-fulfillment ideal [of] sex, drugs, and rock-and-roll that was unworthy of, and unworkable for, a mature, prosperous adult society."
Here is the op-ed, and it said offensive stuff such as:
Get married before you have children and strive to stay married for their sake. Get the education you need for gainful employment, work hard, and avoid idleness. Go the extra mile for your employer or client. Be a patriot, ready to serve the country. Be neighborly, civic-minded, and charitable. Avoid coarse language in public. Be respectful of authority. Eschew substance abuse and crime...

All cultures are not equal. Or at least they are not equal in preparing people to be productive in an advanced economy... If the bourgeois cultural script — which the upper-middle class still largely observes but now hesitates to preach — cannot be widely reinstated, things are likely to get worse for us all.
So now a bunch of idiots at that college are now running around with their hair on fire, claiming they're being "attacked". And, of course, the authors are being denounced for ThoughtCrimes™ with the usual "-ism" and "-phobia" monikers. Despite the fact that the 'bourgeois' values are pretty universal. That is, anyone of any race, religion, or color can adopt them, and if they do, they will greatly improve their chances of living a good life.
It's like the Book of Proverbs. You don't have to be a believing Jew or Christian to benefit from the wisdom contained in that book. Just read it and do what it says.
This Is Hilarious: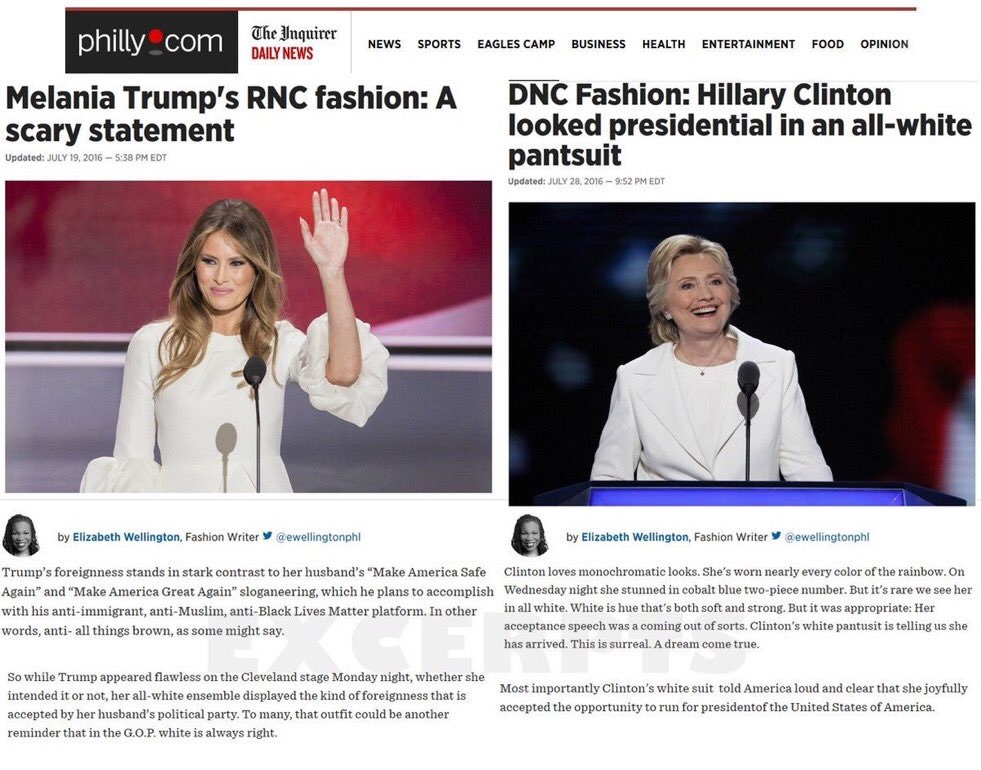 Two pieces from the 2016 campaign. It's worth clicking on to look at the larger version. Same author, written about ten days apart. Totally un-self-aware.

Now THIS is kind of creepy:


posted by OregonMuse at
11:34 AM
|
Access Comments