« Mid-Morning Open Thread
|
Main
|
Steve Bannon Out at White House »
August 18, 2017
The Morning Rant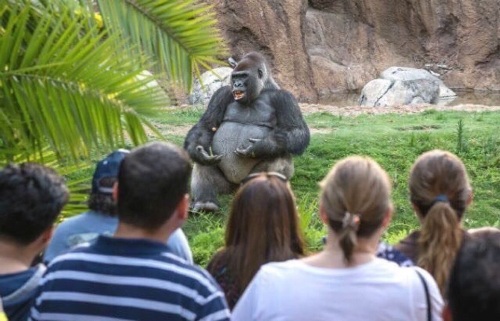 "Comparing the crappy, biased #fakenews media coverage of Charlottesville and Barcelona, you might think, oh hell, doesn't journalism today have any standards at all? Actually, it does; it has at least two."
Look what was trending on Twitter yesterday: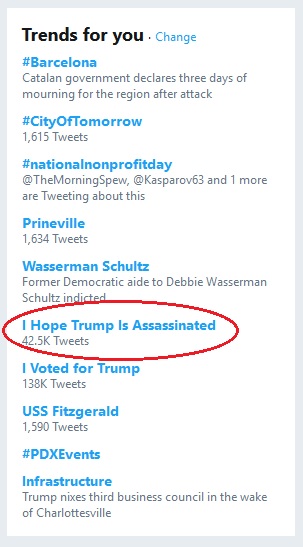 Ben Roethisberger emailed and said "IT'S FUNNY BECAUSE A GUY ON THE TV NEWS SAID IT'S THE RIGHT WHO IS VIOLENT".
Grammie winger lives in Paul 'Quisling' Ryan's district and she recently received a 'beg' letter from his office. The occasion afforded her the opportunity to express to him her utter disappointment in how he has conducted himself as her representative. The letter is all kinds of awesome, and in case you missed it, here it is again:
I have a beg letter from Paul Ryan sitting right here on the table next to me. I'm tearing a dollar bill in half, and sending it back with a letter that says, "This is what you're doing to the country - tearing it apart. You had one chance - and you blew it. Why should I give you one dollar when you scammed me out of all the donations I've made to you in the past? You are a fraud and a con artist. My money would better be spent at the carnival. At least there I might get a stuffed animal. From you? - I get lies. Pretty-face lies..... Signed, pasty white woman who worked on two of your campaigns. Have a nice day, you two faced liar"

Posted by: grammie winger - I look at the floor and I see it needs sweeping, at August 17, 2017 10:40 AM (lwiT4)
I wonder if Ryan's office will contact grammie for more input?
To Fail With Honor
This is another great tweet-storm by Thomas Wictor and has the added attraction of sucking up to the boss. As usual, I'll display the first one and then just the text from the rest in the chain to save space and page load times. Also, Muldoon said yesterday he doesn't like tweet-storms, and even though what he said made a certain amount of sense, I like to think I'm doing this just to irritate him:
(2) It's spooky how accurate it was.
(3) @AceofSpadesHQ said that McCain was in the race to demonstrate to everyone how to "fail with honor."
(4) McCain had no intention of winning. He would go down in flames, and then he would proudly explain that he was the REAL hero.
(5) At the time, I thought @AceofSpadesHQ was overreacting. Now I realize that he was absolutely correct.
(Note: I wish I could find the piece he was referring to. The phrases "fail with honor" and "failure with honor" do not appear when I search for them either with Google's advanced search function, or using the search function in pixy's software. Also "failure theater" does not appear before 2015, so that's not it. Anyway, if any of you morons know which ace piece TW is referring to, let me know in the comments and I'll link to it. --OM)
(6) McCain's only joy in life is being perverse. I mean that in the following sense:
(7) "A deliberate and obstinate desire to behave in a way that is unreasonable or unacceptable, often in spite of the consequences."
(8 ) I remember that McCain spent a massive amount of time explaining himself. That should've tipped me off.
(9) If nobody can understand what the hell you're doing, you won't win.
(10) The danger of power, fame, and money is that you're removed from the consequences of your actions.
(11) What makes Trump unique is that he put EVERYTHING on the line. Not just his empire, but his very life.
(12) Did anyone every charge the stage when Bush or Obama were speaking?
(13) Did we ever see the US Secret Service rush Bush or Obama off stage?
(14) Remember how the press told us that THIS was a racist assassination threat?
(15) The cartoon was about that idiot woman who had the pet chimp that tore off her friend's face.
(16) And the American Recovery and Reinvestment Act of 2009 was written by CONGRESS, not the president.
(17) Well, today we don't have to use pretzel logic to construe things as threats. People are quite open about what they want.
(18 ) The reason I support Trump is that he's using identifiable military strategies and tactics to WIN. Trump is no John McCain.
(19) The Republicans were all about "failing with honor." They didn't care in the slightest about the rest of us.
(20) Trump not only cares, he's doing truly unbelievable things to win. He's got the press and his enemies totally flummoxed.
(21) Finally, I wake up every morning excited to see what my president has done NOW. He never disappoints.
(22) @realDonaldTrump is succeeding because he has no fear and because he can outthink all his enemies put together. It's truly amazing.

posted by OregonMuse at
11:29 AM
|
Access Comments