« EMT 08/13/17
|
Main
|
The First Rule Of Holes..... »
August 13, 2017
Sunday Morning Book Thread 08-13-2017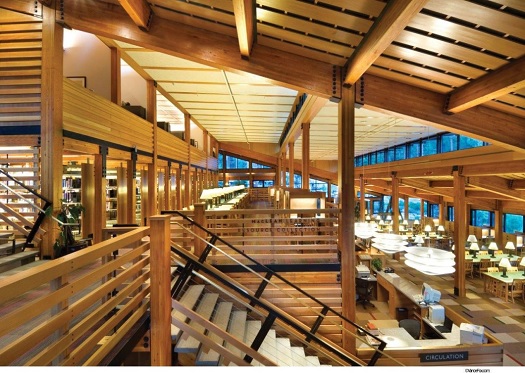 Prim Library, Sierra Nevada College
Good morning to all you 'rons, 'ettes, lurkers, and lurkettes. Welcome once again to the stately, prestigious, internationally acclaimed and high-class Sunday Morning Book Thread, where men are men, all the 'ettes are gorgeous, safe spaces are underneath your house and are used as protection against actual dangers, like natural disasters, or Literally Hitler, and special snowflakes do not last. And unlike other AoSHQ comment threads, the Sunday Morning Book Thread is so hoity-toity, pants are required. Even if it's these pants, because if you want ugly, you can't go wrong with golf pants.

Downfall
The beginning of this week marked the anniversary of what ultimately turned out to be the end of World War II, which was accomplished by the use of atomic weapons on two Japanese cities.
The anti-nuke crowd has been dining out for decades on an Eisenhower quote to the effect that the United States didn't "have to" use those bombs. I've always wondered what was his basis for saying that. What was he thinking? Did he agree with the anti-nukers that Japan was on the verge of surrender, anyway? Did he not believe the estimates of the horrific American casualties that would certainly have resulted when Japan's home islands were invaded? Or was he just getting soft in the head? I really would like to know.
As for Operation Downfall, here is a book on the subject that was recommended in last week's thread: Hell to Pay: Operation Downfall and the Invasion of Japan, 1945-1947 By D.M. Giangreco.
The Amazon blurb is quite long and hard to excerpt but it ends with:
Hell to Pay examines the invasion of Japan in light of the large body of Japanese and American operational and tactical planning documents unearthed by the author in both familiar and obscure archives, as well as postwar interrogations and reports that senior Japanese commanders and their staffs were ordered to produce for General MacArthur's headquarters. Hell to Pay clarifies the political and military ramifications of the enormous casualties and loss of material projected by both sides in the climatic struggle to bring the Pacific War to a conclusion through a brutal series of battles on Japanese soil. This groundbreaking history counters the revisionist interpretations questioning the rationale for the use of the atom bomb and shows that President Truman's decision was based on very real estimates of the truly horrific cost of a conventional invasion of Japan.
Those of us infected with tldritis can always settle for Chuck Dixon's graphic novel about Operation Downfall, Storming Paradise.

It Pays To Increase Your Word Power®
PINCHFART was a 16th century word for a miser.
Usage: I'd rather be a pinchfart than a pinchloaf, which just sounds more substantial, and not in a good way.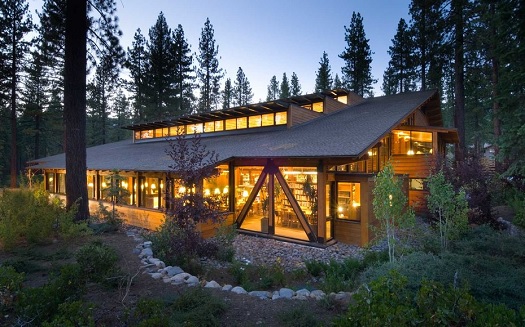 Prim Library, Sierra Nevada College - Exterior
(h/t to lurker 'Octopus' for the Prim Library photos)

Obfuscation
So in the wake of the Google brouhaha, there have been side discussions about ditching Google, using browsers other than Chrome, removing Google apps from your phone, etc. This is done to disassociate from what has become a fascistic corporation and also to staunch the flow of personal data being collected by various Google apps on our devices and stored on Google servers. To facilitate the latter goal, typically efforts have been focused on figuring out ways to stop the data flow, plugging the holes, building smarter firewalls, etc.
But there is another method that can be used.
What if, instead of figuring out how to refuse Google's data requests, the response is enthusiastic and voluminous? What happens if you, give Google a gushing torrent of data with every request? Then it will be impossible for the Google algorithms to search through it all, and so therefore all the collected data is pretty much useless. That's the theory behind AdNauseam, a Chrome extension that Google has removed from the Chrome store because, apparently, it works. What it does is send a click response to every ad on every page you load. That is, it makes Chrome believe you've actuallyclicked on the ads, and by clicking on every ad, there's no pattern discernable by the Google algorithms so they won't know what kind of ads with which to target you.
It's kind of like the discovery process of a lawsuit, where litigant 'A' requests thousands of emails from litigant 'B', who then prints them all out and delivers hundreds of boxes to litigant 'A's attorney's offices.
Or maybe a better analogy would be a warplane dumping out bucketloads of 'chaff' to confuse enemy radar.
The word for this is obfuscation. Which is also the title of a book on this subject:
[The authors] Finn Brunton and Helen Nissenbaum mean to start a revolution. They are calling us not to the barricades but to our computers, offering us ways to fight today's pervasive digital surveillance—the collection of our data by governments, corporations, advertisers, and hackers. To the toolkit of privacy protecting techniques and projects, they propose adding obfuscation: the deliberate use of ambiguous, confusing, or misleading information to interfere with surveillance and data collection projects. Brunton and Nissenbaum provide tools and a rationale for evasion, noncompliance, refusal, even sabotage—especially for average users, those of us not in a position to opt out or exert control over data about ourselves. Obfuscation will teach users to push back, software developers to keep their user data safe, and policy makers to gather data without misusing it.
The press release for AdNauseam 3.0 gives more details.

Moron Library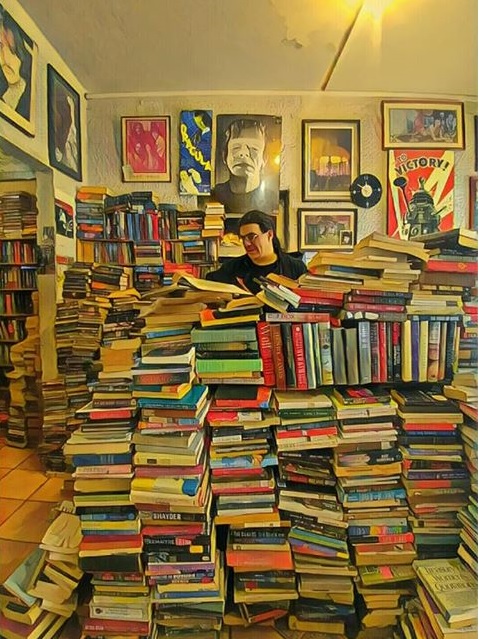 Or maybe it's a bookstore. Anyway, I got this pic from one of my lurking peeps who said:
Hi there from a long time lurker!
I thought I'd send this along to you.
My good friend Darren's library here, in San Jose, Costa Rica.
Okay, it isn't a library exactly.
He tries to sell everyone books but, we mostly just read them there, not pay and drink his coffee.:-)
So he's living a life of leisure and getting someone else to pay for it. Truly the Moron™ lifestyle.

Calls For Submission
Attention moron authors: here is a list of 17 calls for submission for various publications. Some might be worth looking into, but some are definitely for SJWs only.
(h/t Anna Puma)

Story Title Request
A lurker writes:
Am keen to find the title and author of a sci-fi book from 30+ years ago. Earth boy memorises flight/maths tables, ends up on a space ship, computer fails, he does calculations for hyperspace etc and saves the day. Can any of the ace horde help me out?
Right. I think this is a Heinlein short story and the character is Andrew Jackson 'Slipstick' Libby. But I forget the title. Perhaps one of you morons could help out here.
[Update: 'Starman Jones' it is! Which is a Heinlein story, but not the one I was thinking of. Thanks to the many morons who knew better.]

___________
Don't forget the AoSHQ reading group on Goodreads. It's meant to support horde writers and to talk about the great books that come up on the book thread. It's called AoSHQ Moron Horde and the link to it is here: https://www.goodreads.com/group/show/175335-aoshq-moron-horde.
___________
So that's all for this week. As always, book thread tips, suggestions, bribes, rumors, threats, and insults may be sent to OregonMuse, Proprietor, AoSHQ Book Thread, at the book thread e-mail address: aoshqbookthread, followed by the 'at' sign, and then 'G' mail, and then dot cee oh emm.
What have you all been reading this week? Hopefully something good, because, as you all know, life is too short to be reading lousy books.


posted by OregonMuse at
08:59 AM
|
Access Comments