« The Human Cost Of Government Regulation: 79 Dead In One Day
|
Main
|
C'est La Vie (MJ) »
June 25, 2017
Food Thread: When I Use A Word, It Means Just What I Choose It To Mean -- Neither More Nor Less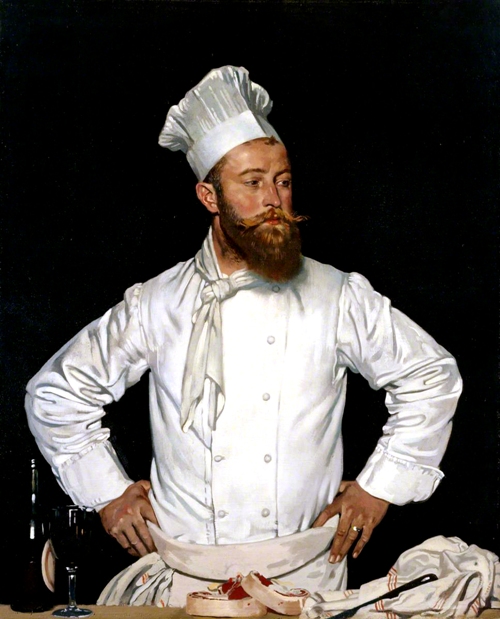 Good morning to all you 'rons, 'ettes, lurkers, and lurkettes. Welcome once again to the stately, prestigious, internationally acclaimed and high-class Sunday Afternoon Food Thread, where men are men, all the 'ettes are gorgeous (and naked under their aprons), knives are always sharp and never used to cut tofu or kale, and special snowflakes starve to death. And unlike other AoSHQ threads, the Sunday Afternoon Food Thread is so hoity-toity, we have a book! And bacon...
Or at least we will have a book, if you get off your asses and submit some recipes (and just once, could you color inside the lines please? We have rules!) And if Weasel and Bluebell and the rest of the reprobates and voluptuaries and debauchees (who claim to be assisting this grand project but really are just stealing the booze samples), put down the bourbon bottle and actually get something done.

******
Now that we have spent weeks touting the Moron Cookbook, nagging you to refine and submit Aunt Tillie's recipe for rutabaga mash with chopped chicken feet, it is time to discuss the inescapable reality that recipes are not received wisdom, that they are, at least for people who are comfortable in the kitchen, guidelines and ideas, not rigid and immutable laws.
Sort of like the US Constitution is for liberals.
I'll give you an example. Ina Garten has a Guacamole Salad that she has featured on one of her shows and in Barefoot Contessa: At Home. It's really good, and can be prepared mostly ahead of time. But...and you knew that was coming...she calls for yellow pepper and red onion in the salad. The pepper is sweet, and to my palate adds nothing else, so I swap it out with sauteed corn, which is just as sweet (maybe even sweeter) but has a flavor and texture that seems to go better with the dish. And those red onions? They can be quite strongly flavored, so I cut back a bit and rinse them in cold water before adding them to the salad. That cuts the sharpness just enough for most people. And I salt and drain the tomatoes after I cut them. Actually, that's what I almost always do with tomatoes.
Ina Garten has real talent, especially when sticking to comfort food. She took a good but sometimes tired old standard (guacamole) and turned it into something fun and fresh and absolutely worth trying out. I don't have the imagination to be able to do that kind of cooking, but I know what I like, and swapping a few ingredients to please MY palate is well within my culinary skills.
The point of all this blather is that even if you aren't comfortable creating your own recipes from the contents of your larder and your brain, make someone else's recipe once, and then the next time make it your own! If that means twisting it and massaging it into something unique...so be it. The only rule is that the result is pleasing to your palate.
One of the advantages of the internet (aside from pron) is that most recipes can be found in printable format. What I do is print a new recipe, and as I cook I annotate, so the next time I will know what works and what doesn't. It also makes it easier to read; if it is long or complex I will tape it to the cabinet above my main workspace, so I don't have to keep turning toward an open cookbook and splattering the kitchen with a carelessly held spoon. Eventually I will correct the saved copy and make it my own (with credit to the original writer).
By the way, this advice applies to most recipes, but be careful with baking and candy-making. Those recipes are black magic and cannot be toyed with, lest you summon demons from the deepest recesses of the earth.

******
Thread Winner
I add sweetened iced tea to Val-u-Rite and pretend it's Woodford Reserve.
-- fly gal
******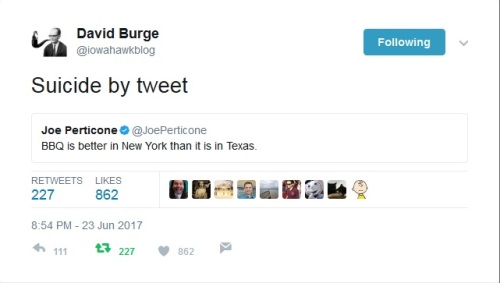 ******
Commenter "Red Mind Blue State"
recommended this website
to me, and I am getting a huge kick out of it.
An alarming trend has swept across America and the world. As people begin to adopt a new "healthier" lifestyle, they find themselves willing to acquire the dietary habits of rodents and to compromise ingredients in some of the most sumptuous recipes in the world. Suddenly, supermarkets are inundated with items boasting their "fat free" or "lite" quality. Suddenly, everyone is convinced that if they don't cut out the fat and the cholesterol, they will die of a heart attack by the age of 32. Suddenly, people are feeling guilty every time they eat something that actually has flavor...
Can you see why? This is great stuff. It's a pathetically badly designed site, but don't let that bother you too much. Hell...you're reading AoSHQ with its cutting-edge 1995 technology,so I am sure you will love it at "Eat Dangerously."
******
I found this recipe in People magazine a long time ago in a doctor's office far far away. My first attempt worked well, but I thought there was too much cayenne pepper, so I have modified it somewhat. It is imperative that you use a thermometer, unless you are an accomplished candy maker and can handle the incantations necessary to do this with the ridiculous manual tests for sugar candy hardness that were created by Morgoth.
Cayenne Peanut Brittle
Ingredients


Vegetable oil or cooking spray (or butter)

2 cups sugar

1/2 cup corn syrup

1/4 cup unsalted butter

1 ½ tsp Kosher salt

½ tsp cayenne pepper

1 tsp baking soda

3 cups salted dry-roasted peanuts
Preparation:
In a heavy medium-sized pot on medium heat, add the sugar, corn syrup, butter, salt and Cayenne pepper. Mix well until the sugar dissolves.
Bring the mixture to a gentle boil. Regulate the heat so that it continues to warm but doesn't splatter molten sugar all over you. This is not the time to be wearing assless chaps. You are shooting for a temperature of 300°F It is tempting to stir the mixture, but try to resist the temptation.
When you reach 300°F remove the pot from the heat and add the baking soda over the mixture. It's going to froth and bubble, so you will feel like a real cook and a bit of a wizard. Add the peanuts and stir completely using a oiled or buttered spoon or spatula.
Pour the mixture onto a greased or oiled baking sheet and using your greased spatula spread the brittle out. The bigger the baking sheet, the thinner the brittle, so choose one for your desired thickness.
Cool until…um…it's cool, then break it up into whatever sized pieces you like.

******
Food tips, extra Pappy van Winkle bourbon, fresh Morels and other goodies:
cbd dot aoshq at gmail dot com
&topic=world_news">

posted by CBD at
04:00 PM
|
Access Comments