« EMT 06/18/2017
|
Main
|
How Dumb Are The Democrats That They Make Megan McCain A Voice Of Reason? »
June 18, 2017
Sunday Morning Book Thread 06-18-2017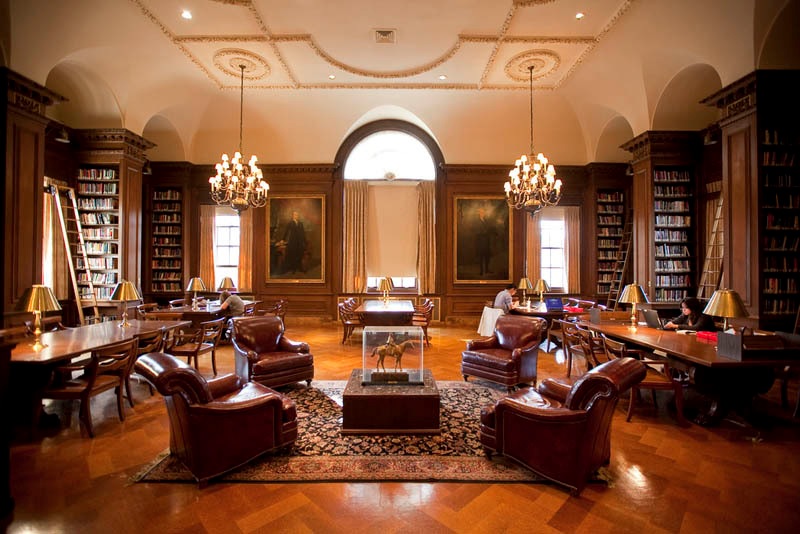 Kirby Library, Lafayette College, PA


Good morning to all you 'rons, 'ettes, lurkers, and lurkettes. Welcome once again to the stately, prestigious, internationally acclaimed and high-class Sunday Morning Book Thread, where men are men, all the 'ettes are gorgeous, safe spaces are underneath your house and are used as protection against actual dangers, like natural disasters, or Literally Hitler, and special snowflakes do not last. And unlike other AoSHQ comment threads, the Sunday Morning Book Thread is so hoity-toity, pants are required. Even if it's these pants, who will never be president.

Another Conservative Book List
Some interesting items on this Washington Free Beacon list of 7 Books Every Conservative Should Read. Subtitled 'Book recommendations for students of all ages', there are some unexpected ones, for example, The Curmudgeon's Guide to Getting Ahead: Dos and Don'ts of Right Behavior, Tough Thinking, Clear Writing, and Living a Good Life by Charles Murray.
Among the curmudgeon's day-to-day tips for the workplace:   • Excise the word "like" from your spoken English • Don't suck up • Stop "reaching out" and "sharing" • Rid yourself of piercings, tattoos, and weird hair colors • Make strong language count   His larger career advice includes:   • What to do if you have a bad boss • Coming to grips with the difference between being nice and being good • How to write when you don't know what to say • Being judgmental (it's good, and you don't have a choice anyway)
Every fresh, new college grad probably needs to read this book. Especially whiny millennials that have racked up $180,000 in student loan debts so they could pursue their study of intersectional Zoroastrian poetry.
Another book on the list is the all-time classic The Conservative Intellectual Movement in America Since 1945 by George H. Nash. This history is "indispensable for anyone interested in learning more about libertarians, traditionalists, anti-Communists, William F. Buckley Jr. and National Review, the debate between freedom and virtue, and the original neoconservatives. The big weakness of this 1976 book is that it was published in 1976. There's been a lot of water under the bridge since then. What it desperately needs is a sequel.

It Pays To Increase Your Word Power®
To GLOAR is to stare at something vacantly.
Usage: Before AoSHQ was AoSHQ, ace's blog was known as The Chronicles of Gloar.
To GOVE is to stare vacantly, or 'to look about like a simpleton'.
Usage: And before that, ace's blog was known as The Pompatus of Gove.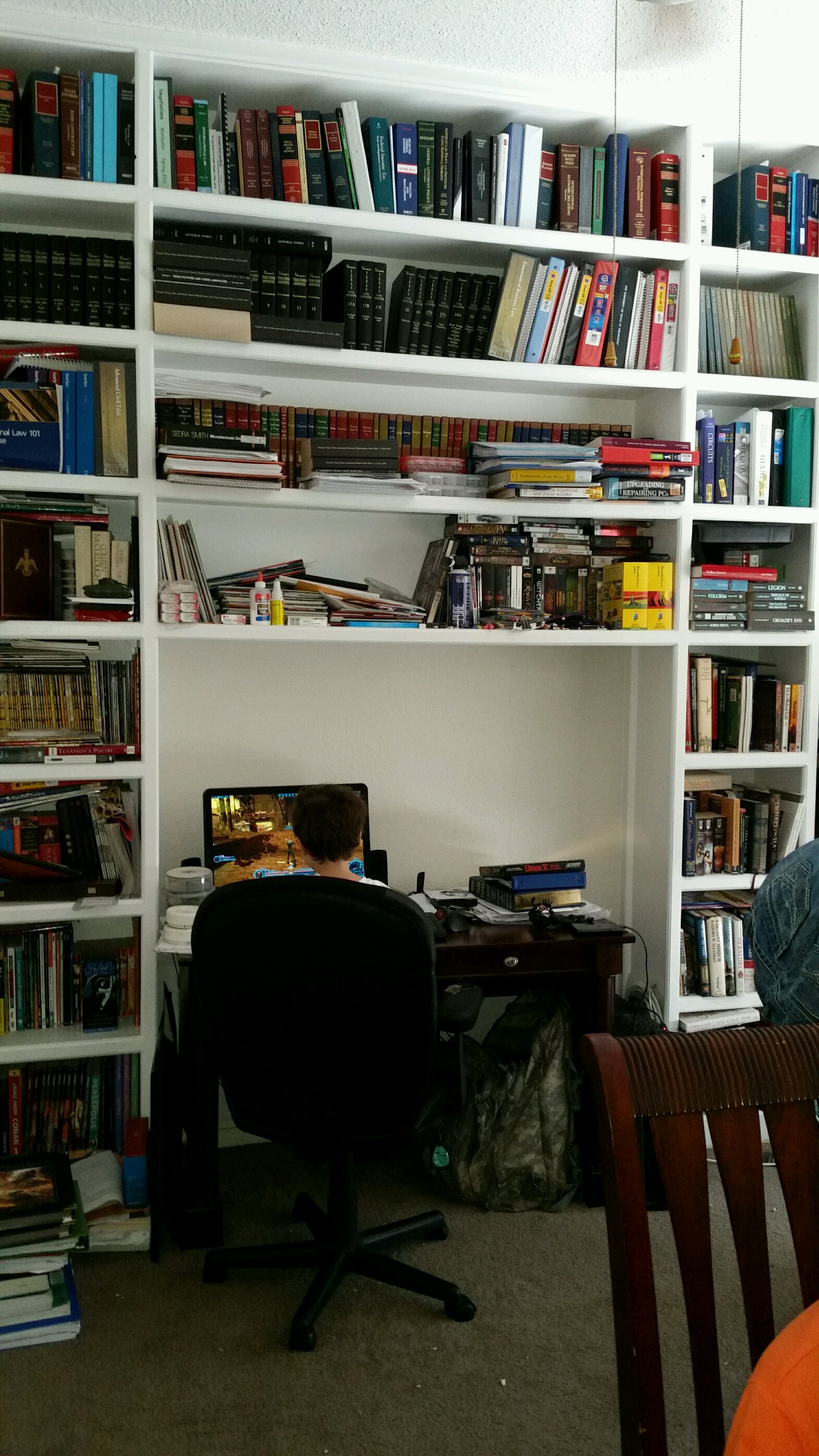 Library of Apostate

Pic Note
Apostate tells me:
My youngest son is playing Star Wars on the computer. The upper shelves are mostly law books. The second shelf above the desk is full of almost all the Great Books of the Western World collection, 1985(?) version. All the crap in front of them and to their right are math, science, and engineering texts and notes. Down and left of the Great Books are old or antique books, including several historical and Masonic texts from the 19th century. Assorted references and fiction are on the right in several layers. The bright red book on the right middle shelf laying horizontal is a proof copy of my first novel I ordered from Lulu a few years ago. Left middle shelves and below are graphic novels and comics, most prominently including Conan and the Knights of the Dinner Table. The upper right has an old Time-Life series on different eras and civilizations; it's from the 60s (I think), before SJWs and the likes of Howard Zinn ruined history. Many more books on history, espionage, and foreign and military affairs are boxed up in the garage. I have some Judaica and mystical works squirreled away elsewhere.

One day, I dream of having a proper, dedicated wood and stone library with old world decor and a properly tamed fireplace.
The embiggened version shows pretty good detail.

Crossing the Streams
Perhaps this should be a topic for the food thread, but Appetite City: A Culinary History of New York looks interesting, and I've never lived there:
New York is the greatest restaurant city the world has ever seen.

In Appetite City, the former New York Times restaurant critic William Grimes leads us on a grand historical tour of New York's dining culture. Beginning with the era when simple chophouses and oyster bars dominated the culinary scene, he charts the city's transformation into the world restaurant capital it is today. Appetite City takes us on a unique and delectable journey, from the days when oysters and turtle were the most popular ingredients in New York cuisine, through the era of the fifty-cent French and Italian table d'hôtes beloved of American "Bohemians," to the birth of Times Square--where food and entertainment formed a partnership that has survived to this day.
The book has photographs, rare menus, menu cards, and other illustrations. It sounds like one of those books you just kind of flip through randomly looking for interesting stuff.
Thanks to MP4 for recommending this book on a morning thread earlier this week.

Moron Recommendations
Just finished reading a collection of Poul Anderson sci-fi that ended on the short story called "Industrial Revolution."

https://www.amazon.com/dp/B00KO6DL42

The premise? An entrepreneurial asteroid mining facility, funded with borrowed capital from a bank but turning a handsome profit and poised for growth, is visited by an earth warship commanded by officers who are members of the Social Justice Party -- no kidding, they're called the SJs -- who have won elections back on Earth on a platform of bitter "you didn't build that" socialism. The warship attempts to sabotage the facility and drive out its owners so it can be seized by the government. The CEO, an engineer, and his team outwit the warship's officers but the story is told in flashback as the first incident of a war between Earth and the productive asteroid mining colonies.

The story was first published in 1963.

Posted by: undocumented SMOD at June 17, 2017 12:43 PM (e8kgV)
The Poul Anderson Megapack (Kindle) can be purchased for $0.99. Which means, I assume, that the material is all public domain stuff which you can probably find on the web for free if you look long enough.
Or pay $0.99 to these guys who did it all for you already.

Books By Morons
Moron author Vince Milam released his 4th novel, The Suriname Job: A Case Lee Novel, last month:
When a mysterious client asks former Delta Force operator Case Lee to investigate a rebellion in South America, he uncovers an incredible global conspiracy. Welcome to revolution, murder, and behind-the-curtains intrigue. As events unfold, the spies and mercenaries come to a hard realization. You may mess with a lot on this good earth, but you don't mess with Case Lee.
This novel will be available for 99 cents until mid-July.
Vince is also the author of the three spiritual thrillers that comprise the Challenged World series. Here's the first one, the second, and the third.

___________
Don't forget the AoSHQ reading group on Goodreads. It's meant to support horde writers and to talk about the great books that come up on the book thread. It's called AoSHQ Moron Horde and the link to it is here: https://www.goodreads.com/group/show/175335-aoshq-moron-horde.

___________
So that's all for this week. As always, book thread tips, suggestions, bribes, rumors, threats, and insults may be sent to OregonMuse, Proprietor, AoSHQ Book Thread, at the book thread e-mail address: aoshqbookthread, followed by the 'at' sign, and then 'G' mail, and then dot cee oh emm.
What have you all been reading this week? Hopefully something good, because, as you all know, life is too short to be reading lousy books.

posted by OregonMuse at
09:05 AM
|
Access Comments