« One Year After Pulse Nightclub Terrorist Massacre, Orlando Sentinel Still Wondering What the Motive Was
|
Main
|
The Morning Report 6/13/17 »
June 12, 2017
Monday Overnight Open Thread (6/12/17) Back To Normal Edition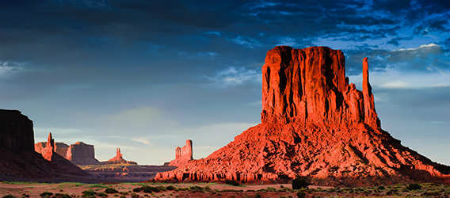 (Monument Valley, Utah. Peaceful.)
******
Quotes of The Day
Quote I

The universe never did make sense; I suspect it was built on government contract. Robert A. Heinlein

Quote II

Liberalism is totalitarianism with a human face. Thomas Sowell

Quote III

Women demand men become cucked liberals, but it makes their vaginas drier than the Sahara Desert. They don't really want what they're asking for. They're like spoiled brats having a temper tantrum. They don't really want to trash the living room. They want you to stop them. Gavin McInnes

Quote IV

There is no greater example of government overreach and unrestrained liberalism than 'Obamacare.' It is so deeply flawed and such a clear and present threat to our economic stability that there is no way to fix it. Tommy Thompson
*****
How's that Obamacare working out for you? All depends upon your age and your income.

Eighty-nine percent of those 65 and up and 82 percent of those with incomes more than $90,000 a year rated the health coverage on the exchanges as excellent or good.

"Nearly 9 in 10 in this age group—the vast majority of whom receive Medicare coverage—consider their insurance to be excellent or good," Gallup explains. "By comparison, three-quarters of those aged 25 to 65 rate their coverage this highly."
*****
Bumper Sticker of The Day

(h/t Peaches)
*****
After 8 years of Obama and his Brown Shirt environmental policies and philosophy, some bright economic news. US mining posts first quarterly profits in 2 years.

In the first three months of 2017, U.S. mining corporations with assets of $50 million or more had combined after-tax profits of $1.957 billion, according to the Census Bureau, which has posted quarterly U.S. mining industry after-tax profits and losses going back to the fourth quarter of 2000.
*****
You or I commit a $100K felony, where are we spending our time? Jail? Not if you are related to Uncle Joe The Paste Eater.

This right here shows you that there are two levels of justice in this country. One for the wealthy, politically correct elite and another for the rest of us. Joe Biden's niece was just nailed on a $100,000 credit card scam charge. She cut a deal where she has to pay back $110,810.04 and will not serve one day in jail. Even if she violates the agreement and doesn't pay the money back, she walks. How's that for Manhattan justice, y'all?

America! What a country!!
*****
UC Berkeley student sues. Young lady, I hope you win every f*cking penny of it.

A video of the incident shows student Kiara Robles participating in an interview with a local news outlet, discussing her support for Milo Yiannopoulos, when she was suddenly approached by a protester and pepper-sprayed.
*****
Things have been quiet at Fox lately. Is that all about to change? Ted Baxter Bill O'Reilly to fight back against his firing?
*****

No word if Ace is going to blog from France.

Want to live and work in France, all expenses paid? If you're working on climate change, that's now on the table.
*****

I have good news and I have bad news.

It's 2017 and Republicans control the White House, the Senate, the House and more statewide offices than you can shake a big bundle of fake news papers at. And, potentially soon, a Supreme Court that takes its guidelines from the Constitution not Das Kapital and the National Social Justice Party.

Here's the bad news, Republicans are still Republicans.
*****

Hmmmm.......New Study: Handgun owners are motivated by fear.

Which would be "the specific perceived threat of assault, and a diffuse threat of a dangerous world." So it's the difference between that guy might try to kill me vs. someone might try to kill me.

A research team led by University of Groningen psychologist Wolfgang Stroebe [not shown above] reports that second, vague notion of potential peril is the stronger of the two—and the one most resistant to rethinking.

Wait. Who said that handgun owners need to stop thinking they live in a dangerous world? Why would they want to do that? Oh right.
*****

Moar gun news! FBI: Handgun Murders Dropped when These States Abolished Concealed Permit Requirements

FBI crime report figures show that Alaska, Arizona, and Wyoming–three states that abolished their concealed requirement years ago–have since witnessed a decreased in handgun murders.

This runs completely counter to the left's doom and gloom predictions whereby they claim doing away with a government-issued carry permit will mean more bad guys carrying guns, more shootings and violence, etc.
*****
Where were you June 10th & 11th, 1967? The first US Rock festival.
*****
The ONT Musical Interlude
June 12, 1965, The Supremes scored their fifth consecutive US No.1 single (they were the first American group to accomplish this feat), when 'Back In My Arms Again', went to the top of the charts. via thisdayinmusic.com
June 12, 1951, Born on this day, Bun E Carlos, drums, Cheap Trick, (1979 UK No.29 & US No.17 single 'I Want You To Want Me', 1988 US No.1 single 'The Flame') via thisdayinmusic.com
June 12, 1972, With the help of her mother, a bare footed Ronnie Spector left her husband Phil's Beverly Hills mansion for the last time, leaving behind her adopted sons, three year old Dontι and six year old twins, Louis and Gary. Within days she filed for a divorce that would be granted in 1974. via thisdayinmusic.com

Guess she is lucky to be alive.
*****

A little music. A little comedy. The Late Great Sam Kinison.
*****

The UK election recap via Paul Joseph Watson
*****
Buzzfeed Smuzzfeed Shoe0nHead
*****
C'mon and admit it. You want carrots in your chili drink.
*****

This should qualify for the feel good story of the day. Your cynical Cob wonders how long before some bleach blonde non-attorney spokesperson hawks for some plaintiff's attorney.

A new cancer drug has overwhelmingly helped shrink or eradicate tumors in patients whose cancer had resisted every other form of treatment.

The results, published in the journal Science, are so striking that the Food and Drug Administration already has approved the drug.
*****
Clever or just a Genius Award Winner.-Runner Up
*****
Cool story. Tonight's Feel Good Story of The Day. Runner Up
*****

The Misanthropic Feel Good Story of The Day and Genius Award Winner all rolled up into one.
That takes some effort.
*****

Tonight's ONT has been brought to you by The Basics.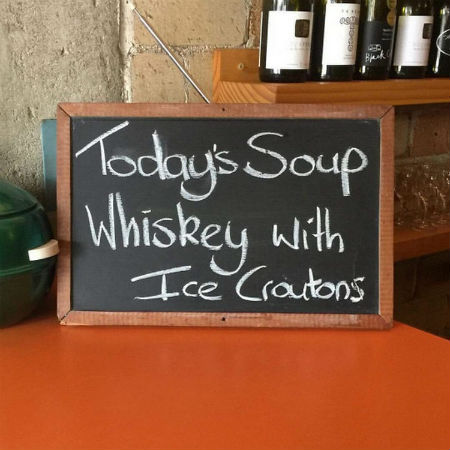 Notice: Posted with permission by AceCorp, LLC. Sodium ONT is not a source of Lactose.

posted by Misanthropic Humanitarian at
10:31 PM
|
Access Comments