« Mid-Morning Open Thread
|
Main
|
OPEC to US: Please Help Us Improve the World Economy By Restricting Your Production of Oil »
May 12, 2017
Second Look At The Handmaid's Tale?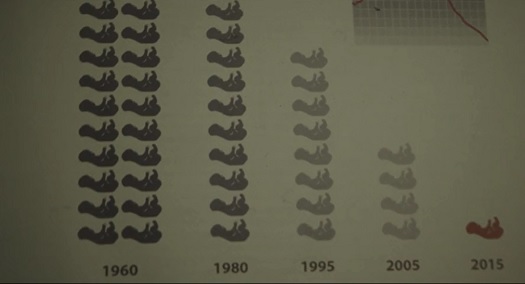 Catastrophically Declining Fertility: The World of the Handmaid's Tale

(Yes, this is a longish, probably TL;DR review. So if you don't want to slog through all of my yammering, just swipe your mouse between the arrows below to get the short version)
-->Despite the stupid "Christian theocracy" premise, it's actually worth watching.<--
When I heard that that there was going to be a TV series based on the 1985 novel The Handmaid's Tale, my first thought was, wait, they already made it into a crappy movie that nobody watched, so why are they doing it again?
Here is a description of the TV series as I found it on the eztv.ag torrent download site:
The Handmaid's Tale is the story of life in the dystopia of Gilead, a totalitarian society in what was formerly the United States. Facing environmental disasters and a plunging birthrate, Gilead is ruled by a twisted fundamentalism in its militarized 'return to traditional values'. As one of the few remaining fertile women, Offred is a Handmaid in the Commander's household, one of the caste of women forced into sexual servitude as a last desperate attempt to repopulate the world. In this terrifying society, Offred must navigate between Commanders, their cruel Wives, domestic Marthas, and her fellow Handmaids – where anyone could be a spy for Gilead – all with one goal: to survive and find the daughter that was taken from her.
So the United States has been taken over by a Christian theocracy. Of course, this a completely stupid premise:
If I were doing Handmaid's tale, I'd turn it into its obvious proper setting: a future America where Muslims took over. Seriously, the story fits Islam like a glove. women are oppressed and barely considered human, they must be covered head to toe, they cannot enjoy sex, some are mutilated surgically... its almost an exact fit. Its such an obvious shift, since the original story makes no sense whatsoever in Christianity.

Its like a Jack Chick tract featuring some atheist's bizarre ignorant version of Christians he fears are out there looking to ban fun.
Posted by: Christopher R Taylor at May 03, 2017 03:36 PM (39g3+)
So, why not Islam? As Christopher's comment points out, it's a perfect fit. The main reason for this is that The Handmaid's Tale novel's author, Margaret Atwood, is a deranged SJW who spent the 1980s hiding under her bed from Jerry Falwell:
In an interview for The Progressive, Margaret Atwood explains how she came to write The Handmaid's Tale, which is often labeled speculative fiction because it appears to predict or warn of a triumph of totalitarianism or what one reviewer calls a "Western Hemisphere Iran." Having absorbed the New England Puritan tradition during her studies at Harvard, she observed the rise of the U.S. political right in the 1980s and compared the Moral Majority's grass-roots menace to the phenomenon of Hitler. According to Atwood, the Nazi leader told the world what he intended to do; then he set about accomplishing his heinous aims. The ranting diatribes of late twentieth-century American right-wingers — who steadfastly push women back into the traditional roles common in the 1950s, delight in the AIDS epidemic among homosexuals, and threaten death to members of the gay culture — parallel Hitler's fascist candor.
Riiiight. Oh, and incidentally, Hulu has hired this unhinged moonbat as a "consulting producer" for the TV series.
Naturally the progressives just *love* Handmaid's Tale. It gives them such a thrilling sense of foreboding and impending evil, and they're all IT'S TOTES GOING TO HAPPEN SERIOUS YOU GUYS. Like this delusional idiot here. Any day now, Trump is going to issue an executive order forcing all women to go to church and have babies. Read the comments on that tweet. Many progressive idiots actually believe that despite women being able to legally murder their unborn children during all 9 months of pregnancy, despite pr0n being available everywhere at the touch of a button, despite the near-total progressive domination of the arts, the media, and academia, and despite Christian merchants being forced into bankruptcy because they're not clapping loudly enough at homosexual weddings, we're one pen-stroke away from Gilead.
So, I thought, any TV show with that many strikes against it is worth taking a look at, if for no other reason than have a good laugh at all of the SJW virtue-signaling and preaching that such a show is bound to have. I was prepared to be insulted by a depiction of Christianity-as-a-brutal-cult by professionally ignorant Hollywood types who know nothing about Christianity. But it would be worth it for the mocking review I would be able to write for the HQ. I figured one episode would be enough to give me all of the material I needed.
That was a couple of weeks ago. I've now seen 5 of the episodes, and I have to say, even with the incredible stupidity baked into the premise, I'm finding this adaptation to be surprisingly worth watching.
First, I've never read the novel, so I have no idea how close the series is to it. Perhaps it's like Amazon's The Man In The High Castle, which basically took some of the ideas from the novel and ran with them in directions he probably never envisioned, but probably wouldn't have objected to.
But here's why I like it:
1. Above everything else, the writing and acting are very good.
2. The oppressive "Christian" theocracy is completely divorced from reality, so I can't hate it. It isn't worth hating. It would be like hating the WWE. The handmaids greet each other with stock phrases such as "Blessed be the fruit" and "Under His eye". Nobody talks like that in real life, so the whole thing is kind of surreal. I can just roll my eyes and ignore it. Put another way, there are TV shows I've seen that attack my religion. This is not one of them. I just don't get the feeling that the series is doing that.
(And if truth be told, I'm actually more offended by Law and Order, which I used to watch back in the day, when, in episode after episode, the murderer of the down-on-her-luck prostitute was not her pimp or some drug addict, but rather the white, conservative Christian businessman. As soon as one of those characters showed up, you just knew he was going to turn out to be the bad guy.)
3. The SJW virtue-signaling and preaching are pretty minimal. I haven't seen any KAFs or grrl powah nonsense.
4. The plot is being developed in such a way that you actually care about the characters. The pilot episode opens with Offred, the main character, running with her daughter somewhere in the woods with sirens wailing off in the distance, which immediately grabs your sympathy and draws you in by making you wonder what is going to happen to her. Because who could not instinctively want to root for a mother fleeing to protect her child?
5. The story is primarily about relationships. Offred is handmaid to "the Commander" (Joseph Fiennes) who is trying to get her pregnant, but he's married and his wife alternately hates and is solicitious toward her. And there are other handmaids, and also the Commander's chauffeur, any of whom could be "Eyes", i.e government spies. It makes even simple things like shopping trips fraught with uncertainty and danger. And there are surprises, such as the handmaid who defends her new position, saying that in her previous life, she was strung out on drugs and going nowhere, but now, in the new regime, she has been taken in by a couple who treat her kindly and gave her life a purpose that she never had before. Such a character has no interest either making or listening to screeds against the patriarchy.
So, all in all, I think Hulu has made some intelligent decisions regarding this adaptation of The Handmaid's Tale. It would have been very easy to write it in such a way so as to blow off half their audience. But they didn't do that. In fact, I think they put in considerable effort not to do that. Even so, I would have to guess that there are probably not many conservatives who are watching it. But if you're one of those, I suggest you give it a try. You may find yourself as surprised as I was.


posted by OregonMuse at
11:32 AM
|
Access Comments