« Out: Global Warming Until Antarctica Melts And Floods Us All
In: A Coming Little Ice Age That Will Last Decades
|
Main
|
The Morning Report 5/9/17 »
May 08, 2017
Monday Overnight Open Thread (5/8/17) ONT Baby!!!!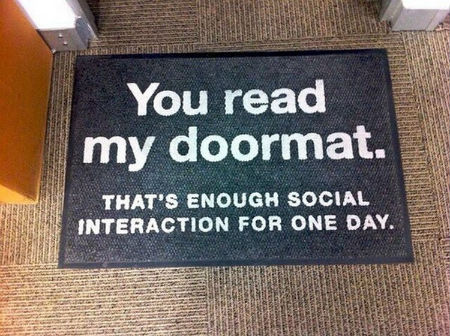 (How was your Monday?)
Let's see what we can get into this evening.

Quotes of The Day
Quote I

The first time I see a jogger smiling, I'll consider it. Joan Rivers
Quote II

Be true to yourself, help others, make each day your masterpiece, make friendship a fine art, drink deeply from good books - especially the Bible, build a shelter against a rainy day, give thanks for your blessings and pray for guidance every day. John Wooden
Quote III

The three great essentials to achieve anything worth while are: Hard work, Stick-to-itiveness, and Common sense. Thomas A. Edison
*****

Jeans Genes - Schemes. Gender equality is a farce.

Gender, we are told, is a social construct. As such, there is really no difference between the male and female sex, the roles they take, the interests they have, or the power they possess.

What we often push aside, however, are the biological differences between men and women. And according to recent scientific findings, these differences are ingrained into the very genetic structure of the male and female – and are extremely prolific.
*****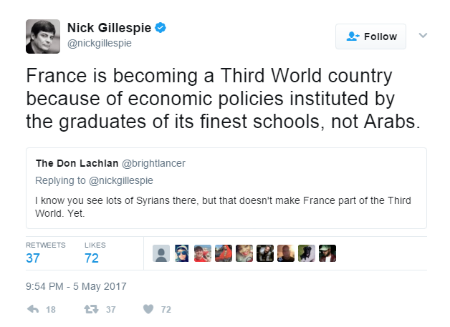 It should be impossible to be this stupid. I suspect for most of human existence, idiots who said moronic things like this tried to hand feed bears or cuddle with large reptiles, thus eliminating themselves from the the system. There's no other way to read this than Nick Gillespie believes some minor alterations to the French tax code will ameliorate this.

Now, does Nick Gillespie really think altering tax policy will magically transform low-IQ, inbred Muslims from the Maghreb into patriotic French republicans who work at Parisian software shops? It's tempting to say it is just another pose, but the evidence is piling up in favor of the argument that Nick Gillespie is a stupid person. Anyone who truly believes altering tax policy will reverse a thousand generations of evolution is an idiot.
*****

Speaking of Goth Fonzie. Here he interviews PJ O 'Rourke.
*****

What did Obama once quip, "If I had a son, he'd look like Trayvon." Well Trayvon is like Obama in having an awesome college degree.

But now Trayvon has "turned his life around" and gotten a degree in aeronautics from Florida Memorial University. I think being dead helped him a lot with his studies; Trayvon won the degree posthumously, because he loved to fly. I don't know about the flying part, but Trayvon sure loved to get high. Whether Trayvon could have earned the degree if he were alive was debatable. He was suspended from high school for getting into fights with others.
*****
Who was James Otis, Jr.? America's most galvanizing patriot. But was not a Founding Father.

As John Adams told it, the American Revolution didn't start in Philadelphia, or at Lexington and Concord. Instead, the second president traced the nation's birth to February 24, 1761, when James Otis, Jr., rose in Boston's Massachusetts Town House to defend American liberty.

That day, as five red-robed judges—and a rapt, 25-year-old Adams—listened, Otis delivered a five-hour oration against the Writs of Assistance, sweeping warrants that allowed British customs officials to search any place, anytime, for evidence of smuggling.
*****

The laws of unintended consequences, Anti-Vaccination activists no where to be found.


The young mother started getting advice early on from friends in the close-knit Somali immigrant community here. Don't let your children get the vaccine for measles, mumps and rubella – it causes autism, they said.

Suaado Salah listened. And this spring, her three-year-old boy and 18-month-old girl contracted measles in Minnesota's largest outbreak of the highly infectious and potentially deadly disease in nearly three decades.
*****
Man on Women's team a sex offender? Your humble Cob, just doesn't give a shit care anymore. Whatever happens, happens. They created this mess, let them clean it up.

Conservatives were wrong when they said granting alternative lifestyle practitioners special rights would put the country on a slippery slope. It wasn't a slope at all. America jumped off a cliff.

Today sexual confusion isn't concerned with whether a young adult should remain a virgin until marriage. It's concerned with whether a young adult should remain a member of the sex into which they were born.
No, I cannot be made to care.
*****

Oh-Oh. Stephen Hawking goes from 1,000 years to 100 years to colonize a new planet.

Stephen Hawking is making apocalyptic predictions again. The respected theoretical physicist warns that humanity needs to become a multi-planetary species within the next century if we don't want to go extinct. Last year, he prophesied that we had maybe 1,000 years left on Earth, and the inspiration for this newly-urgent timeline is unclear—except for the fact that Hawking's new documentary about colonizing Mars is coming out soon.
*****

Taxes. More specifically gas taxes. Certain Conservative GOP voices call for increasing the gas tax.

The solution is simple. The gasoline tax and other fuel taxes should be increased, and we may also need a way to tax vehicles that use alternative fuels. Highway users should once more shoulder the burden of paying for highway infrastructure.

In the longer term, this problem should probably be addressed by indexing the tax rate to some measure of inflation. That way the costs paid by highway users will keep pace with inflation, and other sources of revenue will not have to be cannibalized to subsidize infrastructure spending that can and should and ought to be financed by those who use that infrastructure.

A one time straight up vote for it? Fine. None of this indexing and tax increase every year where no one votes for it. We don't have a taxing problem, we have spending issues.
*****
The ONT Musical Interlude
May 8, 1943, Born on this day, Danny Whitten, guitarist, singer, songwriter. Member of Neil Young's Crazy Horse and writer of 'I Don't Wanna Talk About It', covered by Rod Stewart, Rita Coolidge and Everything But The Girl. The Neil Young song 'The Needle and the Damage Done' was written about Whitten's heroin use (before he died of an overdose on Nov 18th 1972). via thisdayinmusic.com
May 8, 1965, The filming of the promotional film for Bob Dylan's Subterranean Homesick Blues took place at the side of the Savoy Hotel in London. Actors in the background were Allen Ginsberg and Bob Neuwirth. The original clip was actually the opening segment of D. A. Pennebaker's film, Don't Look Back, a documentary on Bob Dylan's 1965 tour of England. In the film, Dylan, who came up with the idea, holds up cue cards for the camera with selected words and phrases from the lyrics. The cue cards were written by Donovan, Allen Ginsberg, Bob Neuwirth and Dylan himself. While staring at the camera, he flipped the cards as the song played. via thisdayinmusic.com
*****

Actors who became singers. Some good, some bad.
I think of Telly Salavas. Ugh.
I guess it wasn't Yoko bad!!! Amirite?
*****
Bill O'Reilly made big news at FNC. Why is CNN troubles not making the news?

Unlike the lawsuit against Fox News, the one against CNN and sister companies is much broader, claiming among other things that African-Americans receive lower performance ratings in evaluations, that there are dramatic differences in pay between similarly situated employees of different races and that the promotion of African-American employees is blocked by a "glass ceiling." The complaint (see here) cites hiring and advancement statistics while alleging that African-American employees have endured slurs from superiors, including "It's hard to manage black people" and "Who would be worth more: black slaves from times past, or new slaves?"

While the Fox News suit has grown by one additional employee, the case against CNN may soon become bigger by many multiples.
*****

'Turning A Blind Eye' Gavin McInness

While all of this amateur journalism struggles to hide left-wing terrorism and perpetuate the myth of a burgeoning American Nazi movement, it's leading to unintended consequences. They are accidentally red-pilling an entire generation. Millennials are emerging from this mess more "right-wing and authoritarian" than their parents. They see who the real domestic terrorists are and they don't like it. They see the communists and the anarchists fight against free speech while the new right is willing to defend it at all costs. They see the humorless left bitch about problems that don't exist and claim everything is racist while we ridicule them. They chant, "No Trump, no KKK, no fascist USA" while we laugh and come back with "You're fags, go home, you have low testosterone." Which team would you want to be on?
*****

Filed under the category 'Broken Clocks Are Right Twice A Day. "Progressives claim to love science, but what they truly love is power."-Kevin D. Williamson.

Progressives claim to love science, but what they truly love is power.To be a good progressive is to adhere simultaneously to two incompatible notions: one, that science provides the final word on any question about which scientists offer any opinion; two, that the scientific method is illegitimate, a tool of the sundry atavistic forces conspiring to keep down the female, the black, the brown, the poor, the gay, the disabled, the gender-fluid — everybody except Mitt Romney.
*****

There are more than 40 universities that charge more than $250,000 for a degree. They don't flip the burgers any better.

According to newly updated US News and World Report data, there are now more than 40 schools in the US that charge more than $250,000 for a college degree. And that's just the cost of four years of tuition and housing—don't forget about other fees like personal expenses, supplies, and those dreaded $200 textbooks that go out of date every two years.
*****

What were they thinking? We want to be Genius Award Winners.
*****

There isn't many good news stories. Tonight's Feel Good Story of The Day.
*****
Tonight's ONT has been brought to you by They Meant Well, Inc.

Notice: Posted with permission by AceCorp, LLC. Home of the Hobo-Burger and Valu-Rite Shake combo meal. Consuming raw or undercooked meats, poultry, seafood, shellfish, or eggs may increase your risk of foodborne illness.


posted by Misanthropic Humanitarian at
10:04 PM
|
Access Comments