« EMT 04/30/17
|
Main
|
The Mask Is Coming Off, And They Don't Care. »
April 30, 2017
Sunday Morning Book Thread 04-30-2017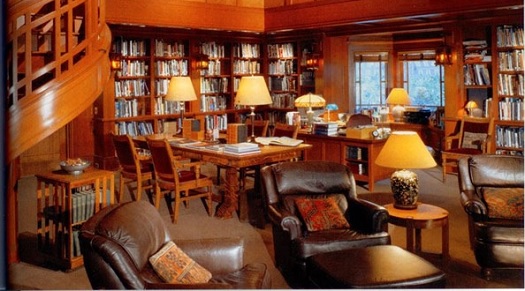 Personal Library of George Lucas, Skywalker Ranch

Good morning to all you 'rons, 'ettes, lurkers, and lurkettes. Welcome once again to the stately, prestigious, internationally acclaimed and high-class Sunday Morning Book Thread, where men are men, all the 'ettes are gorgeous, safe spaces are underneath your house and are used as protection against actual dangers, like natural disasters, or Literally Hitler, and special snowflakes do not last. And unlike other AoSHQ comment threads, the Sunday Morning Book Thread is so hoity-toity, pants are required. Even if it's these pants, which is a good example of "too much for too little."

Pic Note
Pic stolen from Libraries of the Rich and Famous:
Welcome to Skywalker Ranch – a residence of director and producer George Lucas. "A filmmaker's retreat." Lucas conducts a large portion of his business on his land. The home also boasts man-made Lake Ewok, a 300-seat theater, and its own fire station. The ranch is not open to the public
Click on the pic to see not just a bigger version, but there's more library to be seen, particularly the second floor, which you can get to by the winding staircase there on the left.
The ceiling looks pretty cool, too.

Fake Hate Crimes
Why do we keep getting snookered on these widely publicized hate crimes that always seem to turn out to be fake?
The victim doesn't contact police to file a report, and if it happened on a subway or other public transportation, that utility's security force is not notified, there are no witnesses, cell-phone video, or surveillance footage, there's just the victim's claim. Which gets broadcast and retweeted all over the place, and the outragey outrage junkies whine into overdrive. Editorials are written. Strong words of condemnation are spoken. Legislation is proposed.
And then later on it's determined that the victim made the whole thing up.
There are few articles that ask the question, what's with these fake hate crimes, anyway? Here's one, and guess what, it's on Fox News.
Laird Wilcox, author of "Crying Wolf: Hate Crime Hoaxes in America" said college campuses have become the perfect incubator for fake hate crimes.

"This isn't just my opinion. This is widely recognized now. I would say now 80 percent of the events that happen on campus are hoaxes or pranks," he said.

He adds, "It's a place where consciousness of discrimination, sexism and homophobia is at a peak, and when there's nothing happening, and they need something to happen, they can make it happen."
So I tracked down Laird Wilcox's book. To my knowledge, it is the only book about fake hate crimes, and it was published in 1994(!). To be sure, I also located the book Hate-Crime Hoaxing For Fun And Profit by Michael Rolls, but this appears more satirical than informative.
By the way, Rolls is also the author of the short book, The Opinions You Must Hold: Etiquette In A Left-Wing World, which is book #2 in his "Right wing rants" series. It is currently available for free.
Wilcox's book is out of print, but you can download it for free here or here.
And I found 2 sites that maintain data on hate crimes that turn out to be fake, this one, and that one.

It Pays To Increase Your Word Power®
An ANABATHRUM is a raised seat or throne.
Usage:
"Where's Muldoon?"
"Oh, he's on the anabathrum."
"Is that the one in his libary?"
"Yes."
Amazing Cakes
Some bakers can build some amazing cake sculptures. Like this one: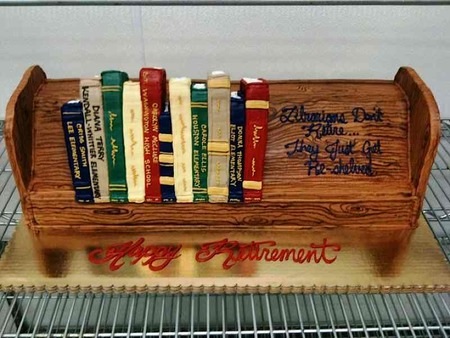 The text on the "bookcase" reads "Librarians don't retire, they just get re-shelved."
Thanks to 'ette Vendette for the cake link that has photos of other amazing cakes that look like books.

Narnia Reboot
This probably belongs in the movie thread, but it's based on a book, so...
The long-developed Chronicles of Narnia franchise revival is finally taking wing. Captain America: The First Avenger director Joe Johnston has signed on to helm The Silver Chair, the new Narnia pic that will kickstart an all-new franchise for Tristar Pictures,the Mark Gordon Company, the C.S. Lewis Company, and Entertainment One.
Being a fan of the Narnia books for over two decades, I've been keeping an eye on this. I was excited when I first heard they were investing big bucks in film adaptations of the books, but I am disappointed in the product overall. The series has been characterized by steadily decreasing quality, in my opinon. The first adaptation (The Lion, the Witch, and the Wardrobe) was OK, the second (Prince Caspian) was really not all that good, and the third (The Voyage of the Dawn Treader) stunk on ice. I was happy the franchise appeared to have collapsed. And now it's back. I feel personally invested in this as The Silver Chair is my favorite Narnia book. One big reason is that it has one of Lewis' finest characters in the Narnia series, Puddleglum the Marshwiggle. If this character is done poorly, or even merely adequately, it will be a failure.
Fun fact: The Silver Chair was adapted for British television back in the 80s and the actor who played Puddleglum, Tom Baker (of Dr. Who fame) was absolutely brilliant and captured the character perfectly. So it may be that I'm going to be disappointed no matter what.

An Interesting "Ye Olde Tyme" Library For Modern Day Survivalists
Moron commenter Hank Curmudgeon tipped to this extensive collection of survivalist "how to live without modern technology" books. But I don't think you need to be a survivalist to have in interest in these books.
The collection is divided into subjects, which include, but is not limited to, Archery, Drainage Engineering, Livestock, Machine Tools, Smithing, First Aid, Obstetrics, and lots more. It's all pdf documents and all FREE. This is the kind of material that should go in that thousand year archive I mentioned a few weeks back.
Hank also sent a link to a collection of "10 bush craft" books. For those of you who want to do some serious camping out. Here are the titles, all free:
Book 1. - Ropes & Cords
Book 2. - Huts & Thatching
Book 3. - Campcraft
Book 4. - Food & Water
Book 5. - Firemaking
Book 6. - Knots & Lashings
Book 7. - Tracks & Lures
Book 8. - Snares & Traps
Book 9. - Travel & Gear
Book 10. - Time & Direction
Available in mobi, epub, and pdf formats.
Idea: We can package this stuff up and sell it to the deranged left as material they will need to survive the "Trumpocalypse."

Moron Recommendation
Moron lurker (mostly) bensdad00 recommended another Bill Mauldin book, Mud and Guts: A Look at the Common Soldier of the American Revolution
Mud & Guts is an unusual little book about the common Revolutionary War soldier. Bill Mauldin admits he is no historian; he is, rather, a political cartoonist who offered up his wares to The Stars and Stripes during World War II and served as a correspondent during several later armed conflicts. This book grew out of a request from the National Park Service for a book about the experience of the common soldier during the American Revolution - in honor of the 200th anniversary of American independence. The book was not finished until 1978, but it certainly does make for an interesting look at the subject matter.
Sort of a "Willie and Joe" in tri-corner hats. E-copies are available for free download at the above link.

Books By Morons
Moron author James Dudley has just come out with his second novel, The Clown Prince of Kowloon, which the author described in a comment last week as "a combination of comedy and Cold War intrigue set in 1950's Hong Kong":
It is 1957, and comedian Tommy Malloy has received the biggest break of his career, the leading role in the epic musical-comedy film "Hong Kong Harry." While filming on location in Hong Kong, he is tasked by the CIA with a simple but important mission; to approach a series of local smugglers with an offer to sell bootleg films in mainland China, and evaluate their performances for the purpose of future CIA use.
Meanwhile, MI6 is having trouble keeping the lid on a communist revolution over in Malaya, and eventually their mission collides with Tommy's. Zany hijinks ensue.
Tommy's earlier adventures was the subject of Dudley's first novel, The Clown Prince of Paris:
Paris, 1954... Up-and-coming comedian Tommy Malloy is preparing for the biggest break of his career; a series of headline shows in one of Paris's hottest clubs... But when a mysterious audience member asks Tommy for an unusual favor, he is unwittingly pulled into a series of shocking events that leaves him trapped in a deadly web of international espionage. Pursued by the KGB's deadliest assassins with only his wits to protect him, Tommy must run for his life, improvise new identities, and put together the pieces of a sinister plot that threatens to shatter a precarious peace. A continent stands on the brink of World War III, and a B-list celebrity from Philadelphia is the only one who can stop it.

___________
Moron author Hans Schantz is running a special on his novel, The Hidden Truth: A Science Fiction Techno-Thriller. I first mentioned this novel last August. It's kind of like Ayn Rand mixed with Dan Brown. Here is a plot teaser from one of the Amazon reviews:
When a high school student stumbles across a discrepancy between an online version of an old physics book and its pulp original, he quite naturally assumes there was an error made in its scanning. Investigating further, he discovers other 'discrepancies' between old physics books and their online copies, discrepancies which are all related to a particular and peculiar theory of electromagnetism. The more he investigates the clearer it becomes to him that there exists a century-plus long conspiracy to erase all evidence of the intriguing, though counterintuitive, theory. Before too long, the cabal notices the student's nosing about and the young man learns how deadly serious the conspirators are about suppressing that bit of knowledge.
The price will be lowered to $0.99 April 30-May 2 to encourage people to concentrate their sales during the first couple of days. Then the price will be discounted to $2.99 for the rest of the week. At the end of the week, the price will revert to the usual $3.99.
I may have to move this one to the top of my stack.

___________
Don't forget the AoSHQ reading group on Goodreads. It's meant to support horde writers and to talk about the great books that come up on the book thread. It's called AoSHQ Moron Horde and the link to it is here: https://www.goodreads.com/group/show/175335-aoshq-moron-horde.
___________
So that's all for this week. As always, book thread tips, suggestions, bribes, rumors, threats, and insults may be sent to OregonMuse, Proprietor, AoSHQ Book Thread, at the book thread e-mail address: aoshqbookthread, followed by the 'at' sign, and then 'G' mail, and then dot cee oh emm.
What have you all been reading this week? Hopefully something good, because, as you all know, life is too short to be reading lousy books.

posted by OregonMuse at
08:54 AM
|
Access Comments