ę EMT 04/23/17
|
Main
|
What The Hell Is A March For Science? Ľ
April 23, 2017
Sunday Morning Book Thread 04-23-2017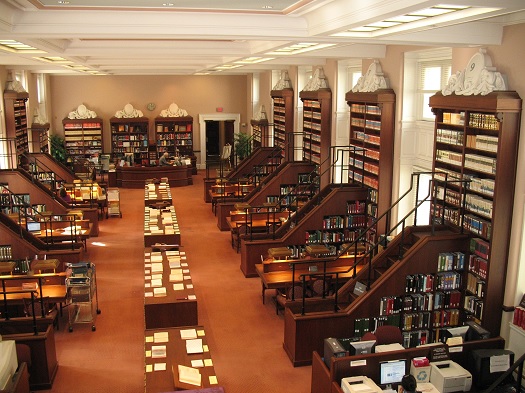 Library of Congress Reading Room
Pic Note
I heard about this reading room from tsrblke, who told me:
It's actually not all that easy to find, you actually have to go down to the level below it, wander some hallways that cut at odd angles and then take an elevator back up to the room's entrance. And leaving I got totally lost and spent 15 minutes wandering around in a sublevel until I finally found my way out...There are several alcoves off the main center area that look out to the center of the room almost like little observation rooms. And you don't get a sense of the sheer size of this single room until you're standing on the floor of it looking up rather than down from above.

Another Book by One of Trump's Appointees
I did not know that our newest SCOTUS justice, Neil Gorsuch, had written a book, which came to my attention when RealClearBooks had a link to this negative review of it. If you want a good look about how Justice Gorsuch thinks, The Future of Assisted Suicide and Euthanasia is probably a good place to start:
After assessing the strengths and weaknesses of arguments for assisted suicide and euthanasia, Gorsuch builds a nuanced, novel, and powerful moral and legal argument against legalization, one based on a principle that, surprisingly, has largely been overlooked in the debate--the idea that human life is intrinsically valuable and that intentional killing is always wrong. At the same time, the argument Gorsuch develops leaves wide latitude for individual patient autonomy and the refusal of unwanted medical treatment and life-sustaining care, permitting intervention only in cases where an intention to kill is present.
The downside is that this book is published by an academic press, so the price ($25) is pretty steep. And some of the reviews are just frothing at the mouth. I especially liked the one that is basically one sentence: "Itís been almost a year since Senate Republicans took an empty Supreme Court seat hostage, discarding a constitutional duty that both parties have honored throughout American history and hobbling an entire branch of government for partisan gain." Heh. Butthurt much?

It Pays To Increase Your Word Power®
Something that is MERDIVEROUS eats dung.
Usage: "The merdiverous Maxine Waters..."
Also, if you rearrange the letters in the phrase "an antifa protester" you get its dictionary definition
"n: fat pest near a riot."
(h/t Mark Huffman for the anagram)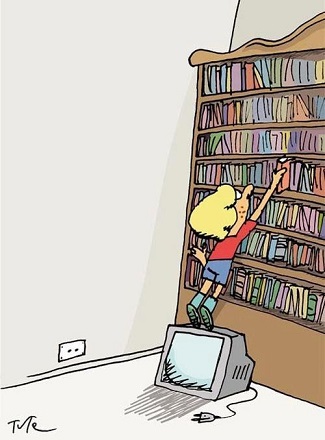 Sometimes, television can be a tool to lead us to a great book
Nice Gig, If You Can Get It
How many of you morons knew that NY Governor, Andrew Cuomo, wrote a book a few years ago? And was well paid for it.
ALBANY – Gov. Andrew M. Cuomo reported his income last year more than doubled from the previous year, thanks to another round of royalty payments on a 2014 HarperCollins memoir that saw lackluster sales.

In all, Cuomo has made $783,000 from HarperCollins for his book. The book sold 3,200 copies since it was published in the fall of 2014, according to tracking company NPD BookScan.

That works out to royalty payments to Cuomo of $245 per book.
Heh. I'll bet you moron authors would just *love* to get a royalty deal like that, wouldn't you?
And of course, nobody's talking.
"This payment was contractual and per the agreement with the publisher,'' Richard Azzopardi, a Cuomo spokesman, said of the book income in 2015.
And HarperCollins said they do not comment on "financial matters involving its book deals."
So there you are. It's a big mystery.
Oh, and since I know you all are just clamoring to buy a copy of this no doubt marvelous book by Cuomo, Amazon has All Things Possible: Setbacks and Success in Politics and Life for $10.99 hardback and $9.99 Kindle.
(h/t to moron geoffb5)

Free Books!
Do you all like free books? I think everybody likes free books. So I'd guessing many of you will want to be taking advantage of the Wrongthink Sci-Fi Giveaway:
The Wrongthink Sci-Fi Giveaway is about showcasing authors who have been marginalized by the gatekeepers of the sci-fi publishing industry for the sin of not complying with progressive social justice dogma. From Sarah Hoyt, who was accused of racism and "internalized misogyny" for her association with the Sad Puppies campaign to reform the Hugo Awards, to Nick Cole, who lost a publishing contract for daring to write a story about an artificially intelligent computer who is troubled by abortion, these authors have faced smear campaigns, boycotts and blacklisting for failing to toe the progressive line.
So what you'll be doing is entering a drawing. Just by entering, you'll be sent a link to some free ebooks. And if you win, you'll get more free ebooks. So you'll be a winner, no matter what. The page I linked to lists all the books being given away. Some of the titles are familiar, so you may have read them already, but most likely there will be some you haven't.
Contest deadline is Tuesday, April 25th.
(h/t Chris)

What Book Is Your State Famous For?
From moron 'V the K' comes this helpful map that shows the most famous book set in each state. To me, the selections as a group carries a faint "PC" whiff, but I dunno, I guess it could be worse. My state, Oregon, has only ever had one author of national reputation, Ken Kesey, so they picked his most famous book, One Flew Over The Cuckoo's Nest. However, I've heard that his other novel (which I've been meaning to read, but haven't), Sometimes a Great Notion, is considered by critics to be his magnum opus.
And coincidentally, I've just started reading the most famous novel set in California, East of Eden, by John Steinbeck. It started out quite slow but I'm actually surprised how much I'm enjoying it. Perhaps I'll have a report later, because it's a big fat novel of 600+ pages and I've got a long way to go.
I was amused by one incident early on in the story, where one of the characters goes down to the local Western Union telegraph office to wire some money to his brother. So he asks the telegraph guy, how does it work. And the telegraph guy says, well, you give us the money here, and we'll telegraph the office your brother is at and they'll give the same amount of money that just you gave me. And the first guy says, whoa, wait, so how do you know that the guy at the other end is actually my brother and not some swindler? And the telegraph guy says, we will also transmit a question that you give to us, the answer to which only your brother would know, and we'll ask him to answer it before we give him the money. So think of a good question, but not "what is your mother's middle name?" because everybody forgets that one.
So even back in the days when the telegraph was the most advanced tech they had, they already were using security questions for identity verification. That's kind
of fun to discover. I guess there's nothing new under the sun.
Some weeks later a boy ran out to the farm with a telegram. Charles always connected the letter and the telegram the way we group two deaths and anticipate a third.

Moron Recommendations
Moron lurker (mostly) bensdad00 recommends Bill Mauldin in Korea . This is his first-hand reporting of the 1950-52 Korean War, including the peace negotiations:
Several quotes still relevant today "The cocky little North Koreans kind of amuse the Chinese", "Maybe that's why the Koreans dress so fancy, it's about the only thing they can do that makes them feel important.", and quoting an officer "They have the minds of children...[They]shouldn't be allowed to get their hands on live ammunition."
The book link is to a free download, which, unfortunately, is missing the first 7 or 8 pages in all of the formats offered on the page. It is also available in used hardback from Amazon.

___________

___________
Don't forget the AoSHQ reading group on Goodreads. It's meant to support horde writers and to talk about the great books that come up on the book thread. It's called AoSHQ Moron Horde and the link to it is here: https://www.goodreads.com/group/show/175335-aoshq-moron-horde.
___________
So that's all for this week. As always, book thread tips, suggestions, bribes, rumors, threats, and insults may be sent to OregonMuse, Proprietor, AoSHQ Book Thread, at the book thread e-mail address: aoshqbookthread, followed by the 'at' sign, and then 'G' mail, and then dot cee oh emm.
What have you all been reading this week? Hopefully something good, because, as you all know, life is too short to be reading lousy books.


posted by OregonMuse at
08:59 AM
|
Access Comments