« If You Paid $63,916 Per Year To Attend Wellesley And You Write Like This, You Got Ripped Off
|
Main
|
After Food Thread Coffee Break »
April 16, 2017
Food Thread: Never Mind The Spatchcock...Here's En Crapaudine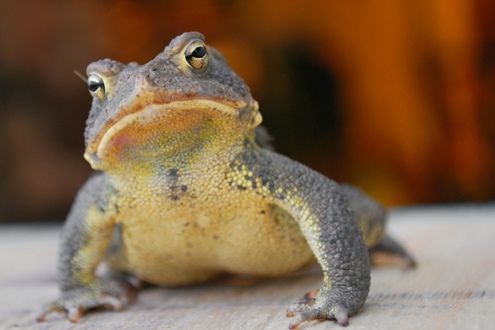 Yeah...the French term for spatchcocking a chicken -- removing the back and splaying it for even cooking -- is "en crapaudine." In the manner of a toad. And I sort of get it. But as unappetizing terms go, this one is a doozy.
It's still a great and easy technique and all right-thinking Morons should be fully on board with it. In addition to making cooking easier, it exposes all of the skin of the chicken (or duck or quail or turkey) to the heat, so everyone has a better shot at that luscious crispiness.
I have been playing around with removing the ribs and other smaller bones in addition to the backbone. It makes it more difficult to handle, but presentation and ease of eating improve markedly. Eventually I will simply bone out the entire chicken, which will completely ruin the whole point of spatchcocking, but obsessive-compulsive behavior can be tamped down for only so long.
******
Back in the last century I spent more time in bars than I should have, but at least it gave me a solid foundation for judging whether I want to bother sitting down at the bar and attempt to order a grown-up drink. One of the neighborhoods I frequented was Greenwich Village in Manhattan (shut up Garrett). Specifically the West Village, since back then the East Village was known more for the quality of its heroin than its mixed drinks. While poking around some links, I found
The Best West Village Bars
, and I thought that would be a fun little trip down memory lane. Unfortunately I have been in a grand total of three of these, and haven't even heard of most of them.
It's official, I am old. And so, by the way, are you.
But it did get me thinking about what makes a nice bar. Obviously that is heavily dependent on age and motivation, but there are some constants for me. here's a partial list:


If I walk in and it stinks of stale beer (or worse), I'm gone

No drama from the staff. Keep that shit behind closed doors

Comfortable bar stools and a foot rail.

Good music, but not too loud

Bartenders who keep the bar under control

Something half-way decent to eat
How about you?
******
Consumers claim dead bat found in recalled Fresh Express salad mix
I think my head would explode. Although...I am suspicious and have lots of questions about this.
******
One of Alton Brown's less impressive habits is his insistence on new technique. Sure, some of them work, but many of them provide marginal improvement...at best. But this recipe is simple and straightforward and damned good. I used to make something very similar a long time ago when I lived alone, and 40 garlic cloves was a fine thing.
40 Cloves and a Chicken
sounds like a lot of garlic. And it is. But if you like garlic it's a great dish, and to be fair, the garlic is thoroughly cooked and not pungent. But I will not lie to you and say it isn't very, very garlicky.
******
Today is the third edition of:
"Liquor Cabinets: A Study By And Of Morons."
Send me photos of your liquor storage system, and I'll post the good ones, and the really awful ones....
Uncle Si has the right idea. Really...a "cabinet" is just a social construct, and what's most important about it? The liquor!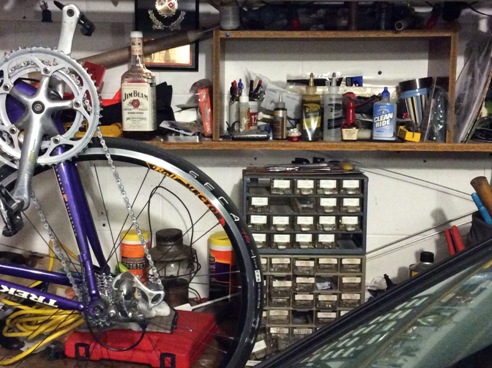 And for a slightly different aesthetic, we have CaliGirl...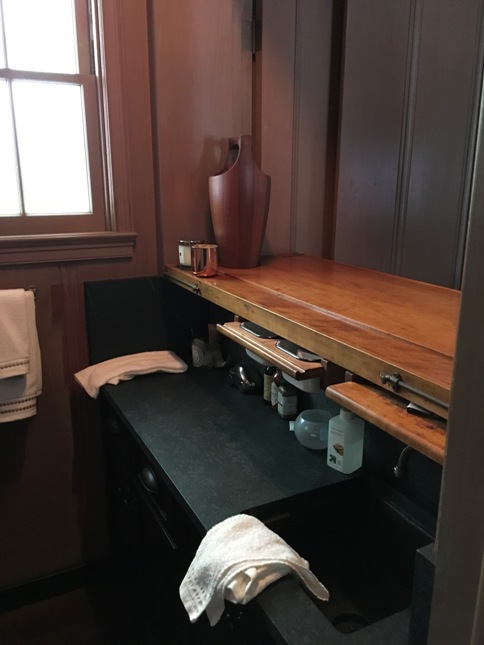 I see you are posting pics of bars and I thought you may like mine.

It's actually a prohibition bar. If you slide the latches on the bar, the bar folds down and the paneling swivels to hide it. The door looks like a closet. There's also a lock on it to keep the kids out of the liquor cabinet.

The photo in the bar is Marilyn Monroe from the last sitting signed by Bert Stern.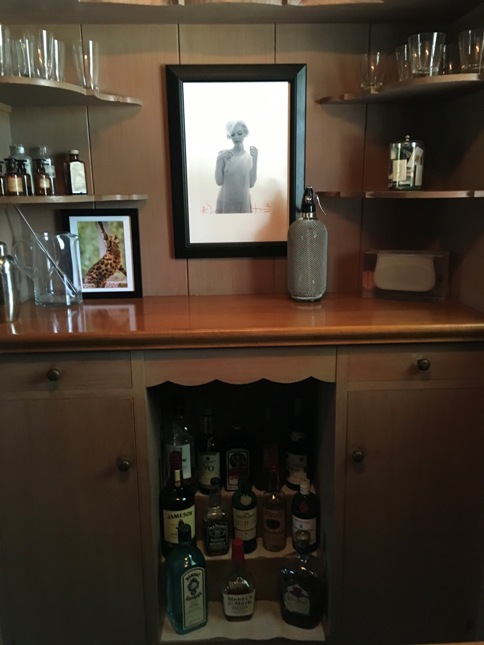 ******
I was sure that I posted this recipe, but a cursory search has me stumped. But it's good enough to post twice, so here goes.
Skillet Chicken With Tomatoes, Pancetta and Mozzarella
• 3 ½ pounds bone-in chicken pieces
• 2 teaspoons kosher salt
• 1 teaspoon black pepper
• 1 tablespoon extra-virgin olive oil
• 5 ounces pancetta, diced
• 3 garlic cloves, thinly sliced
• 2 anchovy fillets
• ¼ teaspoon red pepper flakes
• 1 (28-ounce) can whole plum tomatoes
• 1 large basil sprig, plus more chopped basil for serving
• 8 ounces bocconcini, halved (or use mozzarella cut into 3/4-inch pieces)
Heat oven to 400 degrees. Pat chicken dry and season with salt and pepper.
In a large oven-proof skillet, warm oil over medium-high heat. Add pancetta and cook, stirring frequently, until browned. Use a slotted spoon to transfer pancetta to a paper-towel-lined plate.
Add chicken to skillet. Sear, turning only occasionally, until well browned on all sides, about 10 minutes. Transfer to a large plate. Pour off all but 1 tablespoon oil.
Add garlic, anchovy and red pepper flakes to skillet; fry 1 minute. Stir in tomatoes and basil. Cook, breaking up tomatoes with a spatula, until sauce thickens somewhat, about 10 minutes.
Return chicken to skillet. Transfer skillet to oven and cook, uncovered, until chicken is no longer pink, about 30 minutes.
Scatter bocconcini or mozzarella pieces over skillet. Adjust oven temperature to broil. Return skillet to oven and broil until cheese is melted and bubbling, 2 to 3 minutes (watch carefully to see that it does not burn). Garnish with pancetta and chopped basil before serving.

******
Food tips, extra Pappy van Winkle bourbon and other goodies:
cbd dot aoshq at gmail dot com

posted by CBD at
04:00 PM
|
Access Comments